Let's face the facts, yesterday's playoff games were some of the suckiest games that ever sucked. The Lakers steamrolled the Rockets and Orlando toyed with Boston in two of the most boring game sevens ever played. Then the Red Wings came out and put a third-period beatdown on the young Blackhawks, making for an all-around hideous playoff day.
If it wasn't for Raul hitting bombs this weekend, there wouldn't have been any sports worth watching.
Yes, sweeping the Nationals is nice, and Raul is a beast, but really, the weekend was unremarkable. (And Chan Ho Park still, despite a little two-start mirage, looks like Adam Eaton.) So now seems like a perfect time to begin a little series I've been cooking up in my head the past few weeks. In the coming weeks/months, with basketball and hockey going the way of football and nothing happening except the dog days of summer, I'll be publishing my own personal lists of my five favorite and five least favorite players of the four major Philadelphia sports franchises.
There will, of course, be personal caveats that I may or may not explain, and again, these are my favorite and least favorite players, not the best and worst players. And there's a chance that these lists may have extended editions or later editions to add more to them, but for now, we'll try to keep it to five.
Since it's baseball season, we'll get things started with the Phillies, today chronicling my five favorite Phillies of my lifetime. The five least favorites I'll save for another time.
Favorites:
1. Lenny Dykstra.
I'm a child of the 80s, and as such, I grew up watching a putrid baseball team with a bunch of putrid players, with the exception of that glorious, glorious 1993 season. Well, the best position player on that squad was without question the Dude. Chemically enhanced or not, Lenny Dykstra put forth one of the greatest statistical seasons for any leadoff hitter ever, batting .305 with a .420 obp, .482 slugging, .902 ops, 194 hits, 143 runs, 44 doubles, 6 triples, 19 home runs, 66 RBIs, 37 steals and 129 walks in 1993. He played in 161 games, notched 773 plate appearances, and tortured pitchers by seeing about a million pitches per at-bat.
He also finished second in the MVP vote, losing to Barry Bonds. And in the postseason, he tormented the Braves after Bobby Cox unjustly snubbed Dykstra from the All-Star game. Fuck Bobby Cox.
I loved Lenny Dykstra because he was a great outfielder, incredible base-runner and was the prototypical leadoff hitter. He made sure his teammates behind him saw pitches, fouling off strikes and taking balls so everyone could see what the pitcher was throwing from the first at-bat. And the guy always hustled. Always. Say what you want about Lenny the man, or businessman, but Lenny the player was a joy to watch.
2. Curt Schilling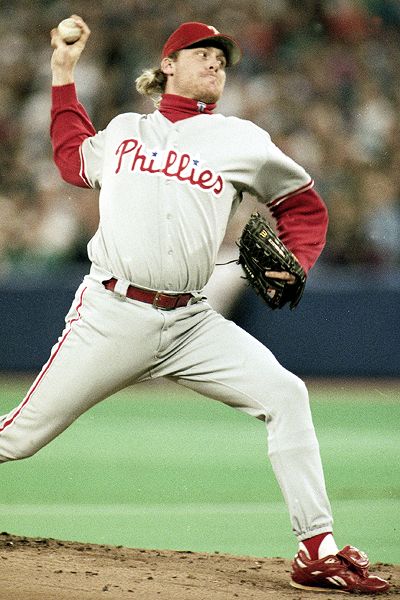 Historically, the Phillies have had shit for pitching, especially during my childhood. The one lone exception, prior to Cole Hamels, was Curt Schilling.
With Schilling, there was no middle ground, you either loved him or hated him. People hated him because he was outspoken and during the World Series he put a towel over his head in the dugout as Mitch Williams was fucking up his world. I loved Curt Schilling because he was outspoken and wore a towel over his head in the dugout as Mitch Williams was fucking up his world. I mean, who didn't want to cover their eyes when Mitch came in? Everyone did, because Mitch Williams was the worst pitcher in the history of Major League Baseball, Adam Eaton included. Fuck you, Mitch.
Oh, and I loved Curt Schilling because he was insanely good on a team that lacked insanely good players. Schilling was a workhorse, routinely pitching over 200 innings, finishing games, and struck out way, way more batters than he walked. Every time he pitched, it felt like the Phils would win. Every time he didn't, it was almost inevitable that they'd lose.
Schilling struck out 300 batters twice as a Phillie, pitched 61 complete games in 8 and half seasons (
61!
), including 10 in 1992 and a ridiculous 15 in 1998, and won at least 14 games in five of his eight full years in Philadelphia, despite the fact the Phillies sucked every single one of those years with the exception of 1993.
And in the '93 season, Schilling really shined in the playoffs, winning the NLCS MVP and giving it his all in the World Series. Curt Schilling was the shit, while the rest of the pitchers in the 90s were just shitty.
3. Shane Victorino
When the Phillies didn't resign Aaron Rowand, most of Philadelphia was up in arms. How could the Phils let go such a hard-working guy who played Gold Glove caliber defense, was the cry. Simple, they had a much, much better centerfielder playing in right. Aaron Rowand, for all his grit, hustle and determination, is nowhere near as good as Shane Victorino in the outfield. Is Rowand an very good centerfielder? Absolutely. Is he Gold Glove caliber? Not even close. Just because you run face-first into a fence doesn't mean you're as good as Torii Hunter.
Rowand is just too slow to be put in the same breath as guys like Hunter, and yes, your reigning
World Fucking Champion Gold Glove centerfielder
, Shane Victorino.
I love Shane Victorino. Everything about him. He's an incredible fielder, has a rocket for an arm, can fly around the base paths, has some pop and genuinely enjoys playing baseball. And hell, the guy ended a game with a walkoff throw in Atlanta. Brad Lidge wouldn't have been perfect without it.
As if I didn't already love Shane enough before last year, he went out and raised his game to even greater heights in the postseason. Who can forget
this
:
Not to mention his sick catch and
that bomb to tie the game
against the Dodgers. Is Shane Victorino the man? No questions asked.
4. Mickey Morandini
Mickey Morandini is never going to be confused for Chase Utley. Not even close. But Morandini was one of the more reliable fielding second basemen of his day, and during his time in Philadelphia, he turned himself into a pretty good hitter. As a youngster, he was my second favorite player on the team behind Dykstra. Maybe it was simply due to the fact that Harry Kalas did such a majestic job announcing his name.
Plus, Morandini provided two of my most fond memories watching Phillies games. One, his grand slam off Dave Righetti in 1993, and of course, the rarest of rare in baseball, his unassisted triple play.
And to put the icing on the cake, Morandini was traded to the Chicago Cubs for none other than patron saint Doug Glanville in December of 1997. So not only is Morandini a favorite of mine for his playing days in Philadelphia, but without him, there would be no House that Glanville Built.
5. J.C. Romero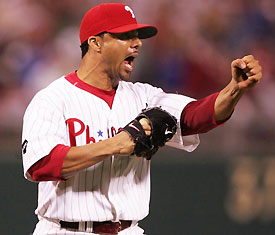 Historically, last year not included, the Phillies have had some of the worst bullpen pitchers of all time. J.C. Romero is not one of them. No, Romero has been brilliant as a Phillie. Sure, he had that whole
steroid screw-job thing
, but he'll be back in the bullpen in no time. Frankly, I can't wait.
Romero is a perfect pitcher for Philadelphia. He wears his emotions on his sleeve, and you know with every pitch that Romero cares just as much as the fan sitting in the top row of the 400 section. That's something plenty of athletes fail to portray. When they do, we love it.
Plus, the guy won two games in the World Series. No other Phillies pitcher did that last year. He's been nothing short of dominant since coming to Philadelphia, and I'm excited to see him dominate again in a couple weeks.
There you have it, my favorite Phillies of my lifetime. Of course, I love guys like Chase Utley and Ryan Howard, John Kruk and Darren Daulton, but as you'll take notice, my favorite players, for the most part, tend to be players other than the majority fan favorites. I still love those guys like everyone else, but I tend to have an affinity for some of the other guys as well.
Oh, and Raul is quickly entering the discussion. The fact I drafted him for my fantasy team certainly helps that out a bit, but even if I hadn't, his play has given all Phillies fans more than enough reason to put him near the top of their favorite lists.
And fuck Mitch Williams. Right in the ear. OK, I better stop. I'll get to him later.