You know what really pisses me off? Someone winning the Power Ball who is not me. Especially when it's up to $232 million and the winning ticket is from South Dakota.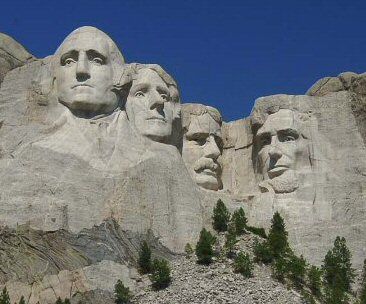 I mean, South Dakota? Really? What the fuck do you need $232 million for if you live in South Dakota? The cost of living has be next to nothing. Fuck South Dakota. I needs the money so I can live the dream of never having to do anything I don't want to do ever. It's bullshit. Everyone knows I'd enjoy doing nothing more than just about anyone else on the planet, but no, I have to work and shit. Ridiculous.
I'm so mad I just might link …
-Watch as Kelli Curcio
braces herself for a very nice grab
:
Get it,
brace
herself.
-Byron Parker, who is in camp with the Eagles, used to play point guard at Tulane, and the guy
won the NCAA dunk contest
one year:
If he doesn't make the Eagles, the Sixers might as well take a look at him.
-I really, really like Big Daddy Drew's
This Week in F—k You
series:
Per a source with knowledge of Millen's broadcasting career, we're told that Millen is not happy about the fact that he didn't get Kornheiser's chair.

…

You really think you're somehow more deserving of a chair in the MNF than Jon Gruden? Well, let me disclose a little statistic to you there, Matty. Know how many games Gruden won last year? Nine. Not a great number of wins. And they faded down the stretch to miss the playoffs. When you think about it, nine wins doesn't seem all that great. Then again, THAT'S NINE MORE FUCKING WINS THAN YOUR FUCKING GODBORTION OF A FUCKING TEAM WON LAST YEAR. YOU FUCK.
-Never
trust a man
with slicked-back hair.
-Forgot to post it earlier, but yeah,
Shannon Brown's dunk
really was the play that sparked the Lakers:
-Carlos Zambrano
kind of freaked out
yesterday:
-
Great quote
from the struggling Brad Lidge:
"I was coming in to some circus music," Lidge said. "That's about right."
-Jeff Van Gundy mentioned it last night and yes, it's true,
everything is bigger in Texas
:
-Five coaches with the best chance
to get Sprewell'ed
, via
HHR
.
-His Airness was once considered
the next Dr. J.
:
-Say what you want about Bill Simmons, but as
Leitch said
, he's the best basketball writer alive. Today, he has
an excellent article
on the NBA and its flaws.
-Finally, if you know anything about me, you know I'm not really the sentimental type. I typically hate when children sing the National Anthem at sporting events because, as harsh as it sounds, they usually suck. Especially that blind kid who sings at Eagles games, no offense. But check out 7-year-old Gina Marie Incandela, who overcame a speech disorder,
bring the house down
singing before Magic games:
The reactions from Hedo and Foyle are priceless.
For your viewing pleasure (or displeasure depending on the outcomes) tonight, the Phils
take on the Nats
have an off day and play the Nats tomorrow, unfortunately at home, at 7:05 and the LeBrons try to stave off elimination beginning at 8:30, while the Magic look to secure its spot in the finals.