Holy calamity, scream insanity! That was either the ugliest great victory in this franchise's history or the greatest ugly victory. I can't really decide which one, but I do know that it was incredibly painful to watch. From the runners left on base to the errors to the bullpen to the comeback, it was exhilarating and horrifying all at the same time. Seriously, playoff baseball is the most agonizing experience of a sports fan's existence … at least this sports fan.
Things started out well enough, with the Phillies hitting a solo home run in the first inning for the second straight game to take a 1-0 lead, this time courtesy of Shane Victorino, and last night, we didn't fuck around at my house, syncing up the TBS broadcast with Larry Andersen and Scott Franzke on 1210. No more boring-ass TBS announcers who insist on calling the regular season the regular year. It's season, you schmuck, not year. Regular year is a stupid term, and if you say it, you are an asshole. Simple as that.
The funny thing about Shane's home run is that right after Shane's first swing, Adam EatShit said to me, "I feel like Shane hasn't really been hitting the ball that hard. When's the last time you saw him hit a solid line drive?" Seven pitches later, Victorino ripped his line-drive home run right into the Phillies' bullpen, almost on cue, as if he heard my roommate all the way in Denver.
However, from then on, the Phillies' offense sputtered. Luckily, Cliff Lee was on the mound. After another shaky start to his first inning, surrendering back-to-back singles to that son of a bitch Carloz Gonzalez and Dexter Fowler, he got Helton to ground into a fielder's choice, and even after allowing a wild pitch to let Helton advance, putting runners on second and third with just one out, he blanked the Rockies, striking out Troy Tulowitzki and forcing Garrett Atkins to ground out. I had complete confidence in Lee from that moment on.
I think his teammates did too. In fact, maybe they had a little too much confidence in their ace, because they decided to not score many runs for him. Yes, Ubaldo Jimenez was sharp, mixing his pitches well and looking much more composed than he did late in game 1, but the Phillies let the young righthander off the hook time and time again. Take for instance, the third inning.
After Jimmy Rollins led off the inning with a ground out, Victorino, with Adam EatShit's words ringing in his ears, singled to right. Then Chase followed suit, singling to right himself, and Victorino, with not a great jump and sort of stumbling, took off for third. That bastard Carlos Gonzalez came up firing to third — and wouldn't you know it, that prick has a good arm too — and it looked as though Shane was a dead duck at third. The throw certainly beat him there, but the swipe tag by Atkins came awfully close to Victorino's foot hitting third. It was a close play, but I thought for sure he was out. And I was pissed. But the ump called him safe, and Chase, being the incredible base runner that he is, took second on the throw. Second and third with one out. Very nice.
Not taking any chances, Jimenez intentionally walked Ryan Howard to load the bases, and up came Jayson Werth. Now, if I said it once, I've said it a thousand times — under virtually no circumstance should a player swing before seeing a strike with the bases loaded (especially if the pitcher had just walked guys) and if they do swing before seeing a strike, it at least better be a meatball that they drive, otherwise, it's just not smart to swing until you take a strike. The pressure is all on the pitcher. He has nowhere to put the batter. He has to come to you. Make him throw you your pitch, and at least make him prove he can get one over. Jayson Werth, who is great at working counts in all other situations, is notorious for going against my golden rule, and last night was no exception.
After taking the first pitch for a ball, Werth decided he was going to swing no matter what, fouling off a fastball up in the zone. I'll admit, it was a strike. But it was up and in, a pitch he probably wasn't going to do a whole lot with, and he swung anyway. With the bases loaded. And it gets worse. Much worse. The next pitch, which was even higher and more inside, he took a hack at again, fouling it off. It was ball two. I mean, the thing wasn't even close to a strike. And on the very next pitch, he chased a changeup in the dirt to strike out. All he had to do was get his bat on the ball, especially considering he's tough to double up, and at least one run would score. Instead, he struck out with one out and the bases loaded by chasing two incredibly awful pitches. If he simply would have been patient, Werth would have found himself up 3-1 in the count, a great hitter's situation, and probably would have gotten an RBI, either by driving a meatball 3-1 pitch, or walking in a run. Instead, he struck out like a jackass, because he took an absolutely horrible approach at the plate. I was murdering him for it.
Then Raul followed up with a strikeout of his own, but at least he worked a tough at-bat, seeing a strike and laying off some nasty pitches. Too bad he couldn't lay off that final deadly slider. Give Jimenez credit for striking out two batters with the bases loaded and one out, but also admonish the Phils for making his job too easy in a tight spot. And yes, I mean you, Jay Werth.
Getting out of that jam gave Jimenez a shot in the arm, because after that, he was on point. In the 4th, he sent down Pedro Feliz, Carlos Ruiz and Cliff Lee in order, making it five straight Phils retired. He added to that with a perfect 5th, extending his streak to eight straight outs. Luckily for the Phils, Cliff Lee was keeping pace, doing exactly what he did in game 1.
After avoiding damage in a tough first inning, Lee set down the Rockies in order in the 2nd, making it six straight Rockies retired. He followed up by getting Jimenez to ground out to start the third, and after a one-out walk to Gonzalez, he got the speedy Dexter Fowler to ground into a double play courtesy of a Chase Utley tag on Gonzalez and throw to first. It looked like Lee just may be able to go the distance again, and I had a feeling that he just may.
He set them down in the order in the 4th, and after giving up a leadoff single and then a two-out single to, of all people, his counterpart Jimenez, he actually managed to get Carlos Gonzalez out — 5 innings pitched and still no runs for Colorado. Great trade again, Rubes. Great trade.
But this game was definitely turning into a nail-biter. After failing to execute in the third, Jimenez had shut down the Phils, and when he got Ryan Howard to ground to lead off the 6th, it looked like whoever got into the opposition's bullpen first was going to win. However, Jayson Werth, who royally fucked up in that third-inning, bases-loaded, one-out at-bat, made up for his transgressions — and he did it, surprise!, by being patient. Seriously, why can't he just take his normal approach with the bases loaded? I don't get it.
Anyway, after taking a first-pitch strike, Werth took the second for a ball, then missed a curveball, fouled off a nasty fastball, took another ball to bring the count even, and then Jimenez made his first mistake since the first inning, hanging a changeup out over the plate. And Werth
did not miss it
, crushing a solo shot to right center to put the Phils up 2-0. I immediately forgave his previous sins, screaming his name and clapping my hands. A 2-0 lead with Lee on the mound? Oh yeah, L.A., here we come!
Not so fast …
Jiminez settled down, got Raul to fly out and then Pedro Feliz to ground out on one pitch — his second straight at-bat getting out on one pitch. And in the bottom of the sixth, the Rockies struck back. With one out, Todd Helton worked a walk, and it came back to bite Cliff Lee. But here's the thing, that walk was a complete travesty. After throwing his first pitch clearly high, Lee threw three straight perfect strikes at the knees, no doubt about it strikes, yet the umpire called them all balls, awarding Helton first base. It was complete bullshit. All three of his final pitches were strikes, but Lee got squeezed and Colorado took advantage. The bad umpiring continued (again for both sides).
Tulowitzki followed with a double that plated Helton, and I was furious at the ump. Yes, Lee could have retired Tulowitzki and gotten out of it with no damage, but still, he got screwed on that walk, plain and simple. Luckily, Lee regained his composure and got Atkins to line out to Feliz, and thanks to some horrendous base-running by Tulowitzki, who was halfway to third for some reason, turned it into an inning-ending double play. Da da, da da da, da da da da, TU-LO! What a fucking gay chant. Way to run yourself out of the inning TU-LO!
Both Lee and Jimenez got through the 7th unscathed, and the Rockies made the first move to the pen. With a 2-1 lead and Lee on the mound, and with the Rockies now in their bullpen, I really liked our chances. And my confidence only grew stronger when Franklin Morales came in and walked Chase Utley to start the 8th. And I got even more excited when Chase stole second … that is until Howard was called out on strikes on a pitch that was, in my opinion, outside. But such is life in this series: shoddy umpiring with floating strike zones. It's been maddening. But the Phillies were still in good shape. The lefty Morales intentionally walked Werth to set up the double play and get to the lefty Raul Ibanez.
Showing some rare patience that he has actually be displaying all series, Raul never took the bat off his shoulder, walking on 5 pitches to once again load the bases for the Phillies with just one out — the same scenario they failed to take advantage of in the third. After a pitching change, up came Pedro Feliz to face Rafael Betancourt. Feliz, who had just gotten out his last two at-bats seeing a grand total of 2 pitches, had to be up there taking at least one pitch, especially with a new pitcher in there fresh out of the bullpen, right? Wrong. Instead, Pedro continued his retardation at the plate, swinging at the first pitch Betancourt threw, a low slider no less, and popping out to shortstop. I wanted to wring his fucking neck. Three at-bats, three pitches, three outs. What a fucking idiot. And for the second time in the game, the Phillies took terrible approaches with the bases loaded at one out, this one even more retarded than Werth's third-inning at-bat. If I could have killed Feliz through thoughts, he would have died a horrifying, torture-filled death. It was the single worst at-bat in Phillies history, no doubt.
Then Carlos Ruiz followed up by grounding out, and again swinging before taking a strike. The Phillies failed yet again to get anything out of a bases-loaded, one-out situation. They had two chances to blow the game wide open, to give their ace a big cushion, and they couldn't do it. Twice. I was beside myself, and I wanted to break anything and everything in sight. Stupid, stupid baseball. I hate the playoffs.
To my surprise, Charlie had no one up in the bullpen during the top of the 8th, meaning it was still Lee's show. And this time, he got Carlos Gonzalez, that fucking jerk, to fly out. The Phillies, holding the slimmest of leads, were now just five outs away from a rematch with the Dodgers in the NLCS. But then, Lee got squeezed again, walking Dexter Fowler on four pitches when at least two of them were strikes, no doubt in my mind. I was pissed. I can only imagine what Lee was feeling.
Two pitches later, disaster struck. The normally sure-handed Phillies, one of the best fielding teams in all the land, shot themselves in the foot. Todd Helton hit a weak grounder to Chase, who bobbled the ball slightly as Fowler leapt over him to avoid runner's interference, and Chase hastily backhanded the ball to second. It was too hot to handle for the typically flawless fielding Jimmy Rollins. Safe all around, as I yelled at Jimmy to "catch the fucking ball!" Upon further review, it was a tough play all around, from the runner being so close to Chase, to the tough throw, but still, it's a play that has to be made. Now the tying run was on second and there was just one out. And that was it for Lee. Time for Ryan Madson.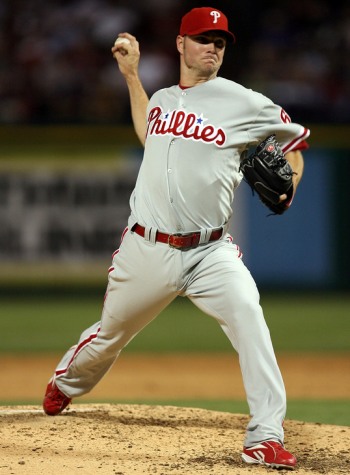 At this point, my heart was beating, but seeing how effective Madson has been this season as the setup guy, I was still slightly confident. Then, on the third pitch he threw, Tulowitzki hit a flare to left that I thought for sure was dropping. I was ready to lambast Madson and curse Rollins and Utley for royally fucking up that ground ball. But out of nowhere, Ben Francisco, who came in when Madson entered as part of a double switch, made an insane diving catch keep the lead. It was simply incredible, and I was freaking out. What a fucking catch! Unfortunately, he couldn't double up either runner, throwing a tweener throw toward first that missed the cutoff, but it looked like Fowler actually read it well and was heading back to second anyway, somehow, there wasn't a great chance of getting the runner at first.
With that catch, I thought for sure the Phils would get out of it. Hell, it should have been the third out anyway. But no such luck. On the next pitch, pinch-hitter Jason Giambi singled to left to plate Fowler, tie game. I was cursing the defense, Madson and the entire team for giving the game away by leaving the bases loaded twice. And things got worse. Two pitches later, Yorvit Torrealba, another Rockie I despise, crushed a Madson fastball over Victorino's head, scoring Helton and Giambi, 4-2 Colorado.
I was livid. I fucking crushed Madson and the Phils in complete and utter disgust, ranting about how they gave the game away, how they deserved to lose. But I also felt awful for Cliff Lee, because while the team certainly deserved to lose, coming up small in key spots at the plate and making a critical error in the 8th, Cliff Lee certainly deserved to win. He pitched excellent again, but his teammates gave him no help. I resigned myself to preparing for game 5, because I just thought they had played too poorly and too sloppily to put things together this late, even when Madson got out of it to keep it a 2-run game.
I should have known better. As this team proves over and over again, they are never out of it until there are 27 outs. Never. No matter what the score is. Though the way the 9th started, I had no confidence. For some crazy reason, Charlie Manuel decided to lead off the 9th by pinch-hitting Greg Dobbs for Ben Francisco. Yes, the Rockies had their closer, the right-handed Huston Street, in the game, but Greg Dobbs has done exactly jack shit this season for the Phillies. Ben Francisco, on the other hand, has been the best bench player on the team since coming over from Cleveland. The best bench fielder and the best bench hitter. And, if the Phils somehow miraculously did find a way to tie it up or even take the lead, who the hell was going to play left? Dobbs is a horrible outfielder, and Francisco, as he displayed the inning before, is a very good outfielder. So to sum things up, Charlie took out Francisco, who is a better hitter and fielder and runner than Greg Dobbs, simply to get a lefty-righty matchup. Got it. As I expected, Dobbs continued his shitty season by striking out. Great start guys.
But then, as has been the case with the Phillies since, well, since Jimmy Rollins took over the shortstop spot, J-Roll ignited the seemingly dormant Phils by singling up the middle. Unfortunately, Shane Victorino hit a chopper to second, and Rollins was out at second. The Phils were down to their last out with Victorino on first and Utley at the dish. Chase, being the professional he is, remained calm and patient, working a 6-pitch walk off Street, and suddenly, me, Adam EatShit and our roommate began to believe, but none of us dared to say a word for fear of the jinx.
OK, that's not entirely true. My one roommate said if Howard isn't trying to hit a home run here, he never will. And on the fourth pitch he saw, Street made a mistake and Howard
unleashed on it
. As he hit it, we all started going nuts, and I leapt off the couch, almost hitting our ceiling fan with my head, and went bonkers. In Citizens Bank, that ball is long gone, but no matter, it got the job done. A crushed two-run double to tie the game. We all exchanged pain-inducing high-fives and went ballistic.
Six pitches later, I again almost jumped through the roof, as Jayson Werth made me forget all about that third-inning shitfest,
singling home Howard
to give the Phillies an improbable 5-4 lead. Holy hell! I couldn't believe it, and after the Rockies finally got out of the inning, I turned to Adam and asked him if that really just happened. Yes, yes it did. Ryan Howard, you are a Cot-Damn Beast. And Jay Werth, man oh man, have you been a steal. Good job, Mr. Gillick.
I was so excited I could hardly breathe, but this thing was far from over. For the second straight night, the Phils headed to the bottom on the 9th with a one-run lead, in a one-run save situation. We all know how they've gone for Philadelphia this year. Plus, who the hell was going to play left? Dobbs? Well, no, it turns out. Miguel Cairo, an infielder by trade, manned that post. OK then.
To our surprise, Charlie didn't go with Brad Lidge to start the 9th, instead opting for Scott Eyre, fresh off a rolled ankle. Eyre got pinch-hitter Eric Young Jr. to ground out, but then that pesky Carlos Gonzalez struck again, singling to left. We all looked around wondering whether Charlie dare bring Lidge in, with a speedy runner on first who could surely walk to second base to put the tying run in scoring position. Larry Andersen wondered the same thing.
The answer was no. Charlie stuck with Eyre against Fowler and with the lefthanded Todd Helton on deck. Eyre got Fowler to line out to short. The Phils were one out away from reaching the NLCS for the second straight year. But Todd Helton was not ready to go home, singling to center to keep the Rockies alive. And he represented the go-ahead, now on first base and the righthanded Troy Tulowitzki at the plate. I was pulling my hair out. The cleanup hitter was up, the prefect spot for Colorado. That's when Charlie called on Lidge, and Philadelphia's collective hearts stopped beating.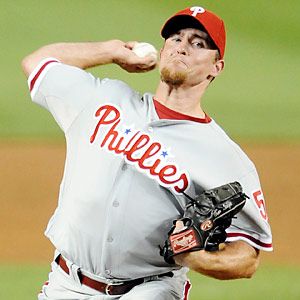 For the second straight night, it came down to Lidge vs. Tulowitzki. And for the second straight night,
Lidge came through
. Boy did he
come through
.
He threw some devastating sliders to an overmatched Tulowitzki, and again, I almost flew through my roof, jumping higher than I ever have. Somehow, some way, the Phillies pulled it off. Brad Lidge, for all his struggles during the regular season, has remained perfect in the playoffs as a Phillie. Lights out, Colorado. L.A., here we come!
It was, without question, one of the most heart-stopping, gut-wrenching games ever played, and certainly the most entertaining elimination game thus far in the playoffs. And the Phillies, who I left for dead after a disastrous 8th, resurrected for the 9th and eliminated the Rockies. New flash: These guys are good. And as Adam EatShit said after the game, they're winners. Might as well keep on winning.
LET'S GO PHILS!!!!!!!