They say you never forget your first time. And with October upon us, the vivid memories of my first time witnessing a professional Philadelphia franchise win a championship are ripe in my head. Even with football underway, I find myself wandering back to that glorious month of October, 2008. It's something I want to relive again and again. In fact, that's exactly what I'm going to do, republishing my feelings during the wild ride to becoming 2008 World Fucking Champions. View part 1 here, part 2 here, part 3 here, part 4 here, part 5 here, part 6 here, part 7 here, part 8 here, part 9 here, part 10 here, part 11 here, part 12 here, part 13 here, part 14 here, part 15 here, part 16 here, part 17 here, part 18 here part 19 here part 20 here and part 21 here.
Today is part 22, originally published Oct. 27, 2008:
GREATEST. WEEKEND. EVER.
5-for-5 in Philadelphia this weekend (if you are a Penn State fan, like myself). Read that again. 5-for-mother fucking-5! A Flyers victory to jump-start the weekend on an incredible deflection in overtime by Jeff Carter. Flyers win their second straight against the Devils
Rays
in a dominant effort.
And while that was fun and all, Saturday was all about the nightcap with the undefeated Nittany Lions taking on Big 10 rival Ohio State in the Horseshoe and the Phillies set to play the first World Series game in Philadelphia in 15 years. Thanks to mother nature, the Phils game was a little bit delayed (like 91 minutes). That bitch. In actuality, this worked out quite well for the old Penn State alumnus that operates this here site. It allowed me to watch the first half of the Penn State game with my full attention, which was nice.
At least, I thought it would be nice. For you see, my roommates were lucky enough to score tickets to game 3, so they were at Citizens Bank Park, meaning I had the entire house to myself. This is a good thing, because I am a fucking lunatic watching games. I did invite my friend over, who would be traveling to game 4 with myself, but we'll get to that later. I was all set for us to enjoy the game in peace.
And then it happened. In walked my old roommate, who just so happens to be a female. OK, no big deal. She's a cool chick who doesn't bother to blather and ask stupid questions during games. I can handle that. But then, one my roommate's girlfriend came over to meet her, and I became very irritated. Penn State and Ohio State were locked in a defensive battle, and every inch was a struggle. And now there were two women in the room with me. Fuck.
Let's just say the things weren't going so hot for Penn State when yet another female walked in the door. Daryll Clark was having an absolutely horrible passing game, the Buckeyes were stuffing the run and it looked like the first team to get in the end zone would win. Then in walked uncle jellyfish's girlfriend to meet the other two ladies. That was horseshit, and I was officially pissed off at my roommates and mr. jellyfish. His girlfriend, with all due respect, is the loudest, most annoying young lady I've ever met. She's incredibly nice and all, but she was literally the last person on earth I wanted to be near. And she paid for it. Big time.
During the Penn State clash, locked in an epic 3-3 struggle at the half, I was freaking the fuck out. Big time. And these bitches were still in my god damn house, waiting for the rain delayed Phillies game to start. Well, almost simultaneously as the second half began, the Phillies game started. Thank the good Lord for split screen and gigantic televisions, for I was able to watch both games at the same time.
Unfortunately for me, I had to watch them both under horrid circumstances. And when Anthony Scirrotto missed approximately his 15th tackle of the night as Terrelle Pryor ran his white ass over, I took a violent swing at a beer bottle sitting on the table in front of me. It flew off the table and hit uncle jellyfish's girlfriend directly in the ass. And I had to apologize, even though the bitch fucking deserved it. That's what you get for bothering me in my own home during two of the biggest god damn games during my lifetime. Your boyfriend doesn't even live there, and he was at the game, not at my house. Seriously, my roommate and those girls can go get fucked for allowing this to happen. Next time I'm just telling them to get the fuck out of my house. But I digress …
Penn State was in such a disheartening game, especially when Ohio State took a 6-3 lead. But the Phils were roaring out of the gate, with Jimmy Rollins coming to life with a leadoff single. A walk and a wild pitch later, Rollins was on third when Chase Utley drove him home on a ground out, giving the Phillies the all-important first run.
And while the Rays tied the game the next inning thanks to Carl Crawford, Curbball Ruiz made his bid toward a potential World Series MVP candidate by crushing a solo home run off Matt Garza to put the Phils back ahead. Tits!
Meanwhile, Penn State turned the tides. Mark Rubin, who I had been killing all game for his continued sucktitude in coverage, made the play of the game, forcing a fumble on Terrelle Pryor that Navorro Bowman recovered.
And it was only fitting that Bowman pounced on the football, because that man was bar none the best player on the field Saturday night. He was all over the place, making huge tackles, deflecting passes and completely shutting down any Ohio State threats. His defensive linemen certainly helped the cause, completely dominating the line of scrimmage.
And when the Penn State offense returned to the field after the fumble, the man under center was not Daryll Clark. Apparently, Clark had suffered a head injury, which I did not know because I was listening to the Phils on 1210 at that point, but I was happy Clark was gone, injured or not. Don't get me wrong, Clark has been great all year. He is the starter. He should be the starter. And Penn State needs him the rest of the year.
But Saturday night, Clark was awful. Before the injury, his receivers, namely Deon Butler, Jordan Norwood and Graham Zug, were getting open. Like really, really open. And Clark was just missing them left and right. He was rendered ineffective by a tenacious Ohio State pass rush.
So when Pat Devlin came out and marched the team 38 yards down the field, it was great to see. Penn State's offensive line completely took over in the fourth quarter, and Evan Royster, Stephfon Green and, yes, Devlin, had room to run. And run they did. Devlin put the Lions ahead for good with a 1-yard touchdown run. Kevin Kelly added a field goal to make the final score
13-6
. Penn State is now 9-0 and has a relatively easy road to an undefeated regular season. Fuck and Yes!
Fortunately for me, during this time the three unwelcomed ladies left, somewhere around the 4th inning, to head to the bar. And it was sure as shit a good thing for them, because I was about to go ballistic.
Jamie Moyer, who had been absolutely horrible in his prior two postseason starts, was pitching the game of his long, long baseball life. I mean, the man just completely had the Rays baffled. His changeup was nasty, and the professor was taking these young Rays to school. A 2-1 lead looked to be plenty given the way the Souderton native was dealing.
Of course, some more runs would be nice, especially since Matt Garza looked pretty hittable Saturday night. Well, up came Chase to lead off the 6th. I turned to my buddy and said, with Howard on deck, "You know, this would be a great time for Howard to hit his first playoff home run." Well, Chase apparently heard me and decided he'd be the one to give the Phils a little cushion, sending a 2-1 meatball high into the October night. By the time it landed, I had already jumped around about 15 times. 3-1 Phils. A few pitches later, Garza, clearly flustered, hung a 2-2 slider, and Ryan Howard did exactly what I said would be huge for him to do. Back-to-back jacks, 4-1 lead. Essentially, game over. Or so I thought.
Leading off the 7th, Carl Crawford, just trying to get something, anything going against a locked-in Jamie Moyer, laid down what looked to be the perfect drag bunt. Only Jamie Moyer, ignoring the effects of Father Time, got to a ball that any athletic, in-shape 20-something would have trouble getting to, dove for it, flipped to Ryan Howard, who barehanded the ball, beating Crawford for the out by a full half-step. Incredible play from a man having an incredible night. Until it wasn't. The first base umpire inexplicably called Crawford safe. In real time, he looked out. On the replay, it was clear as day he was out. But the umpire called him safe, adding to a the slew of horrendous umpiring in this series. Aren't these guys supposed to be the best of the best in the World Series? What a fucking joke.
I was cursing the heavens and wishing horrible, terrible things upon Tom Hallion and his family. Fucked again. And to make matters worse, the blown call led directly to two runs that would not have scored, making it a 4-3 game. I was beside myself with anger.
And then the eighth happened. An Upton single, followed by a steal, then another steal where Curbbal threw the ball away, and suddenly the game is tied. The Phils should have at least been winning 4-2 had the umpire just done his fucking job. Instead the game was tied. When the half inning ended, I went on a warpath. I threw a can in the middle of Girard Ave. I chucked a coaster full of change all over my floor. I chucked an open bag of pretzels across the room, creating quite a mess. I was more furious than I have ever been in my life. Fuck Tim Hallion! Fuck Melvin Upton! FUCK! FUCK! FUCKETY FUCK!
I couldn't handle it. Really, it was just too much. I was ready to kill. I'm not even joking. In that moment, I am 100 percent sure I was capable of murder. Thankfully, it didn't come to that. And then, after a perfect 9th by J.C. Romero, the baseball gods decided the Phillies were not going to lose this game. Not after the way Jamie Moyer pitched. Not after yet another horrible call that went against them. Not this time.
Everyone's favorite defensive replacement turned playoff hitting superstar Eric Bruntlett led off the bottom of the 9th by getting hit by a pitch. And as Jayson Stark said, that was the most
normal thing
to happen in the inning. With Shane at the dish, Grant Balfour threw a wild pitch that just missed hitting Shane. It flew by Dioner Navorro, and Bruntlett took off for second. But the ball bounced directly back to Navorro, who has a cannon, off the bricks. He had a shot at Bruntlett at second, but instead threw the ball into center, advancing Bruntlett to third. Holy shit!
The Rays then walked the bases loaded, brought in 5 infielders, as Carlos Ruiz headed to the dish. Bases loaded, no one out. Chooch at the dish. And the man came through. Boy did he ever come threw. A slow, high chopper. Bruntlett was off. Evan Longoria did all he could, charging the ball, stumbling and trying to flip it home. But the ball sailed 15 feet in the air. Bruntlett scored easily. Game-winning, walkoff infield single. Unreal!
I can't even say I was ecstatic or overjoyed. I was relieved. The Phillies deserved that win. Jamie Moyer deserved that win. And while he didn't get the win, he sure as shit deserved all the credit in the world. I walked out my front door, as a scene unfolded. A small group of teenagers were running down Girard Ave. They were yelling and screaming, running the streets, stopping cars, doling out high fives and people honked their horns in support. Hell, these crazy kids even ran in front of the trolley, stopping it in its tracks, celebrating the night away. It was a fun sight to see. That was, until the cops showed up to tame them down. Turns out, the Indian restaurant owners of Ekta called the cops. They couldn't sleep, you see. I told the guy that was not cool and the kids were just trying to have fun. He gave me a dirty look. So, all three of you out there, don't ever fucking eat at Ekta. Fuck those stupid ass Indian faggots. Just because you foreign assholes don't know two shits about baseball doesn't mean you have the right to come to our city tell us how to act. Fuck you! I hope your business goes under and you're forced to peddle cheap rugs the rest of your lives, assholes.
What a fucking night! We celebrated in our own way, and then went to get some rest. For you see, the Eagles came on at 1 and I was headed to game 4 afterward. Rest was needed.
I would love to get into the details of the Eagles' win, but I gotta tell you, I was not overly into the game. I was informed by Arkansas Fred, a lucky bastard who holds season tickets to the Birds, that Lito and Sheldon came out of the tunnel together in introductions. That was pretty sweet.
Now, the first half of the Birds game was pretty awful. It looked like both teams had not much of a clue what they were doing. Donny was off big time, and neither team got much going. The game was essentially won by the offensive line and Brian Westbrook, who was phenomenal in his return. It was great to see the Eagles run the ball, and Westbrook, still struggling with his health, proved just how fucking good he is. 22 carries for 167 yards and two touchdowns, not mention 6 catches for 42 yards. Nice.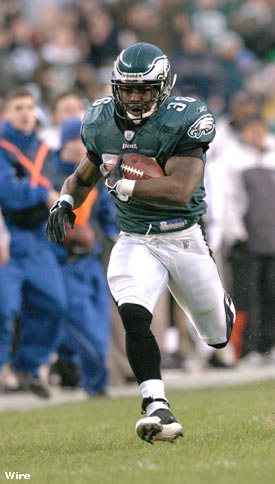 McNabb rebounded in the second half to wake up and actually throw well. DeSean continued to prove he is the best receiver on the team. Kevin Curtis did virtually nothing in his debut. And L.J. Smith was finally having a quietly nice game. He was blocking well and getting open, which was nice for a change. But it didn't last. Lawyer Milloy absolutely destroyed L.J. Smith on a late, unnecessary roughness penalty hit. I mean, it looked like L.J. was never going to get up. That hit was vicious.
Sad to see L.J. finally have a good came only to get concussed. It was good, however, to see Lito Sheppard completely dominate on Sunday. He was tremendous in pass coverage, and the Eagles defense played pretty good all day. Michael Turner was held in check and the Birds surrendered just 14 points.
This I do know though: Matt Ryan is good. I mean, he did not look rattled at all. The Penn Charter kid looks like he's destined to become a great quarterback. I never saw this coming last year, when he threw a shit ton of interceptions. Also, how bad has officiating been in professional sports lately? The Eagles got a huge break on that muffed punt call. That was absolutely horrible. Thankfully, the Falcons had no timeouts left, but man, officials, refs and umpires really do suck these days.
Well, with the Eagles game over, I decided to take a little nap before heading down to the ballpark. I woke from my slumber at 5:10 p.m. and hopped in the shower. I then went in my room, and proceeded to pump myself up the best way I know how—by listening to these two songs:
So I guess you can say I was ready. I walked downstairs and looked at my friend Josh: "We're going to the World Series right now."
We took a six-back of Tecate, walked to el and embarked on our journey. Once we hit Broad and Pattison, we were awe-struck. The scene was spectacular. A huge stage, lights everywhere. We walked around the area, scanning the Linc parking lot, heading over the Wachovia Center lot, watching all the debauchery and drunkeness, still stunned we were going to be in the stadium for game 4 of the World Series.
After checking in with some friends, Josh and I walked around outside of the stadium, working through a mass of people. Finally, at around 7:40 p.m., we entered and took our seats in section 425, row 13, seats 22 and 21. It was a great row, with two rowdy fellows behind us, a young kid who was as into the game as anyone in the stadium a few rows behind, two old-time, long Phillies fans to my left, and two extremely attractive women to our right. Oh yeah, and there was a guy wearing an Ohio State pullover two rows in front of us. Josh yelled at him. It was great.
As I looked around the field and saw the Phillies getting ready to be introduced, I started to get misty-eyed. I was at the NFC Championship game against the Falcons. I thought that was the best day of my life and probably always would be. But on Saturday night (well, Sunday morning), my roommate returned the house. He was also at the NFC Championship game with me. He said to me, "The World Series, being there, is so much better than the NFC Championship game because that game, it was for the Eagles to get to THE GAME. The World Series, it is THE GAME." Literally 15 minutes later, Adam EatShit returned and said, verbatim, that exact thing.
Well, let me say, they were both right. 100 percent. I had chills like never before. When Patti LaBelle began to belt out the National Anthem, I was freaking out. Gone. Completely out of my mind amped up. I was there. At the World Series. With the Phils holding a 2-1 lead. And the night had only begun. I mean, I was so caught up in the moment I actually snapped a few photos. I never take pictures. Ever. But for this, I couldn't resist.
For some reason or another, I had all the confidence in the world in Joe Blanton. And I knew, just knew, the Phils would hit Sonnanstine. I don't know why. I just had a hunch. And Fat Joe came right on out and pitched a 1-2-3 first. I was losing it.
Then bam, J-Roll continued to enjoy the home cooking, lacing a double down the line. Jay Werth did his job, moving Jimmy to third with a fly ball to right. After a Chase walk, I was pissed when Howard chopped one right back to Sonnanstine. He had Jimmy dead to rights. Only Jimmy, caught in a rundown, somehow got back to third to load the bases. Apparently,
Jimmy should have been called out
, but let's just say the umps owed us. Then the Bat worked a walk to drive in Jimmy for that all-important first run. It was glorious.
And man, Joe Blanton. Joe motherfucking Blanton. The media destroyed Pat Gillick and company for failing to get arms like CC Sabathia and/or Rich Harden, instead opting for the likes of Joe Blanton and Scott Eyre. Well guess what? Joe Blanton is still pitching. CC and Harden aren't. And you know what? Joe Blanton has pitched incredibly, and he was never better than last night. Blanton was simply dealing. The Rays could not touch him. The man of four pitches mixed them all well, but man, that changeup was just devastating. He must have been taking notes watching Cole and Jamie, because last night, that thing was unhittable.
Sure, he did give up two taters, but they were the only mistake pitches Blanton made all night. He went 6 plus innings, giving up just 4 hits and striking out 7. He was as good as he's ever been when the Phils needed him the most. And to add to his incredible night, he did
this
:
Joe Blanton hit a home run. In the World Series. And I was there. Un-fucking-believable. I had lost it. I was shaking the shit out of Josh. This game was over. The Phillies were going up 3-1, just one win away from a World Championship.
The bats broke out. Ryan Howard is a
Cot -Damn Monster
. He crushed two homers. One to left in the 4th of the three-run variety to give the Phils a 5-1 lead—the Phils' first extra-base hit with runners in scoring position in the series. Then he hit another, this time to right, in the 8th.
Jay Werth added another home run, complementing Howard's 5 RBIs. Durbin and Eyre held down the fort for Madson, who just continued his renaissance, and J.C. Romero put the
nail in the coffin
.
We stayed a little while, soaking it all in. Then we stopped home, got the car and headed out for a celebratory cheesesteak. Phillies are 1 win away with their best pitcher, the best player of this postseason, on the mound. At home. For the whole damn thing.
This could be it. This should be it. Do it again, Cole. Show us you are our king.
Update:
Awful Announcing
coming through again:
LET'S GO PHILS!!!!!!!