Despite doing everything in their power to give the Dodgers the upper hand, not even Cole Hamels and Ryan Madson could blow this one last night. No, because Curbball, Howard and Raul simply wouldn't let them. Not this night.
Yesterday, I had a good feeling about last night's game, about this series. And I thought it would get kick-started by the
left arm of Cole Hamels
. Boy was I wrong about that one. After the Phils went down with just three batters to start the game after Shane Victorino got picked off first, Cole gave up two singles in the first inning, but he did avoid surrendering any runs. That didn't last long. When the Phils again went down in order in the 2nd, thanks to both Jayson Werth and Raul Ibanez caught looking — at which point I went fucking ape-shit, yelling at them to get the god damn bat off their shoulder — Cole Hamels went out and gave up a home run to James Loney, a lefty who not only rarely hits homers off lefthanded pitchers, but a guy who rarely hits home runs in Chavez Ravine. 1-0. Dodgers.
Thankfully, Cole settled in after that, getting the next three batters and breezing through the 3rd with a 1-2-3 inning, but you could tell something was off. Cole wasn't commanding his pitches, not by a long shot. Sure, home plate umpire Randy Marsh had a tight strike zone, but he was consistent on both sides.
That wasn't Cole's problem. He simply wasn't hitting Ruiz's glove, leaving many hittable pitches over the plate. But he was getting outs. On the other side, the 21-year-old Clayton Kershaw was cruising, one-hitting the Phils through three. But in the 4th, after a two-out walk to Howard, Kershaw grooved a 2-0 fastball middle in to Jayson Werth. When he swung, I thought it was gone, but it didn't quite have the right sound. Instead of what I thought was a 2-run home run, Werth got it a little off the end of the bat, and the Phils still trailed 1-0 … and still had yet to get a hit off Kershaw since Shane's first-inning single.
But after Cole got his second straight 1-2-3 inning — striking out Casey Blake and getting both James Loney and Ronnie Belliard to pop out — the Phils finally pounced on the young southpaw. Raul Ibanez got things going, leading off the 5th with a single to left center. That seemed to rattle Kershaw, who after getting a first-pitch strike to Pedro Feliz, completely lost command. He threw a wild pitch that allowed Ibanez to advance to second, and threw four straight balls to Feliz, putting runners on 2nd and 1st with no outs. Carlos, who took note of Kershaw's erratic control, took the first two pitches for balls, making it six straight balls by Kershaw, and taking a mighty rip at a 2-0 fastball. He missed it, fouling it off, but he sure as hell
didn't miss
the next one, turning on a fastball up in the zone and depositing it into the left field stands.
My roommates and I were going berserk, jumping around off our seats in our customary playoff baseball fashion. Curbball, you magnificent bastard. You can hit .220 in the regular season the rest of your life. I know you're just saving it for October. 3-1 Phils, still nobody out in the 5th. That was essentially all she wrote for Kershaw. Clearly rattled and losing it, he walked Hamels on four pitches. Then he fell behind Jimmy Rollins 3-1, but was bailed out by an impatient Jimmy, who chopped a 3-1 pitch to third, reaching on a fielder's choice as Blake got Hamels at 2nd. Then Kershaw came back and struck out Shane Victorino, but his tough inning wasn't through. Chase worked a great at-bat for a 7-pitch walk to get Ryan Howard to the plate, and once again, the big boy delivered, ripping a 1-0, low and inside fastball to right for a two-run double. There was never a doubt Chase was scoring from 1st.
5-1 Phils, and even with a long way to go, we were all feeling all sorts of good. With the way Cole has pitched against Los Angeles in his career, it was all set up for him to continue that wild success. Only he didn't. In this position a season ago, Hamels was lethal. After getting a lead, forget about it. He didn't just have shutdown innings, he had shutdown finishes. And that's what the Phils needed here, a shutdown inning after scoring five runs in the fifth to take a four-run lead. They didn't get one.
First, Cole gave up a leadoff double to Russell Martin. When he followed that up with a strike out of pinch hitter Orlando Hudson, I thought Cole was going to pitch out of it and lock down the Dodgers. I really did. Especially after he went up 0-2 on Rafael Furcal. Naturally, on an 0-2 pitch, I was expecting a changeup off the plate and in the dirt. That's Cole's best pitch, his putaway pitch, and another strikeout would be huge. Instead, he and Carlos Ruiz opted to go with a high fastball, trying to get Furcal to chase. One problem: Furcal is and always has been an excellent fastball hitter, and true to form, Furcal slapped that high 0-2 fastball through the hole on the right side for a single. I was pissed at the pitch selection immediately. For the life of me, I can't figure out why with an 0-2 count and in need of an out Cole wouldn't throw his best pitch. That decision was costly.
Cole fell behind Andre Ethier 3-1, and I was starting to really get on Hamels. Ever since his brilliance last season, Cole hasn't been the same. He admittedly wasn't prepared for the start of the regular season, saying maybe he spent a little too much time making the interview rounds. When he should have been working on developing consistent command of that curveball, he was out talking to Regis and Kelly. And the guy hasn't had it all season long. He didn't have it game 2 of the NLDS. What made me think he'd have it last night? Because he didn't.
Yes, on that 3-1 pitch to Ethier, Cole made a fantastic pitch, jamming Ethier to force a dead double play ball. Unfortunately, Rollins couldn't get the ball out of his glove initially, throwing off Utley's timing at second. And while the Phils did get Furcal at second, Utley's throw sailed into the dugout, allowing Martin to score and putting Ethier on second with Manny coming to the dish. Cole was visibly frustrated, showing his disgust with his mannerisms, and he let it affect him. Yes, the play should have been made. It was a tailor-made double play ball. But it wasn't. It was Cole's job to settle himself down and go after Manny.
All game long, the announcers were talking about how Manny has been struggling with the inside fastball for over a month now. That's how Cole got him out the first at-bat, and how the Cardinals had gotten him out the series before. But Cole decided to not challenge Manny, throwing three straight changeups, and the third one, Manny launched deep to left center field, 5-4.
Honestly, it wasn't even a bad pitch. Manny hit it off his shoe tops and launched it. That's why he's been one of the greatest players of this generation. But the approach by Hamels was suspect, and he clearly let his emotions get the best of him. After being awarded a four-run lead, Hamels gave three of them right back. An ace isn't supposed to that, but then again, Cole hasn't been an ace since last October.
My patience has evaporated with Hamels now. I tried to give him the benefit of the doubt in the NLDS for his poor performance, but last night was simply inexcusable. He wasn't focused, hasn't been focused all year, and that's on him. He needs to wake the fuck up and stop whining and pouting out there and just make his pitches. Worry about what he can control and stop letting everything else around him affect him. You're a big boy now, Cole. Start fucking acting like it.
The Dodgers clearly had all the momentum in the world, and then they brought in rookie Ronald Belisario. Somehow, I had gone all season long ignorant to Belisario, and I don't know how. That fucker threw the most undecipherable fastball I have ever seen. Every damn pitch moved about a foot between his hand the plate traveling 96, 97, hell even 100 mph, and he set down the Phils easily in order. Charlie sent Cole back out for the 6th, with his spot coming up to lead off the 7th, and hoped he'd refocus. Instead, he gave up back-to-back one-out singles and was done for the night. And the second sinlge was particularly maddening. Again, after getting two strikes on Ronnie Belliard, Cole refused to throw his changeup. Ruiz called for it a few times, but Cole kept shaking him off. Manny's home run made Cole shy away from his best pitch, and instead of throwing his putaway pitch to get Belliard, he threw him a fastball and let him get a hit. Another shitty performance in a season's worth of shitty performances from last year's ace. At least he left with the lead.
Chad Durbin and J.A. Happ combined to end the inning unscathed, but there was a sense that the Dodgers were in a very good position. All we've heard in every preview and prediction under the sun is that the Dodgers have a vastly superior bullpen, and with both teams in the pen of a one-run game, surely L.A. would come out victorious. There wasn't an analyst out there who thought the Phils could win a game that came down to the battle of the bullpens.
With Belisario dealing and then Kuo coming in and getting a pretty easy 7th, it looked like those predictions were coming true. And it looked even more like things were going to go true to form when Charlie sent out rookie Antonio Bastardo to start the 7th in a one-run game in the NLCS. A guy who had barely pitched in the big leagues and a guy who was, without question, a surprise addition to the postseason roster. And Bastardo failed miserably to do his job. He was brought in to face one hitter and one hitter only, lefty Andre Ethier, to get him out. Instead, he surrendered a leadoff double, bringing the always lethal Manny Ramirez to the plate with the tying run on second, representing the go-ahead run himself.
Charlie called upon a familiar face in Los Angeles, Chan Ho Park, who had been brilliant out of the pen last season for the Dodgers. No one quite knew what to expect from Park. He had been great all season since moving to the bullpen, but he had also been out since the middle of September. Well, in his first appearance in a month, in a very sticky situation no less, Park looked like he hadn't missed a beat.
Firing fastballs that were hitting 96 on the gun, he got big, bad Manny to ground out. Then he struck out Matt Kemp, and forced Casey Blake to hit a grounder to second. A leadoff double with Manny at the dish turned into nothing for the Dodgers. Park was magnificent. And he let his teammates and the world know he was feeling the rush of adrenaline, mimicking taking his pulse in the dugout and showing his heart was beating fast. This year, Park's on the right side, and he wasn't going to be the one to screw it up.
The 8th inning rolled around and the game was incredibly tense. The Phils had gotten to Kershaw in a big 5th, but the Dodgers bullpen had closed the door. Now the Phils had to find a way to hold on. L.A. sent out lefty George Sherrill for the 8th, a player they acquired from Baltimore for this exact situation — to face the Phillies' tough lefthanders. Well, that's when this great Dodgers bullpen imploded, specifically Sherrill. He walked Ryan Howard on five pitches, and then duplicated that at-bat against Jayson Werth. Against his first two batters, Sherrill threw 10 pitches, 8 of them balls, and walked both players to start the inning.
I turned to my roommates and said, "You think Raul is taking here? He fucking better be." I mean, the guy had just thrown 10 pitches, 8 of them out of the strike zone. Of course you make him get one over, right? Not exactly. On the very first pitch he saw, Raul took a mighty cut
and shut me right the hell up
, hitting a high home run that just cleared the right field fence.
A tense, 5-4 game had just turned into an 8-4 lead for the Phils in the 8th. I couldn't fucking believe it. Not only did Raul swing at the first pitch, not only did he hit it out, but it was a god damn breaking ball, not even a fastball. Like I said, he should be swinging there. What the fuck? I couldn't believe it. If he had gotten out on that pitch, my head might have exploded. Under no circumstance would I have even allowed Raul to swing. I'd have put the stop sign on. Again, that's why I'm a stupid 25-year-old moron and Charlie Manuel has the ring. And that's why Raul Ibanez is still mashing the baseball nearing 40 in the big leagues.
I leapt so hard out of my chair that I broke the damn thing. Raul, shit, I fucking love that guy. A four-run cushion with 6 outs to go. I liked those odds.
And then Ryan Madson came in. Last season, when Madson suddenly started throwing in the high 90s and becoming an unhittable force, I was completely baffled as to where this all came from. And now, I'm completely baffled as to where that dominant setup man has gone. Plain and simple, Madson is a headcase, much in the way Brad Lidge is.
Madson struggled as a starter when he came up, moved to the bullpen full time and had a great year. Then he sucked for a good while, then became OK, then sucked again, then became unhittable. This season, he looked unhittable as the setup guy for a while, but when Lidge struggled and Madson was thrust into the closer's role, he blew donkey balls, and he's never been quite the same since.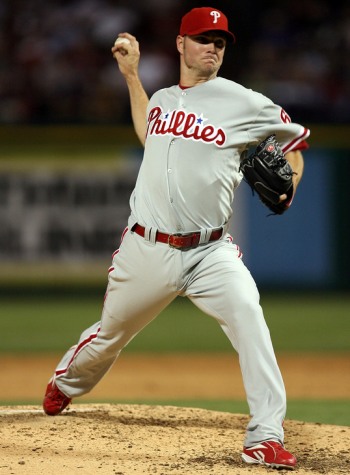 He was terrible in his last outing in Colorado, and he was even more terrible last night. Throwing basically nothing but fastballs, Madson continually spit the middle of the plate, and the Dodgers took advantage. Three straight singles to lead it off by Loney, Belliard and Martin to make it 8-5, and I was ready to literally murder Madson. That stupid fuck was working with a 4-run lead and instead of getting the game to ninth with that lead, he put on his best Cole Hamels performance, giving those runs right back. He got Juan Pierre out and then Furcal hit a sac fly to make it 8-6. When he surrendered a single to Andre Ethier, I was ready to cast him off into oblivion.
Time for the hook, Charlie. But then again, all he had left was Brad Lidge and Scott Eyre out in the pen, and with the double switch leaving Ben Francisco in the game, who had made the last out in the 7th, for Raul, the pitcher's spot in the order could come up in the top of the 9th. Unless he was going to use Blanton in the 9th, Charlie had no choice but to stick with Madson against Manny. That was a scary thought, and none us of particularly thought this was going to end well. But it did. Madson somehow, after completely shitting the bed to start the inning, got Manny to ground out to Pedro to get to the 9th with a 2-run lead.
From there, we all knew it was going to be Lidge, no matter what. And the Phils didn't give their fans any insurance in the 9th, meaning we'd all have to hold our breaths yet again with a 2-run lead and Lidge in for the save. But for some reason, I had complete confidence in him. Perhaps it was his two saves in Colorado. Perhaps it was just a hunch. Either way, I was comfortable with Lidge out there.
After a leadoff single to Kemp, that confidence wavered a bit. But then he induced a double play by Casey Blake, and I was ready to officially declare Brad Lidge back from the dead. But then, with a two-run lead and two outs, he walked James Loney to bring the tying run to the plate. I was killing him for that. Well, until he got Belliard to pop out to end the game. 8-6 Phils, 1-0 series lead. Lights out looks like he just may be back just in the nick of time.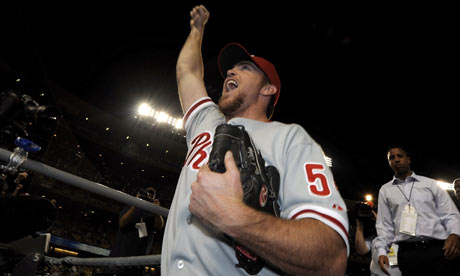 That's 3-for-3 in save chances this postseason. The Phils have four wins in the playoffs. Brad Lidge has saved three of them. He's still perfect in October as a Phillie. Unlike the Dodgers bullpen. How about that huge Los Angeles bullpen advantage?
LET'S GO PHILS!!!!!!!!!!!!!!!!