Tonight, the Phillies begin the National League Championship Series against the Dodgers in a rematch of last season's NLCS, which the Phils won in 5 games. Only this time, it starts out west, as the Phils are in Los Angeles for the 8:07 first pitch. And in game 1, it's the battle of the young southpaws, with 21-year-old Clayton Kershaw taking on last season's NLCS MVP Cole Hamels.
I gotta tell ya, I'm pretty damn excited about the rematch. I can foresee he Phils having trouble with Kershaw, a hard-throwing lefty with a devastating curveball that gets plenty of strikeouts. But the Phils handled him this season when the two teams met, and "Hollywood" Hamels seems to shine the brightest under the lights of tinsel town. In fact, he pitched
his best game
of the season out in LA: a complete-game, 5-hit, 5-strikeout, 0-walk 3-0 victory. With his newborn officially here, Cole should have no problems focusing on defeating the team he's owned since getting to the bigs. I expect him to bring it tonight and prove that his first postseason start of 2009 was an aberration.
Let's get this going right, boys. Beat LA. Again. We can't let a team starting our retreads — Vicente and Randy Wolf — knock off the
World Fucking Champions
.
Linkage …
-Sportswriter Dom Cosentino, proprietor of
Big Five Post
, is a major friend of the site, and I've been a big fan of his well before he started his fine Philadelphia college hoops blog. He has done a tremendous job covering high school sports in southeastern Pennsylvania, especially football, for a while now. Check out his work at
PhillyBurbs.com
.
Anyway, Dom was kind enough to pass along some big news regarding former Temple great Mark Macon. Perhaps the most dominant Owl ever to take the court on North Broad, has been named
interim head coach of Binghamton
.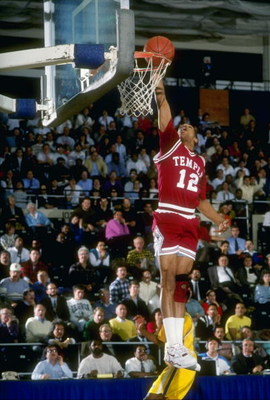 Macon, the all-time leading scoring in Temple history, and, well, let's let the professional give us the details:
Macon had done some time on John Chaney's staff just before Chaney's retirement, and this would have been his third season as an assistant at Binghamton, which had reached the NCAAs last year after winning the America East title. But today, according to the Associated Press, Macon, 40, was named Binghamton's interim head coach after Kevin Broadus was placed on an indefinite paid leave of absence for having improper contact with prospective recruits.
It is not, to be kind, going to be an easy job. Six Binghamton players, including former Saint Joe's guard D.J. Rivera, were kicked off the team a couple of weeks back — just days after point guard Emanuel "Tiki" Mayben was arrested for selling crack cocaine. Then, in a bizarre twist, the university subsequently dumped a professor who had publicly criticized the team to the New York Times, which was then followed by the resignation of the school's athletic director.
Yikes. We have to think even a solid week of Chaney's notorious 6 a.m. practices was easier.
Hopefully, Macon can have as much success as a collegiate coach as he did as a player and turn things around at Binghamton. And who knows, maybe by the time Fran Dunphy is ready to call it a career, Macon will have the credentials to come back home to try and lead the Owls again. But let's not get ahead of ourselves. Best of luck to Macon up north. I'll be keeping my eye on Binghamton for sure.
-The Phils will be facing some
old friends
in the NLCS: Randy Wolf, Vicente Padilla and Jim Thome.
-In a bit of a surprise, there are
some roster moves
for the Phillies: Kyle Kendrick and Brett Myers are off the NLCS roster, replaced by Chan Ho Park and Eric Bruntlett.
-Great Dodgers bullpen.
What great Dodgers bullpen
?
-
Five things
one blogger learned from the Phils-Rockies NLDS series, via
The Jerks
:
6) Colorado's biggest failure was in not getting Cliff Lee's wife pregnant and due to deliver in October

…

2) The middle of the Phillies order is really not ready to stop being World Effing Champions

1) The team with the closer that had a 7+ run ERA in the regular season has a huge advantage over the team with the closer that had a 3 run ERA
-Shoals has
his Sixers preview
.
-
This
was on Sportscenter last night:
Even though he's only 9 years old, that kid is gonna get all sorts of chicks.
-Watch
this
:
Yes, that was an alley-oop from the foul line. The dunker's name is Larrques Cunningham, a 6'5" junior forward for NAIA school Lee University in Tennessee. Wow.
-Basketball season is right around the corner, which means our friend Antone is getting things in full swing over at
You Got Dunked On
. Take, for instance, a sick
Sheed UNC dunk mix
:
And
Thad throwing one down
:
Yep, almost NBA time.
-Allen Iverson
has a torn hamstring
, via
TrueHoop
.
-
Tirico Suave
is all over the UFL. Last night, with nothing on but the Boise State-Tulsa game, my roommates and I watched some UFL on one of our TVs with said college game on the other. Believe it or not, you've heard of almost everyone on these UFL teams, because most of them played in the NFL or were pretty damn good in college. Michael Pittman, J.P. Losman, Brooks Bollinger, Samie Parker, Teddy Lehman, Marcel Shipp. Who knew?
-It's official:
Pedro to start game 2
.
I am completely baffled by Charlie Manuel's instance on having Joe Blanton in the bullpen when, in my humble opinion, he should be starting game 2 without question, but I'm done questioning Charlie. Except that I'm questioning it. Though I do think Pedro is gonna pitch all sorts of awesome. And I really like his chances against the Flotilla.
-Brett Myers:
"I'm ticked."
-Austin Scott is
suing Penn State
.
If you recall, following an incident where Scott was alleged to have sexually assaulted a woman, Scott, who had been a disappointment on the field, was kicked off the team. The charges were later dropped and the woman who accused Scott proved to have a very shaky past. Tough times for Scott, for sure, and I felt like he deserved better as far as loyalty, seeing as Paterno has been known to stick behind his players until the legal system plays out. Then again, Austin Scott sucked all sorts of balls at Penn State. With half the talent, Tony Hunt became twice the back because he worked his ass off while Scott squandered all his ability. That doesn't make his dismissal right though.
-Sean Lee
may play
on Saturday against Minnesota. If he doesn't I'm declaring him officially dead. Seriously, how can an injury that didn't even warrant him coming off of the game when it happened keep him off the field for so long since?
-Some interesting
custom Phillies cards
from
More Hardball
.
-A Rockies fan
breaks down what went wrong
in the 9th inning of Game 4, and can't resist taking a tired, lazy shot at Philadelphia fans. Though it is actually a good read, so long as you skip #4.
-
Five NLCS storylines
:
2. Ryan Howard(notes) and his friends are good at baseball: "Big Brown" is sure to get a lot of press after keying the Phillies comeback in Game 4 and hitting .375 , but let's make sure he doesn't hog the spotlight. Chase Utley(notes), Shane Victorino(notes) and Jayson Werth(notes) were all rocksmashers against Colorado and if the quartet continues to play like this, it'll be hard for the Dodgers to mount a defense. 
Oh, and one more piece of information. I ride the el and subway to work every day, so I don't get the chance to listen to WIP on my commute. But uncle jellyfish drives, so he does, and he informed me this morning that none other than the patron saint himself, Doug Glanville, was on the morning show. Those are all the details I have, but simply his presence on the radio
has to be a good sign
for the Phillies. Is it 8:07 yet?
LET'S GO PHILS!!!!!!