Just like the first game of the playoffs
last year
, I was forced to follow the game sans picture. I guess that's what it's like for a blind baseball fan. No sights, just sounds. I'm glad I'm not blind.
Luckily, this year I had to foresight to bring in a radio so I could listen to all the action live, not follow along on stupid MLB gameday. This was a wise move on my part, one of the few wise moves I've made in my life.
About 45 minutes before the scheduled 2:37 first pitch, I tuned in to 1210 and to my pleasant surprise, they were replaying some of the best calls from the season, reliving the defining moments of the 2009 regular season. That started to get my juices flowing … and getting me pissed off that I was stuck at work. But I made the best of it.
Roughly 4 minutes before game time, Arkansas Fred called me, and the guy was freaking out. His call in turn got me even more amped, and I almost bolted out the door and to a bar to watch the game. But I'm an adult now, or so I'm told, so I stayed and work and got ready for the word from Scott Franzke that yes, the 2009 MLB playoffs had begun.
On the very pitch he's ever thrown in a playoff game, Cliff Lee got Dexter Fowler to fly out. That seemed like a good omen to me, but my feelings quickly wavered. Four pitches later, Carlos Gonzalez singled to left. I was hoping for a nice, clean, crisp 1-2-3 opening inning. Not happening.
Lee did get Todd Helton to ground out, but when Troy Tulowitzki managed to get on with a dribbler to second, I admit that I was worried that the subpar Cliff Lee had shown up, not the impenetrable force from his first few outings as a Phil. Thankfully, I was way off with those feelings. Lee settled down, got Garrett Atkins to fly out, and there wouldn't be much drama the rest of the way from the biggest trade deadline acquisition of the summer.
However, there was some drama in the game going on. Where Lee came out and gave up two hits in the first inning, making me a little uneasy, 25-year-old flamethrower Ubaldo Jimenez came out dealing. He breezed through the Phillies hitters in the first, setting down Rollins, Victorino and Utley in order. And he continued to breeze through the first four innings, only once even letting a player get to second base. And that was Cliff Lee, who got a two-out single in the third and then stole second. Other than that, Jimenez was mowing them down.
Meanwhile, after surrendering a leadoff double in the 2nd, Lee began to do Jimenez one better. After getting a helping hand from Jayson Werth (and the umpire) on a fly out-throw out double play, Lee regained his early Phillie form, dominating the way you expect a Cy Young winner to dominate. He was so dominant that his first out in the 2nd was the first in a string of 16 straight batters Lee retired. 16 in a row. In the playoffs. That's domination.
As one would expect, the game was shaping up to be a pitchers' duel. Jimenez breezed through four innings, and Lee matched him after a shaky 1st. Just what we need, a close game that could potentially come down to the bullpen. Yikes.
Then something strange happened. In the 5th inning, Jimenez, who was blazing his fastball by hitters and getting guys out, began to lose his command and started throwing more and more offspeed pitches. The Phillies, led by Jayson Werth, took notice and began to make Jimenez work. An 8-pitch leadoff walk by Werth got things going. Then Raul did what he had done the entire first half of the season: a huge extra base, RBI hit, doubling down the right field line to give the Phils the 1-0 lead.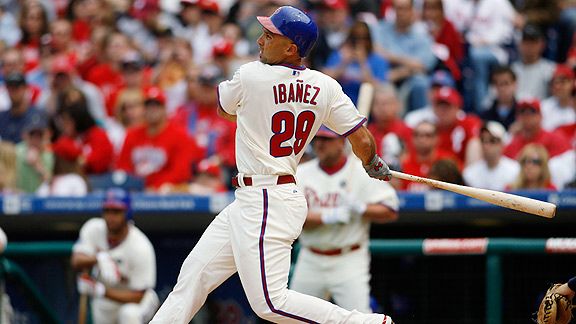 I was pumping my fist and trying everything in my power not to yell in excitement. Believe it or not, there were a few people in this office that seemed to have no interest in the game whatsoever. I hate them. A lot.
Then the Phils added another run with small ball, something they rarely do. Pedro Feliz hit a grounder to the right side to Ibanez to third, and Curbball drove him home with an RBI single. 2-0 Phils.
I could hardly contain myself. Jimenez did manage to get out of it with just two runs, but after a quick 1-2-3 by Lee, the Phillies' big boys decided to get in on the act. Chase Utley led off with a single, and Ryan Howard followed with an RBI double on a ball that sounded like it was going to get caught, only the wild winds blew it around and Carlos Gonzalez could not catch it. Utley scored, 3-0.
Five pitches later, Jayson crushed one that both Tom McCarthy and Chris Wheeler thought was going out. Without the wind, it probably would have, but nonetheless, it hit off the cutout in right center, giving Werth a triple that plated Howard, 4-0. Raul followed with his second RBI of the day, driving in Werth with an RBI single.
Now I was feeling all sorts of good, work or no work. You could tell even through the radio that Lee had buckled down and found his pinpoint location. He was plain dealing and there was nothing the Rockies could do about it. Five runs would be more than enough. I knew it. The announcers knew. And think the players knew it, both for the Phillies and the Rockies.
The only question now was could he go the distance, could he get the shutout? The fans were
certainly behind him
:
When I heard the "Let's Go Lee" chants, I started to get chills. I wanted to badly see how incredibly he was pitching, but I didn't dare leave the office, in fear of missing something, anything. So I sat at my cubicle and listened intently. Next thing I know, Lee has retired 14 straight, then 16 before Garrett Atkins got a two-out double in the 7th. No matter, Lee got the next batter to ground out, and he was nowhere near 100 pitches. I knew right then that he was going the distance, and sure enough, after setting them down in order in the 8th, Lee took his spot on the mound in the 9th, poised to not only pick up a complete game win, but to do it in shutout form.
Unfortunately, it was not to be so. Carlos Gonzalez got a one-out single, moved to second on a wild pitch, and then Tulowitzki doubled him home. Bummer. I really wanted that shutout. But no matter. Lee struck out Atkins to end the game, proving Charlie was more than wise to hand him the ball to begin the postseason title defense.
What a game. What a trade. What a steal. Ruben had to have a big smile on his face. I know I did. Then I headed home, finally, and thought to myself, "You know, other teams have repeated before. Why can't us?"
And today, I have to do it all over again. Same scenario, at work, game time 2:37, me hating myself. Hopefully, it will be a repeat performance, both from yesterday and last year.
Now it's Cole's turn to showcase his stuff. If his résumé is any indication, we can expect another gem from our starter today. Perhaps even a shutout.
LET'S GO PHILS!!!!!