They say you never forget your first time. And with October upon us, the vivid memories of my first time witnessing a professional Philadelphia franchise win a championship are ripe in my head. Even with football underway, I find myself wandering back to that glorious month of October, 2008. It's something I want to relive again and again. In fact, that's exactly what I'm going to do, republishing my feelings during the wild ride to becoming 2008 World Fucking Champions. View part 1 here, part 2 here, part 3 here, part 4 here, part 5 here, part 6 here, part 7 here, part 8 here, part 9 here, part 10 here, part 11 here, part 12 here, part 13 here, part 14 here, part 15 here, part 16 here and part 17 here.
Today is part 18, originally published Oct. 22, 2008:
Finally, Mercifully, the World Series Starts Tonight
It feels like it's been a month since the Phillies pounded the Dodgers into submission for their World Series birth. In reality, it was only a week ago. But that long, seemingly endless wait is finally over. Today, it all begins with a couple of talented young southpaws going at it.
No matter how you slice this pitching matchup tonight, it's advantage Hamels. He is not only the best pitcher on the Phillies staff, he's the best pitcher in this World Series. And the second best resides in the Phillies bullpen, in the right of Brad Lidge. And while Tampa clearly has more talent in its starting rotation overall, with James Shields, Matt Garza and Andy Sonnofabitch, the Phils' rotation isn't exactly chopped liver.
Sure, Brett Myers has been up and down, but he's also 2-0 in the postseason and very capable of throwing a 2-hit shutout and striking out 10. Jamie Moyer has been just plain awful in his two postseason starts, but do you really think he'll put up three stinkers in a row? After all, the guy did win 16 games, and Tampa could be just the type of team he may be able to have success against. Much like the Marlins, the Rays have a young, aggressive lineup that could get overanxious and outsmarted against old man Moyer.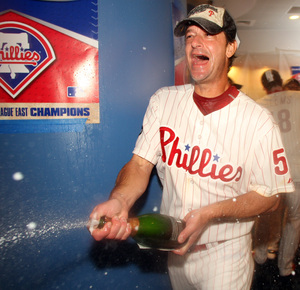 And frankly, Joseph Matthew Blanton has performed well in both his starts during the playoffs, completely dealing against the Brewers and putting forth a solid effort against the Dodgers. Oh yeah, and the Phillies always seem to win when he pitches. So maybe the starting rotations are a little closer than people think. Maybe not.
Either way, I'm more excited to see which lineup can do more damage against solid pitching. The Phillies have marched right on through the National League with Ryan Howard hitting exactly 0 home runs and Jimmy Rollins struggling at the dish against the Dodgers. My guess is those two guys won't stay that way, especially Howard, who is bound to make up for the past 9 games by bombing a few down in Tampa before returning home.
The thing that's scary is just how evenly matched these two teams are. With B.J. Upton, Dioner Navarro, Evan Longoria, Carlos Pena and Carl Crawford, this team can flat-out rake. Not to mention the
wild card
that is Cliff Floyd on the bench, the historic Phillie killer.
Luckily, the Phillies have some balance in the lineup as well. Jayson Werth is always dangerous, even when he looks lost against righties. Shane Victorino has been Philadelphia's MVP of the postseaosn, carrying a big stick (11 RBIs) and playing incredible defense. Chase Utley is simply the best hitting second baseman alive, Pat Burrell is always dangerous and Curbball Ruiz has actually been hitting the playoffs. So this should be interesting one.
Tonight, it finally comes together. Will it be Coste or Bruntlett filling in as the extra hitter? Can Chase and Ryan finally hit a lefty? Will anyone in Tampa even care that a game is going on? These are all questions we'll find out tonight.
And hopefully, just like the last two series, the Phils can jump out to a 2-0 lead, this time on the road, and come back home with old man Moyer redeeming himself. That way, when I head to Citizens Bank Park on Sunday night for game 4, Joe Blanton will be in position to clinch this thing in a clean sweep. That would be ideal … and is highly unlikely. But with excitement in the air and game 1 finally upon us, a man can dream. And dream I shall.
LET'S GO PHILS!!!!!!!