If you are looking here for any sort of recap from the Penn State and Eagles games, go to the nearest mirror, look at yourself and then smash your head into said mirror over and over again until your head is bloodied to the point of feeling woozy. Because if you want to read about two boring-ass blowout football games when a nearly four and half hour playoff baseball torture-fest that ended early this morning just took place, you enjoy pain.
Last night, as I was driving back to Philadelphia from my parents' house in Bucks County, I received a phone call from my friend Tommy C. at 8 o'clock on the dot. Tommy C. is a guy I've known since grade school, a kid I became even better friends with in college. And upon graduation from Penn State, Tommy moved to Durango, Colorado, doing his thing out west. Two years ago, when the Phillies played the Rockies in the first round of the playoffs after a 14-year hiatus from postseason play, Tommy ventured to Denver to take in game 3 of the NLDS. Of course he did it again this time around, under much better circumstances — the Phils tied 1-1, not down 0-2.
Tommy called me from Denver, two hours before game time, from a bar right down the street from Coors Field, a bar owned by a Philadelphia native that was filled with Phillies fans. He was excited, telling me how the place was flooded with Phils fans, so he certainly wasn't going it alone in the belly of the beast. I immediately asked him about the weather, the cancellation and how much snow they got out there. To my surprise, he said there was only really a dusting and that the temperature was the same last night as it was Saturday night. In his words, "They definitely could have played Saturday." Thanks, MLB, because I sure know I'd rather have to stay up all sorts of late for a 10:07 p.m. EST pitch time on a Sunday freakin night instead of stay up late on a Saturday for a 9:37 p.m. start. Because, you know, Sundays are hectic for everyone, and no one has anything to do on Monday, right?
Tommy went on to tell me how he's been pacing all day, nervous as hell, and how he couldn't even imagine how nervous J.A. Happ must be. After all, Tommy's just a fan — all he has to do is watch the agony. J.A. Happ had to live it, starting in the postseason for the first time in his young career. I didn't even really think of that myself, not with the way Happ has handled himself since getting called up last season. The guy's been virtually unflappable and extremely good. Nerves weren't going to get to him, I thought. I was certain Happ would throw a good game. After all, he had
his best start
ever against the Rockies earlier this year, a complete-game, 4-hit, 10-strikeout shutout on Aug. 5.
How little I underestimated the power of nerves. After I got off the phone with Tommy and continued my trek home, I got to my house and saw Adam EatShit, our roommate, uncle jellyfish and our friend Miff, all ready to take in the game. With an hour and half-plus until game time, I went in my room and quietly calmed myself down as best I could. Tommy's phone call had got my juices flowing big time, and I needed to relax a little before what I knew would be a draining, insanely late night.
When I descended from my third-floor room, I took my post on our couch, with the four other gentlemen around me and a fifth, our other roommate, securing his spot. It was game time, and now, finally getting a chance to watch a playoff game at home, on my couch, on my TV, I was getting amped. And that adrenaline almost made my head explode when Chase
jacked one
to give the Phils a 1-0 lead, just like
he did in game 1
of the World Series last year.
Sadly, my slight elation didn't last long. For the first time, well, ever, J.A. Happ came out and looked like an overwhelmed rookie. He struggled to command his pitches from the onset, routinely falling behind hitters 2-0, and the Rockies kept working themselves into hitter's counts. First, a leadoff single by Carlos Gonzalez, followed by a single by Dexter Fowler, and then an RBI ground out by Todd Helton. Run given right back. Two more hits by the Rockies before the inning was through, and that 1-0 lead turned into a 2-1 deficit. Happ couldn't find his command, and he was getting squeezed a bit by the home plate umpire. As Tommy's words began to ring in my head, Adam EatShit was killing Happ, calling him everything from a fraud to a fuck.
A slight aside: The home plate umpire last night was atrocious — for both sides. All we hear about is how all players want is consistency from an umpire. Well, last night, Jerry Meals was atrocious. From pitch to pitch, no one knew what was going to be called a strike and what was going to be called a ball. As a result, both the pitchers and the batters were struggling to get a hold of the strike zone, and at points throughout the game, both dugouts were barking at Meals. He should never be allowed to umpire another playoff game again … though I sure am glad he was the home plate umpire last night.
But back to the game at hand. After Happ gave up another run in the third by serving up a meatball to Garrett Atkins, I called for Joe Blanton. Far be it from me to question Charlie, but my feelings heading into the playoffs were that the Phils had a clear No. 1, 2 and 3 in the rotation — that being Cliff Lee, Cole Hamels and Joe Blanton — with J.A. Happ and Pedro Martinez dueling for that 4th spot in the playoff rotation. And when J.C. Romero was lost for the season, I thought that meant Happ to the pen for another lefty out there, and Pedro as the fourth starter. But Charlie didn't see it that way, and
all hell broke loose
in game 2. Charlie insanely used both Blanton and Happ out of the bullpen, Happ got mildly injured, and Pedro was announced the starter for game 3. Then it was postponed and Charlie named Happ the starter for game 3. Joe Blanton was left in limbo. I couldn't understand it for the life of me, but then again, I don't have a big old ring on my finger either.
You could almost sense the game getting away, but then last season's playoff standout, Shane Victorino, got things going in the top of the 4th to help pick his struggling pitcher up. A leadoff walk by Victorino, followed by a single from Chase, and suddenly the Phils had two on and no one out for the big man. And Ryan Howard delivered, singling in Victorino to make it 3-2. Then the Phillies took a cue from Shane and worked some awesome at-bats. Werth battled to earn a walk to load the bases, and Raul did the exact same thing, fighting off pitch after pitch and laying off some nasty breaking balls to work an RBI walk to tie the game.
Unfortunately, Pedro Feliz didn't get the memo that Jason Hammel had just walked the bases loaded, then walked a guy with the bases loaded to force in a run. Because after getting ahead 1-0, Pedro swung and missed, bringing the count to 1-1. He swung before seeing a strike, with the bases loaded, when Hammel had just walked back-to-back batters and walked in a run. That is the biggest pet peeve of mine in baseball. And Pedro capped off that craptastic approach by swinging at the very next pitch, hitting a weak grounder right back to Hammel for the 1-2-3 double play. I was livid. That's just dumb, horrible baseball.
Thankfully, Chooch was there to pick him up. Perhaps the most underappreciated player in the Phils' run last postseason was Carlos Ruiz and his bat. After a terrible offensive 2008, Ruiz picked it up big time in the playoffs and helped lead the Phillies to the World Series title. And guess what? He's at it again. Curbball hit a curbball for a two-out single that plated Werth, and the Phils lead 4-3.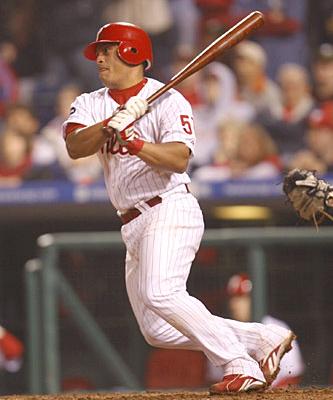 It wouldn't be his last big hit of the night.
Unfortunately, that's all the Phillies got in the inning. Now, three runs to recapture the lead sounds like a good inning, and it was, but Pedro's double play really killed what could have been a really explosive inning for the Phils. They had a chance to blow the game wide open, but that at-bat just killed them. And it came back to bite them.
After Greg Dobbs hit for Happ after Ruiz's hit and got out, Joe Blanton took the mound. He got the first two batters with ease, but then Carlos Gonzalez, who I had never even heard of until a few weeks ago, hit a solo home run to tie it. Again, the Phils gave the lead right back, and I was pissed. Who the fuck is Carlos Gonzalez and when the hell did he became Babe freakin Ruth? The Phillies can't get this fucker out, and he's by far been the most dangerous hitter in this series — for either team. Meanwhile, Brad Hawpe, who made the freakin All Star team, sits on the bench. What the hell is going on here?
Things were incredibly intense again, and I was finally feeling like
I did last postseason
— unhealthy watching playoff baseball. It's just so god damn agonizing. And it didn't help that it was well past midnight.
After a scoreless fifth, it was Curbball to the rescue again. Following back-to-back one-out walks to Raul Ibanez and Pedro Feliz (yeah, now you decide to be patient), Ruiz, for the second time in the game, put the Phils ahead, this time with an RBI single up the middle to plate Ibanez. I leapt in the air and began pounding the floor with the Jim Thome bat I was holding since the 4th inning. The Phils were winning. Again. And we were all going bonkers.
However, the Phils couldn't hold the lead, again. After getting the final out in the 6th, Scott Eyre came out for the 7th to face Gonzalez, and that little fucker did it again, doubling to left center. I really hate that guy. Dexter Fowler followed, squaring to bunt to get Gonzelez to third with less than two outs. He laid it down, and as Eyre went to go for it, he rolled his ankle and went down in a heap. Safe all around, and our only experienced lefty in the bullpen left hurt. Just great. Guess J.A. Happ isn't getting anymore starts this postseason. I think. Maybe.
First and third with nobody out, and Ryan Madson came on with a huge task at hand. After striking out Todd Helton with some high heat, he looked up to the challenge, especially once he got up 0-2 to Troy Tulowitzki by pumping fastballs. We were all expecting a disappearing low and away changeup, but on that third pitch, he threw a high, tight fastball that almost hit Tulowitzki. Luckily it didn't and now it was definitely set up for that changeup, and Curbball called for it. The problem is, Madson missed his spot with it, leaving a fat hanger over the plate, and Tulowitzki crushed it. Thankfully, he didn't get all of it, but he got the job done, hitting a sac fly to tie it. It was a terrible 1-2 pitch, and now the game was tied. He did strike out Torrealba and limited the damage, doing a decent job, but that doesn't excuse that bad pitch to Tulowitzki. Again, the Phils couldn't hold the lead, and I couldn't take much more of this, especially since it was now past 1 a.m. Ugh.
But then the Phils looked like they had had enough. After Jayson Werth struck out to lead off the 8th, Raul worked another patient at-bat and walked. Then Pedro, trying to atone for his rally-killing double play earlier in the game, doubled to left, putting runners on second and third with just one out … and Curbball, who had already gotten two go-ahead hits for the Phillies on the night, was at the dish. All he had to do was get his bat on the ball past the infield, and the tie would be broken yet again. Only this time, he struck out, swinging through two very hittable fastballs. Then pinch hitter Matt Stairs did the same thing. Second and third and just one out, and the Phils couldn't even get their bat on the ball. Game still tied, and my anger reaching unprecedented heights. That's just awful, awful baseball. Choke up, cut down on your swing and put the ball in play. Instead, Curbball took a huge hack at a 1-1 pitch and wound up striking out, and we all know that no matter what, Matt Stairs tries to hit home runs, which means he'll either hit a home run or strike out. Frustrating.
Thankfully, Chad Durbin got a painless 1-2-3 bottom of the 8th, but that didn't really calm the nerves all that much. It was tied 5-5 in the 9th, our bullpen has been a mess for a while now, and it was approaching 2 a.m. I couldn't take much more.
Then Jimmy Rollins finally decided to show up, leading off the 9th with a single. Nice of you to join us, James. Shane fundamentally soundly laid down a beautiful bunt to get Jimmy into scoring position, and Chase stepped up to the plate. This is where my happiness of having terrible home plate umpire Jerry Meals comes into play. Chase took a halfhearted swing and made contact, hitting a nubber off the plate, and hustled down the line after slightly hesitating. Huston Street went to field it, and with Chase hustling like he always does, had to get the ball over Utley to Helton. The throw took Helton off the bag, safe all around as Jimmy moved over to third. Upon further review, it was clear that ball hit the plate and then Utley, going off his right leg, meaning it should have been a foul ball. But Meals missed it, and the Phils were in business.
And the big man came through. On a pitch he just missed hitting out of the park, Howard sent one deep to left center to score Jimmy and give the Phils the 6-5 lead. We all knew that with Madson out of the game, if the Phils got the lead Brad Lidge was going to come in. We knew it, but it didn't really sink in until they showed him warming up in the pen. Right then, when TBS went to the shot of Lidge warming up, all five of us in the room at the time groaned. When the inning ended with the Phils up 6-5 and TBS came back from commercial, the announcer said it perfectly: "I don't know who's more nervous, Rockies fans or Phillies fans." That's what Brad Lidge has done to us this year, made us crazy with pessimism come any save situation.
No one knew what to expect, but after a first-pitch ball, Lidge got Brad Hawpe to ground out to Utley. Two pitches, one out. Good start. But of course, it couldn't be that easy. His next three pitches missed the zone, and he fell behind the red hot Carlos Gonzalez 3-0. After getting a fastball over, Gonzalez fouled off a slider, then another, and then another. Seriously, I fucking hate that guy. On the eighth pitch of the at-bat he walked. Great. Of course, he stole second to get in scoring position as the tying run. Things were very uneasy. However, Lidge did get Jason Giambi to pop out to Feliz in foul territory. Two outs. I couldn't even breathe.
Up came the Rockies best hitter, Todd Helton, with the tying run on second and Brad Lidge on the mound. Not good. After a mound visit from Charlie, it looked as though Lidge pitched around Helton, walking him on five pitches. Not a horrible strategy, but it did put the go-ahead run on base. I wasn't sure how to feel, so I didn't even bother trying to dissect it. I just accepted it.
After throwing a ball to Tulowitzki, I was nervous. He fell behind another hitter, the tying run was on second and the winning run on first, now in the form of pinch runner Eric Young Jr., who is fast as hell. Fuck. But Tulowitzki got antsy himself, went after the next pitch and flew out to left. Game over, heart attack avoided. Save Brad Lidge.
After celebratory high fives and catching my breath, I headed up to sleep, now past 2 a.m. drained and dreading today. As I got to my room, I checked my phone. There was a text message from Paul "lil' Jon" Runyan that read: "Please tell me we rnt gonna pitch lidge in the btm of the 9th?"
Well, Charlie did. And far be it from me to question the man with the ring.
LET'S GO PHILS!!!!!!!