Last night, I met Joltin' Joe and his roommate at the Wachovia Center to take in the Sixers-Pacers game, and I have to say, I can't remember the last time I've seen the Wachovia Center so depressingly empty.
I mean, it was just sad. Here we are, in the beginning of February, with football finished and baseball still more than a month away, and there was virtually no one there. It certainly wasn't what the Sixers had in mind after a great run at the end of last season and making a big (awful?) splash this summer. But that's what happens when an underachieving team is hosting one of the worst teams in basketball I guess.
As far as the game went, it was an underwhelming performance by the Sixers. Perhaps they were tired coming off the heartbreaking loss to the Celtics, or maybe they were depressed by the news that the
$82
$80 million man was gone until next year. Who knows? What I do know is that the Sixers' three-point defense was simply atrocious last night, which Joltin' Joe pointed out has been a perplexing problem for the Sixers the past decade. Different players, different coaches, same horrible three-point defense.
After jumping out to an early lead, Tony DiLeo decided to put in a lineup completely lacking of offensive firepower, pulling 4 of the 5 starters for Reggie Evans, Marreese Speights, Lou Will and Royal Ivey, and keeping in Thad. That's when the Pacers flipped the script and took the lead, led by Mike Dunleavy's mustache and Troy Murphy's whiteness.
The Sixers did come back in the second, but they were letting a terrible team play with them entirely too long. Many of the few fans in attendance were getting restless, especially with DiLeo's coaching. However, as Joltin' Joe pointed out, no one who was actually sitting behind or next to DiLeo yelled anything. At all. It was maddening. Especially considering Tony insisted on keeping Reggie Evans in the game when he was completely ineffective. People were clamoring for Theo, for his defense if nothing else, but the long arm of the law remained seated with his nice view next to Kareem Rush.
Andre Miller did decide to sort of take over in the second half, attacking the rim and getting to the line, which certainly helped the Sixers get the lead back. And Andre Iguodala was once again the best player on the court, continuing to impress since Brand went down the first time.
I also have to give some love to Willie Green and Sammy Dalembert. I've never really been a huge Willie fan, but the guy has played really well this season, and last night, he hit some big shots for the Sixers. In fact, the guy led everyone with 23 points. And somewhere along the way, Willie has developed into a pretty good defensive player. He's the sole reason Kareem Rush has been M.I.A. And Sammy, for all the hits he takes from fans and media alike, has been playing some damn fine basketball over the past month. Last night, the Haitian Sensation was pretty awesome, going for 18 points on 6-13 shooting, 6-6 from the line and pulling down a ridiculous 20 boards.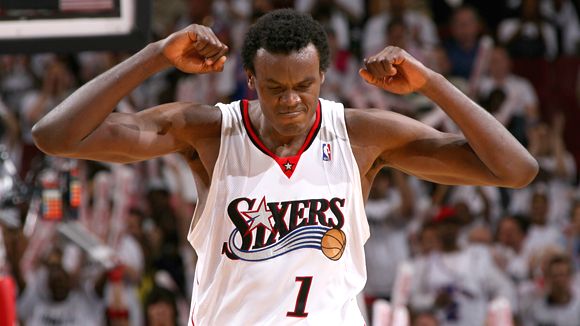 It was nice to see him have an impact in the 99-94 win. What wasn't nice to see was the number of wide open looks Indiana had from three, which ultimately led to them staying in the game. Thankfully, the Pacers cooled off, and being the bad team they are, continued to jack. They took 34 threes last night. I'm not making this up. Thirty freakin four. The Sixers took 12. That's an astounding number of threes to take in a game, and it kind of lets you know why Indiana is 12 games under .500. The Sixers, meanwhile, got back to that .500 mark yet again, pulling to 24-24 with 34 left to play.
After getting dropped off graciously by Joltin' Joe, I planted myself on the couch to watch the end of the Lakers-Celtics game. If you like basketball, do yourself a favor and watch these two teams any time they're on TV. Sure, they're both hateable jerks, but they are damn good basketball teams.
The ending to last night's battle was pretty awesome. Immediately when I began watching, Kobe and Rajon Rondo were jawing at each other, with Kobe pointing his finger right in Rondo's face. Minutes later, KG and Odom were going at it. The game was intense, and the hatred was very evident between the two teams.
In a back and forth fourth, Kobe, who had been shut down most of the half by Paul Pierce's defense (I still can't believe the guy played zero defense his entire career, then all the sudden tries once he gets two HOFers on his team. Stealin money for years), remembered he was Kobe and hit some absolutely ridiculous contested three-pointers to bring the Lakers back and force overtime. I mean, Pierce was completely blanketing Kobe, and it didn't matter. Mamba was making those shots no matter what.
And, when the Celtics had a chance to win it with one last shot in regulation, Kobe didn't let that happen. Right as Pierce was about to go for a shot, Kobe knocked the ball away to prevent even a shot attempt. Lamar Odom was also a beast for the Lakers in the 4th, and Ray Allen was all sorts of clutch in overtime for the Celtics. But ultimately, with Garnett fouled out in the 4th, the Laker prevailed in OT with Pau Gasol getting the game-winner from the line. It was a crazy game though. Pierce and Allen were hitting big shots, and Paul played incredible D. Kobe was Kobe and Pau came up big in OT.
It gave the Lakers the 2-0 regular season edge against the C's, and it once again could be the finals matchup for the second straight year. Unless, you know, LeBron has something to say about it.