First, former St. Joe's Hawk
Delonte West broke his wrist
in mid-January. Then last Tuesday, Roman Catholic senior point guard and Villanova-bound
Maalik Wayns partially tore his meniscus
. Finally, last night, the pride of Chester and National Player of the Year as a senior at St. Joe's, Jameer Nelson,
dislocated his shoulder
.
Man, rough stretch here for Philadelphia guards.
West should return soon for the Cavs, who are trailing the Celtics by a game and half in the Eastern Conference.
Mardy Collins is doing just fine also hurt, by the way
Delonte was having a very nice year before the injury, averaging 12 points a game, shooting nearly 48 percent from the field and 41 percent from three, along with three boards, 3.5 assists and 1.5 steals a game. He made up a strong backcourt with Mo Williams for LeBron to work with, and his return will be more than welcomed for a Cleveland team that has seen the Celtics come alive again.
The news isn't so good for Roman Catholic's Wayns.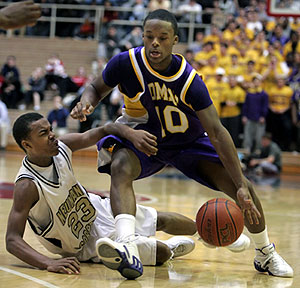 Wayns will have surgery this week and will miss 2-5 weeks, potentially ending his senior season. Wayns, who has a great shot of being invited to the McDonald's All-American game, hopes to return in time for the Catholic League playoffs and state playoffs, but there's really no telling yet at this point.
And the injury bug is particularly damaging for Jameer Nelson, who is now in jeopardy of missing his first-ever NBA All-Star game. Nelson was selected as a reserve last week.
In manning the point for the current 3 seed in the East, Nelson was easily having his finest season as a pro. Jameer is averaging 16.7 ppg, 5.4 assist, 1.2 steals and even 3.5 rebounds. He's shooting a remarkable 50 percent from the field, 45 percent from three and nearly 89 percent from the line. Finally, after a few seasons of up-and-down ball, he looks like the player that led the little school on City Ave. to an undefeated regular season and No. 1 seed. Hopefully, he can recover in time to participate in the All-Star activities.
Here's hoping to a speedy recovering for all three.