Due to various work-related things and court orders, my presence has been nonexistent this week. Well, I'm back bitches, and I got a whole lot to recap in the land of hoops this past week.
For starters, on Monday, silver fox headed to my house around 5ish to take in a little
NHL '09
before heading to the Sixers-Suns matchup, which, oh by the way, just so happened to be melanoma awareness night. Of course is was melanoma night vs. the Suns.
By the way, get well soon, Jim Johnson. Anyway, after disposing of silver fox twice—both shutouts—and thoroughly embarrassing him by telling him immediately after I took a penalty that I'd score a shorthanded goal and doing just that, I made a valiant comeback against my roommate only to lose in double overtime. Video games are a cold, hard mistress (see: bitch).
Well, after that we headed to the game, and this one can be summed up by two players: Thaddeus Young and Marreese Speights.
In a game that featured Amare (I refuse to add the stupid apostrophe), Steve Nash, Shaq and Jason Richardson, a rookie and a 20-year-old were the best players on the floor. Thad showed his rapid development, refusing to defer to anyone, and taking it to the Suns. He was awesome, scoring a game-high 25 points on 10 of 14 from the field. He looked confident, aggressive and, quite frankly, damn good.
And as good as Thad was, Speights may have been even better. The rook finished second only to Thad with 24 points, nabbed 7 boards and was flying all over the court. He threw down ridiculous oop after ridiculous oop, as Andre Miller was dishing them out all night. Marreese sent back some vicious shots, ran the court like his pants were on fire … and did it all against Amare most of the time. In fact, you can say he out-Amare-ed Amare. It was almost like a passing of the torch, you know, if Amare was old.
It was a fun game that featured the future stars of the Sixers, their last two first-round draft picks. Both Speights and Young were underwhelming picks at the time, but both are becoming exciting, and good, NBA players. It was a big win that, accompanied by last night's victory, put the Sixers 3 games above .500 and in 5th place in the East. And Speights is suddenly providing the power forward presence that Brand was supposed offer. Too bad we can't return that investment.
The Sixers were just the tip of the iceberg in the basketball world this week. Tuesday, Villanova faced a tough challenge, taking on a Marquette team that was second only to UConn in the Big East. In the first matchup, Nova couldn't handle Marquette's guards, but on Tuesday, the Wildcats played a nearly flawless game, thanks in large part to Scottie Reynolds, who finally decided to show up from the start in a big game.
For the first time in a long time, Reynolds came out determined to be the best player on the court, and he was. All game long, Scottie was hitting big threes, attacking when necessary and making the right decisions with the ball. It was almost as if he remembered he's been in college for three years, not one, and acted like a true upper-classman. It was a pleasure to watch.
And Scottie wasn't alone in Nova's route of the Eagles. Shane Clark had easily his best game of the year, going a perfect 6 of 6 from the field, including 3-3 from three, nabbing 7 boards, several of them on the offensive end, and chipping in 16 points.
This made me insanely happy because I've always been a Shane Clark guy. When he came to Nova, I thought he was going to turn into a real key player for the Wildcats, perhaps becoming a focal point of the team. Unfortunately, that hasn't been the case, due to both injuries and simply a lack of development. But on Tuesday, Clark was a beast, giving the undersized Eagles a fit on the glass.
Of course, Nova had some big contributions from a couple others as well. Corey Fisher had a phenomenal game, putting up 21 points and playing mostly under control. And Dante Cunningham continued his fine senior campaign, getting some big buckets and hitting free throws down the stretch. Now, suddenly, a Villanova team that couldn't defeat a ranked opponent early on is one of the hottest teams not only in the Big East, but the nation. They'll be scary come tourney time for sure.
Also, I'd just like to say, watching Dominic James jump out of the building is one of the most incredible things to witness.
At just 5'11", he threw down a ridiculous reach back alley-oop Tuesday that would be tough for a 6'9" guy to handle. He's a freak. Just a freak.
Well, the basketball jones didn't get satiated there.
Last night, the No. 1 team in the country took on Syracuse, and well, it's abundantly clear that Hasheem Thabeet is the most intimidating shot blocker I've ever seen in college basketball. That includes Greg Oden, Shaq, everyone I've seen play. He single-handedly can control a game without even playing offense. Teamed with A.J. Price, who is one of the better guards in the country, along with the rest of the Huskies, and this team is going to be tough to beat. Syracuse certainly had no shot.
But that game was just a warmup to the biggie: Duke-UNC. In case you all haven't gathered, I hate Duke. Like, really, truly, honestly hate Duke, everyone who's ever gone there and anyone who has a kind word to say about it. And I love UNC. That means, no matter what, I'm watching this game every time it's on.
Last night, Adam EatShit was describing to me how he would absolutely bet on Duke because they were the home team. I told him he's an idiot, and for a number of reasons. First, I like to demean anyone who lays money on Duke. It's like betting on the Cowboys. Sometimes it may be the smart bet, but can you honestly live with yourself earning money (and seemingly being happy) with Duke or the Cowboys winning? I say fuck and no. Secondly, as I explained, Tyler Hansbrough had not lost at Cameron … ever. The old saying goes, never bet against a streak. And third, I saw Duke get completely embarrassed, to the point of subbing players every couple minutes to make a point, by Clemson, a team UNC killed.
Essentially, I thought the Tar Heels were going to win. And it sure looked like a safe assumption early on. Carolina jumped out to an 11-point and was wreaking havoc. Deon Thompson got off to a nice start. Tyler was playing well, and the defense was superb. And then Hansbrough picked up his second quick foul, came out and the Dukies started doing what they do: play white man's basketball and bomb away. Well, it worked in that annoying Duke way.
The gayest gay who ever gayed, aka Greg Paulus, forgot he sucked for a moment and went off, hitting threes, stealing the ball and acting like his douchey self. God damn I fucking hate Greg Paulus. I mean, I hate him with every fiber of my being. He's the epitome of why I hate Duke. Him and Steve Wojohowski.
Ahh, that's better. Anyway, Kyle Singler was playing well. So was douchemaster No. 2 Jon Scheyer. Meanwhile, Wayne Ellington was being his normal self, disappearing in a meaningful game, and Ty Lawson was turning the ball over like it was his job. Duke went on fire, turned an 11-point deficit into an 8-point halftime lead, and had me pissed off. If it wasn't for Bobby Frasor's three-point shooting, UNC would have found itself down a ton.
Duke kept Carolina at arm's length for a little, and I have to admit, I was beginning to think UNC was going to lose. And then, Lawson realized he was being covered mostly by white guys, and he took the game over. In the second half, Lawson was head and shoulders above everyone else. He got the rim with ease, dished off to open teammates and stopped turning it over. He looked like a player ready to play at the next level. He looked like Chris Paul had inhabited his body.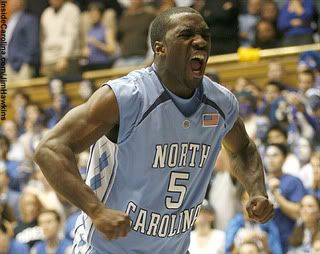 He got a helping hand from Danny Green and Tyler, and believe it or not, Wayne Ellington actually started to hit some shots. But it was Lawson who took the game over, and he was so damn good that the Tar Heels wound up blowing out the Blue Devils on their own court in Hansbrough's final game at Cameron. He and Danny Green did something that is unheard of: They went their entire college careers without a loss at Duke. And it was sweet. It was a honor to see the rat face of Coach K searching for answers. Turns out, just like the last decade, if Duke can't knock down the three, it can't win. That's why they haven't done shit in the tournament for years. And this makes me insanely happy.
God damn, I love basketball. And I gets some more great action tonight. In one of the classic Big 5 matchups, A-10 foes Temple and St. Joe's go at it tonight at the Palestra. As I've stated before, I am a Temple fan first and foremost, so I will be rooting for Dionte Christmas and the Owls. But I'm becoming a huge fan of Ahmad Nivins, who has simply become a beast in his senior season.
Today, Dick Jerardi has a
great story
story on Ahmad in the
Daily News
:
Nivins asked Duda to call some NBA people to see what he needed to do.

"He took the feedback," Duda said. "Some guys would say, 'You don't understand my game.' He said, 'This is what they're telling me, this is what I have to do.' "

And he is doing it.

Nivins is in the top 10 nationally in field-goal percentage and rebounds, top 50 in scoring and blocks. He averages 19.6 points, 11.8 rebounds (sixth nationally), shoots 65.6 percent from the field (second nationally) and averages 2.1 blocks per game. He is the only top 50 scorer without a three-pointer.

His true offensive value is best expressed by his 1.90 points per shot, making him the most efficient offensive player in the country. That number is so high because he gets to the foul line so much (169 attempts in 22 games) and shoots 79.3 percent.

Nivins is nearly doubling his career rebound average this season. He has 1,608 career points and counting. At his present rate, he is going to be the third all-time leading scorer on Hawk Hill behind Jameer Nelson and Bernard Blunt.
And, to top off a great week already, the Flyers finally play again, hosting the Senators. Who says February is an awful month for sports?