First, Bobby Bowden
petitioned the NCAA to accept his 28 wins at Samford
, not a Division I school, and won his appeal to try to outlast Joe Paterno in the quest as the all-time winningest coach in major college football, which is bullshit.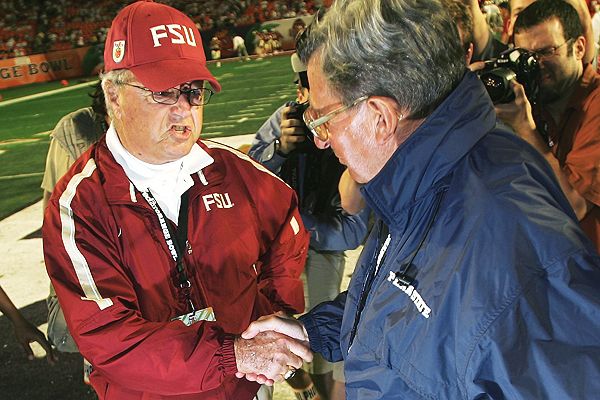 Then, with 14 wins in jeopardy of being taken away due to academic fraud involving numerous Florida State football players, Bowden and FSU are trying to
force 22 victories he earned as coach at South Georgia Junior College from 1956-58 to count
toward the record. Again, pathetic. Childish. And insane.
Now, Bowden and Florida State are going after more that Paterno and Penn State have:
the whiteout
:
It appears Bowden and the Florida State Seminoles are taking one of Penn State's home game rituals–the white-out. The school will introduce their all white uniforms for a home game against the University of South Florida on September 26th. The school is asking all students and fans to wear white to the game. Since white isn't the school color, the bookstore is conveniently selling the official white-out t-shirts.
This school and this man are so desperate to get what Penn State has that they are changing their uniforms so as to copy a new Penn State tradition. Last time I checked, the Seminoles' colors are maroon and gold, not white. Penn State, conversely, is actually blue and white. Yeah, a whiteout makes a lot of sense there, Florida State.
For a man who is supposedly good friends with Joe Paterno, the longer these two men live, Bobby Bowden seems like nothing short of a jealous child who desperately wants to have any and all bragging rights on Paterno, while Paterno calmly goes about his business, proving his critics wrong and worrying only about his school, his family and his players … you know, the things that really should matter.