As the Phillies game began yesterday, I spent much of the first few innings complaining to the cadre of people that were at my house rendezvousing for our fantasy football draft, which was set to begin at 3 p.m. at the bar down the street, that Eric Bruntlett was still alive and actually starting a baseball game when, you know, he sucks. Then the guy gets two hits in his first two at-bats.
It seemed like the fun thing to do. The Phillies were already up 6-0 after just one inning thanks to the good fortunes of facing Oliver Perez, perhaps the biggest headcase of a pitcher I can recall. Ollie did us all a favor by serving up two 3-run homers in the first inning — one to Jayson Werth and the other to Curbball — and couldn't even make it out of the first inning. His line: two-thirds of an inning pitched, 4 hits, 6 earned runs, 2 walks, 0 strikeouts, 2 home runs. Great signing there, Omar.
Anyway, as Pedro started to get rocked (perhaps he isn't any better than Jamie, my bad), we headed down the street to get our draft going. I got myself a seat right in front of the TV and watched intently as the 14-team keeper league draft ensued. After both Chad Durbin and Ryan Madson surrendered a run to make it a 9-6 game, it was Brad Lidge time. Just what we all wanted and expected after going up 6-0 in the first.
This time, it wasn't Lidge who screwed up. He got Angel Pagan to hit a grounder to first, only Ryan Howard missed it, resulting in a 3-base error. On the next play, Bruntlett, who was 3-for-5 with a run scored, actually resembling a real baseball player for the first time this season, returned to form, booting an easy grounder hit to him to allow Pagan to score and Luis Castillo to reach base. 9-7, one on, nobody out.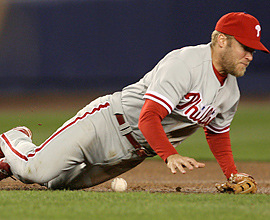 I began to berate him once again. This utility player who is supposed to be good at defense, who hits below .200, can't even make a simple play. He's not a great fielder, despite what some might tell you. He's not fast. He can't hit. All he has is that stupid beard, and I was just killing him.
Then on the very next play, David Murphy hits a "single to second." The official scorer may have given Murphy a hit, but in reality, Bruntlett booted another ball. Granted, it wasn't an easy play, but it was one he should have made. And I have no doubt Chase would have made both of those plays, rendering what happened next obsolete.
Thanks to some divine intervention, Jeff Francoeur and his incredible waste of talent came to the dish, and
this
happened
:


I simply sat there in shock. Of course I was pumped. But I couldn't believe my eyes. For the second time in my life, I watched a Phillies second baseman notch an unassisted triple play. The first, as you all know, was on Sept. 20, 1992, as Mickey Morandini turned an unassisted triple play against the Pirates. And then Bruntlett yesterday, who not only pulled off the unthinkable feat, but did it to end the game.

He sure knew how to shut me up. Though to be fair, the triple play opportunity was set up by Bruntlett's ineptitude on the two plays before. When you boot two balls to set up that scenario, it kind of takes a little luster away, no? Maybe I just hate Bruntlett too much to give him full credit. I know Morandini did it without fucking up first. Advantage Mickey, at least in my eyes.




I know no one cares about my fantasy team, but I'll just throw my roster out there. I had the 14th pick, and yes, I know, my running backs suck:

QB: Tom Brady, Brady Quinn
RB: Thomas Jones, Reggie Bush, Felix Jones, Tim Hightower, Jamaal Charles
WR: Steve Smith, Santonio Holmes, Percy Harvin, Chris Henry
TE: Brent Celek, Chase Coffman
DEF: Giants, Dolphins
K: David Akers