This morning as I walked to the subway, I saw the back cover of the Daily News:
Immediately, I got a little bit angry, however reserved judgment because the Daily News has been known to overblow things just a little bit on its cover. Then I read
this
, and frankly, I just want to tell Jamie Moyer to shut up. I really do.
Listen, I respect what Jamie Moyer has done in his career, respect what he has done for the Phillies prior to this season. But let's face the facts, Jamie Moyer has been one of the worst pitchers in all of baseball this season. The Phillies have no other choice but to see if Pedro Martinez can come in here tonight and show more than the finally aging Moyer has so far in 2009. It's as simple as that.
Sports are not about loyalty, are not about giving someone the benefit of a doubt. For a guy who grew up in the area, Jamie Moyer should understand that. When he said he "really felt that Ruben kind of parlayed to me that this type of situation would not happen. I actually even had some conversation with David [Montgomery], and them reassuring me this type of situation won't happen." I'm sure that Jamie also parlayed to Ruben (and Montgomery) that he could still be an effective pitcher and could replicate 2008's numbers, not become an atrocious dinosaur with a 5.47 ERA.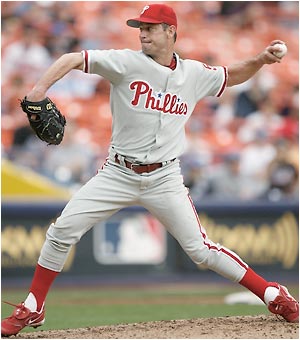 That is to say, things change. The Phillies didn't plan on sending you to the bullpen when you re-signed. Why would they? You had a very, very fine 2008 season. Then again, the Phillies didn't plan on you becoming the worst starter in baseball either. You can't begrudge a team that is looking to repeat for making the best move for the team.
Moyer claims to not want to be a distraction, yet he goes on to say:
" … But, like I said, I feel a little disheartened. I feel a little bit like I've been misled. I feel like I've played this game long enough that the respect factor should be there. Beyond that, I really don't have a lot more to say to you guys, and I'm really not interested in answering any of your questions."
That sounds distracting. That sounds like a bitter old man who can't accept his fate. The respect factor is there. The Phils already sent one starter who was performing way better than you to the bullpen before you in the form of Rodrigo Lopez. They didn't give guys like Andrew Carpenter and Kyle Kendrick a crack at the rotation even though you were struggling, out of respect for you. But you just kept pitching inconsistently, kept pitching poorly, and finally, with a healthy former Cy Young winner available, a viable alternative who has achieved even more than you in his career, ready to go, there was no other choice.
I understand being upset. Being hurt. But this isn't handling it professionally. Claiming the organization lied to you, misled you, owed you something more. That's childish, especially for a guy who has been around as long as you and knows how this game works.
To me, the way to truly handle things to not be a distraction is to follow in the footsteps of Drew Bledsoe, a player who had much, much more of a gripe than Moyer in his relegation to second-rate status.
I know you all know the story, but here's a refresher: In the 2001 regular season, Drew Bledsoe, the face of the New England Patriots and a former No. 1 overall pick, went down to injury, giving Tom Brady his first crack in the NFL. Brady went on an incredible hot streak, playing remarkable football, and propelled the Patriots to a run to the playoffs. Bledsoe rehabbed, got healthy and was ready to return. The old saying goes you don't lose your starting spot to injury, especially when you are a Pro Bowler, but the Pats were on a role with Brady under center. They decided to stick with Brady.
What did Drew Bledsoe —who at the time time was the franchise all-time leader in every passing statistical category, a three-time Pro Bowler, a guy who led the Patriots to one Super Bowl already, one of the highest-paid and most well-liked athletes in football — do? He publicly supported his team, its decision. Supported Brady. Never complained. Never pouted. Hell, when Brady got hurt in the AFC Championship game against Pittsburgh, Bledsoe even came in and led his team to the Super Bowl. When Brady was ready for the final game, he graciously stepped aside and watched as Brady helped lead the team to the victory. Never once complaining.
That's how a professional handles things. That's how a great teammate prevents himself from being a distraction. That's how a guy like Moyer is supposed to act. Not by going to the papers and bitching and moaning because some 37-year-old youngster is now occupying his lawn. I understand where he's coming from, but honestly, I expected just a little bit more from Moyer. I really did.