As I'm sure you're all aware of, former Flyer Jeremy Roenick
is retiring
after a fantastic 20-year career that saw him spend seasons in Chicago, Phoenix, Philadelphia, Los Angeles and San Jose. Of course, he'll always be remembered first and foremost as a Blackhawk, but Jeremy Roenick was born to play in Philadelphia.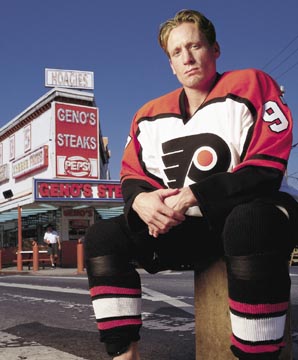 When he came to the Flyers in 2001, J.R. had established himself as a dynamic player and personality in both Chicago and Phoenix, but here on the East Coast, I'm not sure us Flyers fans truly knew what we were getting in J.R. He was much, much more than a 3-time 100-point scorer; he was the embodiment of the way Philadelphians like their Flyers to play.
Roenick spent three season in Philadelphia, and from the get-go, he became a fan favorite. His tenacity on the ice was a little more than I expected, thinking J.R. was more of a scorer/offensive threat than the all-around, gritty player I was watching. I'll blame it on his playing in the Western Conference up until that point, meaning I didn't get to see him play much. Sure, Roenick could skate, shoot, score and pass, but he also could lay people out with aggressive checks, bear down on defense and sacrifice life and limb for the good of the team. And he had a blast doing it, not just here, but
everywhere
.
In his time here, Roenick racked up 67 goals and 106 assists, good for 173 points, in 216 regular season games. He was plus-53 in the Orange and Black, playing in all situations: power play, shorthanded, end of games. And in 2004, Jeremy Roenick broke his jaw when he took a slapshot to the face in February. It was so bad, there was
talk of him retiring
.
Instead, Roenick missed just 19 games, returning in late March, and helped lead the Flyers all the to the Eastern Conference along with Keith Primeau, broken jaw and all. The tough son of a bitch even continued to go down block shots, and he was back to aggressive, checking self from the start.
He was the perfect player for Philadelphia. And the perfect personality too. J.R. had fun on and off the ice, showing the humor and joy fans love out their athletes. But in truly Philadelphia fashion, he was outspoken, never biting his tongue. J.R. called it how he saw it, never filtering his message. His candidness, his honestly adorned him to Flyers fans.
He was everything most hockey players are not: entertaining, colorful, lively, outspoken. Go to the Flyers locker and listen to Jeff Carter, Mike Richards, Simon Gagne speak. They're all nice enough guys, likable, but their interviews are like pulling teeth. That was never the case with J.R. He was exactly the ambassador the NHL needed, and still needs.
A warrior on the ice and a polarizing figure off of it, Jeremy Roenick will forever be remembered fondly in Philadelphia. And with his impressive career and all he accomplished, he should probably be remembered by all hockey fans as a Hall of Famer.