… It would be the lead story on ESPN, columns both nationally and locally would be killing Philadelphia fans and once again, we'd be talking snow balls, cheering injuries and batteries. But seeing as it was a Cubs fan that
doused Shane Victorino with an adult beverage
, mid-catch no less, all's good. Midwesterners are such nice people. It was all in jest.
Honestly media, can we just end this entire Philadelphia fans are ruthless savages that disgrace sport? Clearly, this happens everywhere … even the sacred Wrigley Field. There are morons everywhere. But for serious, that was impeccable timing by that guy. Kudos to him for that.
Not so much for Cubs security though, who escorted the wrong fan out the game originally. Sucks for that guy.
Beer-tossing aside, the story was twofold last night for the Phils: the awakening of the slumbering bats and, of course, Pedro.
Let's begin with the 3-time Cy Young award winner. His line doesn't look all that impressive: 5 innings pitched, 7 hits, 3 earned runs, 1 walk, 5 strikeouts. But I have to say, the start was encouraging for his first time taking a big league mound in nearly a year. For starters, Pedro showed he can still get big league batters out via the K, something Jamie Moyer isn't too adept at doing these days. Five strikeouts in five innings bodes very, very well.
Also, the velocity was there, as his fastball routinely touched 90 mph, never slipping below 88 and topping out at 92-93. That's a hell of a lot more intimidating than an 81-82 mph fastball. And despite running some deep counts, he only walked one batter, proving when push comes to shove, the guy isn't going to hurt himself by handing out free passes.
Clearly, we would have liked to see a little more from Pedro. He struggled with his location, running many deep counts, and those 7 hits were a direct result from missing his spots in the zone. There were many pitches were Martinez hit the black with perfect precision, and then there were times he threw some mistakes that caught entirely too much of the plate.
All in all, I'd say it was encouraging, even with the unimpressive stat line. Pedro seemed confident he'll only get better, and the more he works out of the stretch and feels comfortable — and the healthier he gets — you have to believe he'll start hitting his spots more consistently. If he does that, he'll be a big boost as a fifth starter.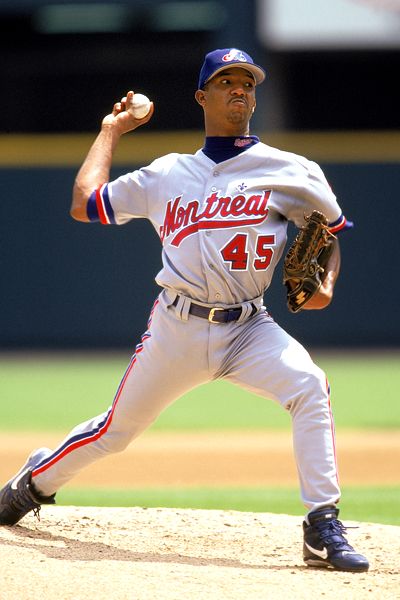 I'm happy to have him on board, and I really can't wait to see him pitch a complete game shutout against the Mets. You just know that's going to happen.
As for the bats, well, it was fun to see them get going, especially with the top three in the order just killing it. Jimmy Rollins (2-for-4, 2 r, 3 rbi, hr, 2b), Shane Victorino (2-for-5, 2 r, 2 rbi, hr, 3b) and Chase Utley (3-for-4, 2 r, 1 rbi, 2b) went a combined 7-for-13 with 6 runs, 6 rbis, and 2 home runs. That's called production from the top of lineup.
It was also nice to see Ryan Howard easily leg out a triple, his 3rd! of the season, Raul launch a 3-run bomb and Werth and Feliz each notch two hits. Even Curbball got in on the action, getting a hit, a run and an RBI. It's nice to face a wide receiver that basically throws nothing but straight fastballs. Samardzija sort of resembled another Notre Dame pitcher last night … sucking as much as Brad Lidge has this year.
Hopefully last night got the confidence back in the bats, and hopefully Pedro uses the start to knock the rust off and regain something closer to his Hall-of-Fame self than the injury-plagued scrub from the Mets the past two seasons.
Oh, and Eric Bruntlett went 0-for-1 with an error in a game that everyone was hitting the ball and Shane Victorino was making a catch with beer thrown at him.
Moral of the story: Eric Bruntlett needs to be put down. Not sent down. Put down.