I like Ben Francisco. Last night, as you are all aware, he
stole the game
for the Phils last night, who pulled out the 4-3 extra-inning victory despite getting 2-hit by Rich Harden over 7 innings and 3-hit for the entire night and despite Brad Lidge's best efforts to prevent the win with his 7th blown save of the year.
Big ups to Jimmy Rollins as well, whose 2-run bomb (and the Phils' first hit) allowed Ben to save the day.
The more I get to see Cliff Lee dominate and Ben Francisco provide a very nice spark as a fourth outfielder and righthanded bat, the more I love this trade. Those guys are straight getting it done.
Linkage …
-Scott Eyre must throw the infamous
booger ball
:
Great headline/phot combo, by the way.
-Now, I may
not
have
wanted
Ray Emery, but his new
goalie mask
is awesome.
-Another day, another
Eagles injury
, this time Todd Herremans, who may be out the entire preseason.
-
Good read
on the Eagles' defense end situation. It's mostly about Chris Clemons and Bryan Smith, but the most intriguing line to me was this:
Chris Gocong seems to be rushing the passer with his hand on the ground here and there, though he is the starting strongside linebacker.
Gocong was a sack machine in college, playing defensive end essentially. To me, he's nothing special at linebacker, but I'd love to see him unleashed on the quarterback more often this year.
Of course, with Stewart Bradley's injury, that may be wishful thinking.
-
Great read
on Allen Iverson:
So anyone hoping to diminish where Iverson's been and what he's done for the game in light of the where he and it seem to now be going, just remember: each time he hit the deck, he got right back up. As fans, we've all been better for it. And, as whichever team eventually extends their hand to pick him up will soon realize, don't expect that to stop.
-Ethan Kilmer is
a quitter
.
I had no idea Ethan Kilmer was still in the league.
-Rakeem Christmas, one of the top high school basketball players in the class of 2011,
has narrowed his choices
, and the kid from Bryn Athyn has hometown Villanova as one of his finalists.
The 6'8" Christmas, who went to North Catholic and is now at Academy of the New Church, is reportedly no relation to Dionte.
-
Ten random photos of Mike Schmidt
. Here's an 11th.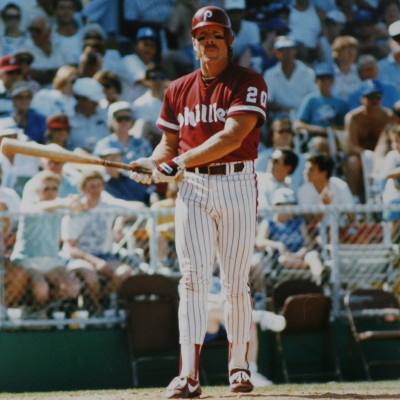 -Former St. Joe's Hawk and 2nd-round pick by the Dallas Mavericks Ahmad Nivins is
headed to Spain
.
I'm genuinely excited to watch Pedro pitch tonight, and to top it off, it's on ESPN, which means I can ignore Tom McCarthy. Is it 8 yet?