It was not a good weekend for Philadelphia. Sure, things started out well. The Flyers exploded for 8 goals Friday, beating the Leafs 8-5, and the Sixers clinched a playoff birth on Saturday with a 95-90 win against Detroit, but it was all downhill from there.
It began with the Flyers Saturday night. With a chance to clinch a playoff spot with a victory, the Flyers fell back into old habits, falling behind 2-0 to Ottawa and eventually losing in a shootout. They did get a point, meaning the magic number to clinch a playoff spot is down to one point with four games to go, but it would have been nice to get that out of the way.
I only saw bits and pieces of the game because I was focused on the Michigan State-UConn game. If you missed it, you missed one hell of a basketball game. Honestly, the Spartans looked damn good. Even with Goran Suton, the MOP for MSU in the tournament before getting to Detroit, struggling, Michigan State turned it on with about 6 minutes left to pull away and get to the final. It's a damn good team with a hell of a coach. And by the way, maybe Penn State should have been in the dance, seeing as they won the NIT AND defeated Michigan State earlier in the year in East Lansing.
Anyway, here were two incredible dunks from the game, the first by
Durrell Summers
and the second by
Stanley Robinson
:
For all the shit the Big Ten gets, Michigan State finds itself back in the championship game yet again. Maybe it's not so bad after all.
In the nightcap, the pride of the Main Line took on North Carolina, and right out of the gate, the Tar Heels asserted themselves, building a 17-point lead behind the three-point shooting of Wayne Ellington and the unstoppable speed of Ty Lawson.
Nova hung tough, made a nice run to end the half to get within 9, and even got it as close as 5 to begin the second half, but the Tar Heels were simply too much. Honestly, the Wildcats just didn't have enough depth or talent to hang with North Carolina. UNC was picked as the prohibitive favorite at the beginning of the year, and Saturday the Heels showed why. They simply had too many horses for Villanova to handle.
It was a great run for Nova, a team no one really thought would be able to get to the Final Four heading into the season. Dante Cunningham established himself as a legitimate NBA prospect, and with Scottie Reynolds, Reggie Redding, Anotnio Pena, Corey Fisher and Corey Stokes returning, and one of the nation's top recruiting classes coming in, it's no stretch to think Nova may have another run in them next year. But this year, they just lost to a better team.
I can't say I was upset with the outcome, seeing as I'm a UNC fan and desperately want Danny Green to get a title, but it was sad to see the careers of Dante Cunningham, Shane Clark and Dwayne Anderson end.
I've been a huge fan of Cunningham ever since he broke into the rotation, and I always had high hopes for Shane Clark. I guess you could say Clark was my guy on the Nova squad. And Anderson simply became one of the most underappreciated players this city has ever seen. They will be missed.
The disappointment didn't end there. A day after clinching a playoff spot, the Sixers got trounced by the Nets, 96-67. Wow, not a good way to follow up. I didn't watch much of the game, seeing as the Phillies began at 8, but it was brutal.
Speaking of the Phillies, I was all amped up to watch a professional team from Philadelphia, for the first time in my life, start the season as the defending champs. I got goosebumps when the banner was raised, and I was all set to go. Then Brett Myers decided to get the minor league speculation going early.
He started off all well and good, getting two quick outs, but then a bloop hip by Chipper Jones unraveled him. Myers hung a breaking ball to Brian McCann, and the Phillie killer sent one to the right field upper deck. The next inning, Jeff Francour hit a home run, and then a rookie, in his first major league at-bat, crushed one to the deepest part of the park. The funny thing is, Joe Morgan, Steve Phillips and Jon Miller were talking about how Myers should go after Jordan Schafer because it's his first Major League at-bat and he has no power. Nice scouting guys.
I know it's only one game and the Phils are defending champs and all, but honestly, this game simply reminded me of just how frustrating the Phillies are to watch. All night, they swung early in the count on Derek Lowe, hitting grounder after grounder. Then, after Eric Bruntlett finally gave the Phillies life in the 9th, the same old stupid hitting Phils showed up. Werth did drive in Bruntlett with an RBI single after Jimmy flied out, and Chase had a perfect at-bat, taking a 5-pitch walk to get the tying run to the plate in the form of Ryan Howard with one out.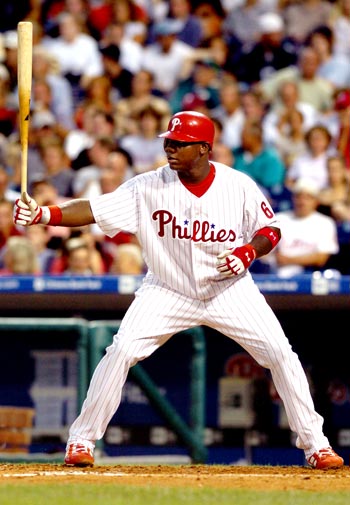 And that's when I really lost it. Howard did his typical free swinging, chasing awful slider after awful slider, immediately after Chase just walked on 5 pitches mind you, to eventually strike out looking on a fastball right down the middle of the plate. Then, Raul Ibanez, supposedly a professional, smart hitter, worked the count to 3-1, a perfect hitter's count, and swung at a 3-1 slider way out of the zone, then striking out on the next pitch, instead of, you know, locking in to a fastball in his zone at 3-1. Seriously, for the millionth time, make the fucking pitcher throw strikes you fucking idiots! Fuck. Watching baseball is so frustrating.
Obviously, I know it's just one game and the Phils are a notoriously slow-starting team, but World Series be damned, start becoming smart hitters for once, please. Ugh. I may suffer a stroke and/or several heart attacks this season.
Oh, and just for shits and giggles, here's some messages I received from some friends/family during last night's game, beginning with my dad:
Dad: Myers is back to being the old Myers.
My cousin: [Re: Myers] He sucks. He should put the weight back on.
My arch nemesis: Myers refuses to throw a fastball and gives up homers, Howard refuses to lay off the low slider and k's. New season, same annoying crap.
A Red Sox fan: Wow - Myers looks really good tonight!
Arkansas Fred: Unreal. Just unreal.
Adam EatShit: [Re: Myers} He looks for shit.
Red Sox fan: Phillys will NOT even come close to the world series again buddy - sorry, and I have a feeling u know it 2.
The Charles: Send them all back!
Arkansas Fred: [Re: bottom of 3rd] Brett does not bunt. Jimmy pops up. This team is trash and idiots.
Arkansas Fred; Well brett is not getting a hit and carlos is not scoring on a single to right from second.
Arkansas Fred: In case you missed it, Jeff Francour now looks at the pitches with both eyes and his head is turned more. Im not sure anyone pointed that out yet.
Arkansas Fred: Im mad im going tuesday. What a waste.
Arkansas Fred: Thats true. Howard still is an idiot. He gets one pitch right down the middle and he never is ready for it.
Arkansas Fred: And he always looks completely horrible.
Well, that didn't take long.
Also, we really, really, really need
FJM
back. Last night's telecast was brutal. Morgan and Miller told us about 5 million times about Francour's new stance and the fact that Derek Lowe calls his slider a curveball, not a slider, so for the record, he throws a curveball, not a slider, even though his curveball looks like a slider and GAAHHHH I WANT TO BLUDGEON THOSE TWO TO DEATH WITH A PICK AX. And fucking Steve Phillips. Jesus Christ! Get someone who wasn't one of the worst GMs of all time to inform me on shit.
Oh, and another note to Miller and Morgan, no one cares about players from the 60s and 70s that no one heard of and what they called their pitches. Honestly, no one cares.
This should be a fun season defending the throne.