What can you really say about last night other than, shit, Marc-Andre Fleury looked every bit like a No. 1 overall pick.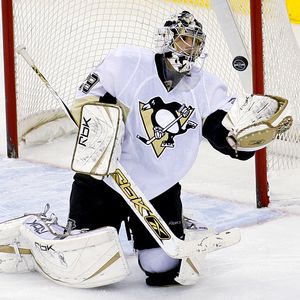 The guy was literally standing on his head, just in an incredible zone, even stopping shots when he was falling down. I can't fault the Flyers' effort. They outshot the Pens 46-25 and really controlled the game from the onset. But Fleury was insane, stopping 45 of those 46 shots, and there's not much you can do about it when a goaltender plays like that. It'd be nice if, just once, the Flyers had a guy who could do that.
That's not to say Marty Biron has played poorly through 4 games. He hasn't. But he also hasn't been a guy who can steal a game the way Fleury did for the Penguins last night. Now the Flyers, who have played well enough to be up 3-1, face an elimination game in Pittsburgh on Thursday. If Fleury plays remotely like he did last night, the Flyers are in big trouble. Shit, even if he doesn't, they're still in big trouble. Last night, a stat popped up that went something to the effect of in the last 26 NHL playoff series that have gone 3-1, the team leading 3-1 won the series. Not good.
It's certainly hard to find fault in the Flyers' effort last night. All four lines generated numerous scoring chances, the defense held Pittsburgh in check virtually the whole game and they played most of the game in Pittsburgh's end. But there's something I have taken issue with not just last night, although particularly last night, but all series/second half of the season: Why the fuck does John Stevens refuse to put Claude Giroux on the power play?
In this series, and really, since he's been called up, Giroux has been the Flyers' best playmaker hands down. No one else on the team has even been close in generating as many incredible scoring chances as Giroux. So far, he's given the Penguins more fits than any other Flyer, and last night, he had one of the most remarkable shifts I've ever watched, knocking Jordan Staal off the puck twice in the defensive zone and knocking the much, much bigger Staal to the ice, sending the puck down the other way, getting all the way down the ice on the forecheck, laying a hit and pick-pocketing a Penguin, laying a perfect pass to Danny Briere for a great scoring chance, and then busting his ass all the way back down the ice on the backcheck and completely laying out another Penguin.
It didn't result in a goal, but it was just an awesome thing to watch. And that's been typical of Giroux in the series. When he's out there, he makes things happen and the Flyers get incredible opportunities to score. Yet last night, with the Flyers' power play looking very out of sync (although still getting chances), Giroux was nowhere to be found on the man advantage until they were already 0-for-6 on the power play. Finally, on the seventh chance with time running out in the third, Stevens finally put Giroux out there with Carter, Hartnell, Coburn and Carle.
I'm sorry, but when you've been watching this guy do nothing but amaze and make plays, there's no reason he shouldn't have been integrated into the power play well before the playoffs, and certainly in this series since he's been arguably the Flyers' best forward. It's just bad coaching to not have him out there on the power play, which really shouldn't come as a surprise, because John Stevens is a bad coach.
But coaching really didn't have much to do with last night (except for the power play). That game was not lost by the Flyers. It was won by Marc-Andre Fleury. And now, the Flyers face a nearly impossible task. Call me crazy, but for a team with this much talent, with six 25-goal scorers, plus Briere and Giroux, a first round exit is simply not good enough. This team underachieved down the stretch, and now, it looks like it will be one and done for the Flyers. That sucks.
But hey, at least Daniel Carcillo finally scored, right?