In game 4, it was Marc-Andre Fleury standing on his head and stealing the game for Pittsburgh. Last night, it would be a stretch to say Marty Biron stole the game for the Flyers in their 3-0 victory to stay alive, bringing the series back to Philadelphia tomorrow for game 6, but he most definitely stole the first period.
Except for the first five minutes, when the Flyers actually came out and played well, the Penguins completely owned Philadelphia in the first period, outshooting the Flyers 15-5 and spending almost the entire period in Philadelphia's end. The score could have easily been 3-0 Pittsburgh after one, but Marty simply wouldn't let that happen. He was on top of his game from the start, getting square to the shooter, absorbing pucks and thwarting all 28 shots the Penguins threw at him. Without Marty, the Flyers would be trading their blades and sticks for golf shoes and clubs right now.
I have to say, after sustaining that first period barrage, the Flyers clamped down and played some damn fine hockey. But, as per usual with the Flyers, there was something that truly bugged me, and, per usual, it was at the doing of John Stevens.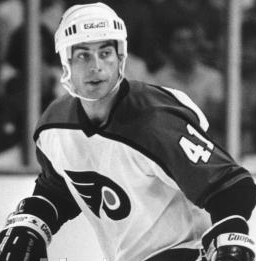 The past few days, all we've heard from Stevens and the majority of the Flyers is how well they've played in games 2-4 despite dropping two of those three games, how the effort was certainly there and if they keep playing that way, they'll be rewarded, how they really have been getting the better of the play. By that logic, it sounds like the line combinations have been doing a pretty good job, doing everything but finishing it off for goals.
So what does Stevens do? He starts the first period by completely shuffling his lines. The Flyers looked awful in the opening period, and finally, a little more than halfway through, he put his regular lines back together. Shockingly, the Flyers then began to play better. I mean, I can understand Stevens mixing things up a little to try and get some more goals, but throwing the entire lineup out of whack seems illogical. Again, as
I said after game 1
, why not reunite the lines that played so well together in the final regular season contest against the Penguins if you truly feel like you need to change things up? Sometimes, I really don't understand what John Stevens is doing out there, and I'm not the only one.
As I've been saying all along, Claude Giroux deserves more ice time and absolutely should be getting shifts on the power play. He's been the Flyers' most consistently dangerous forward in the series, and he could potentially help the struggling Flyers power play. Well, during the first intermission, Al Morganti echoed my sentiments, saying he would like to see Giroux get closer to 20 minutes of ice time and, you know, be a part of the power play. Then he proceeded to mention how Giroux only played 4 minutes in the first period, and subsequently, the Flyers generated very little offense. This is why I like Al Morganti. He and I are on the same page.
All right, now that that's out of the way, things turned on a dime thanks to the fourth line. Daniel Carcillo, who has really done nothing but get better with each game as a Flyer, jumped on a loose puck in the neutral zone, rushed up ice and dropped the puck for Arron Asham, who followed him into the zone. Then Asham unleashed a shot that Alexander Ovechkin would be jealous of, absolutely blasting an unstoppable, perfect slapper in the far top corner.
Now, I've watched Asham enough not only this year but during his career in the Atlantic Division to know he can let fly a heavy shot, but I had no idea he could produce such an unreal blast that could not be placed any better. It was just an unbelievable shot that no goaltender alive could have stopped.
Turns out, that's all the Flyers would need, but for good measure, Claude Giroux played outstanding again and gave the Flyers a cushion by burying the puck in the vacated net on a very nice touch pass that may or may not have been intentional by Darroll Powe. Jeff Carter should take notes from Giroux on how to bury the puck in an empty net.
Then Mike Knuble, who absolutely had his best game of the playoffs, slammed home the exclamation point off a rebound from a Mike Richards' blast. It was an excellent game, and the Flyers played tremendous defense in the final two periods, surrendering a total of 13 shots in the final 40 minutes, two less than they allowed in the opening period. Now the Flyers come back home with a chance to even the series, and if John Stevens has any brains between those ears, he'll make sure Giroux gets as much ice time as is humanly possible.
Oh, and Evgeni, this is hockey, not soccer. Not sure if you're aware of that. Kudos to the referees for getting that call right and taking away that goal.
P.S.—Rumor has it I may be attending the Sixers game tonight.
Update
: I'd like to marry
this girl
: