Yesterday, I did a very foolish thing, bringing three Rangers fans with me to the Flyers-Rangers game. I was just trying to be a nice brother, getting tickets for my brother-in-law and a couple members of his family. I really didn't think this one through.
Things started off well enough, with the six of us (my brother-in-law, his sister, his father, my sister, my dad and I) getting things kicked off in the Lexus Club, my first time down there.
With food and drink provided, the Lexus Club was pretty sweet, but due to some unfortunate lack of restraint on Saturday night, I wasn't exactly ready to go all out with the drinking yesterday. However, I did give it a go.
After a few beers and some grub, we made our way up to the seats, and the harassment began. My brother-in-law was wearing his Brian Leetch jersey, and there were fans yelling at him occasionally. Surprisingly, however, it wasn't that bad. Claude Giroux scoring just 5 and half minutes into the game certainly helped, and after Brandon Dubinsky, the notorious Flyer killer, tied it up, the Flyers went back on top with a power play tally by Jeff Carter.
But again, Dubinsky became the spoiler, tying it up. And we all know what happened next. The Flyers, playing for pretty much everything, let three leads slip through their hands yesterday. Three. All the Flyers needed to do was get one point to lock in to the four seed, meaning they'd have home ice in the first round against Pittsburgh. The Rangers, on the other hand, had no opportunity to move out their spot as the 7 seed, so they were playing for exactly nothing.
Yet the Flyers couldn't get it done. They lost 4-3 in regulation, meaning they go into the playoffs as the 5 seed, conceding home ice advantage to Pittsburgh. Now they have to face the defending Eastern Conference champs in the first round, starting out in Pittsburgh.
We all saw how that turned out last year. With the way the Flyers have been playing this month, and the way they played last night, I honestly don't think they'll get out of the first round. A month ago, there wasn't a team playing any better than the Flyers. Now, a team I thought once could easily make it to the Stanley Cup Finals if the defense held up just a little, I can't see beating a Pittsburgh team that has been playing its best hockey since the calendar turned to 2009.
It's as if the entire team has taken a step backwards in April. Marty Biron had regained his form to have a spectacular March. He was one of the hottest goalies in the NHL, and he looked again like the guy who picked up and help carry the Flyers to the Eastern Conference Finals last season.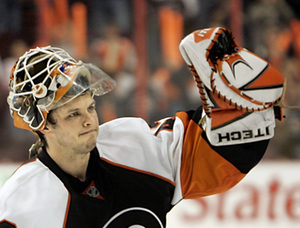 Now, Biron is back in a lull, looking sloppy and off his game. Where in March he was swallowing every puck, leaving no rebounds, suddenly he can't smother a puck, leaving more rebounds than I can count sitting right out in front of the net.
Mike Richards, unquestionably the best two-way player on the team, has been playing the worst hockey of his career the past two to three weeks. He's been turning the puck over, making horrible decisions with the puck, trying to squeeze impossible passes through sticks, and really not hitting much, at least not as much as he usually does.
Yesterday, I'd argue Richards was the single worst forward for the Flyers. He had just an awful, awful game. I can't remember him throwing one hard hit, and he didn't bring any energy to the ice. While Gagne and Knuble were generating chances by themselves, Richards was still trying to make the impossible play, and he hurt the Flyers in that game. I love the guy. I really do. But as the captain, as the leader, as the face of the team, Mike Richards has to step his game back up, regain his form, if this team has any chance of making noise in the playoffs. If he plays like he has of late, the Flyers don't stand a chance.
And the Achilles heel of the team, the defense, has continued to be shaky. Aside from Kimmo Timonen, there isn't a guy back there who you know will make the right play more than not. Now, Braydon Coburn and Andrew Alberts have actually been pretty solid, but even they have had some breakdowns of late. But Matt Carle, for all his offensive talents, has been routinely costing the Flyers on defense by being overly aggressive on the rush.
In fact, on the Rangers' second goal, Matt Carle made a poor decision to pinch, leading to a 2-on-1 the other way, which resulted in the first shorthanded goal against the Flyers all year. In the last game of the regular season. While fighting for home ice advantage. Pathetic.
I like Carle. He's immensely talented, and once he gets in the offensive zone, his skills really shine. But he needs to play more disciplined. He lets too many guys get behind him, leading to great scoring chances like the one above. That can't happen in the playoffs.
At least Carle does provide offense though. Randy Jones, on the other hand, provides nothing. The guy has been an average player throughout his career, but a very strong 2007-08 season raised expectations a little too high for Randy. Last year, he really was a solid defenseman who was underappreciated. He played the best hockey of his career. But this season, he's regressed. Whether that's due to his injury in the preseason or his play simply coming back down to reality, Randy Jones is not the same player as last season.
In my opinion, he's been the Flyers' worst regular defenseman this year. He's a turnover machine, unwilling hitter and average passer at best. He doesn't really give you much on offense. And the more minutes he's played the past few games with Ryan Parent out/hurting, he's been struggling mightily, even though he's been paired with Timonen quite often.
Yesterday, he made some horrendous turnovers, and honestly, he doesn't look confident on the ice. Randy Jones needs to find his game from last season in a hurry, or Stevens has to cut back his ice time. One or the other.
It's sad to see the team playing so poorly going into the playoffs. At points this season, the Flyers looked nearly unbeatable. They have three legitimately frightening scoring lines, can score goals in bunches and play great special teams. That's a recipe for success if there ever is one. But they're also a team that gets lazy, stops forechecking, misfires on passes, turns the puck over and gives up entirely too many chances, and that won't get it done.
It's such a Dr. Jekyll/Mr. Hyde team. On a bright note, however, Daniel Carcillo has been playing well of late, and Darroll Powe has been a great surprise. Plus, Danny Briere and Claude Giroux have still been showing uncanny chemistry, and that duo is truly lethal. But the Flyers have to find a way to put it all together in a hurry, or it will be one and done with Pittsburgh.
At least the Phils won a series. That was nice.