So last night I was all set to get some split-screen action going so I could take in both the Flyers-Maple Leafs game and the McDonald's All-American game. When I went to set it up, all I saw on half the screen was this:
Turns out, our DirecTV satellite is fucked up, so I had to do some channel-flipping between the Flyers and the high school all-star game on the Comcast box. This made me very angry … and it was just the beginning of my anger.
You see, the Flyers are in the middle of a tight playoff race with a week left in the season. They currently sit in 4th place in the Eastern Conference with 92 points, tied with Pittsburgh, and the Flyers still have six games to play. And heading into last night, they entered a stretch where they take on a dreadful Toronto team twice, then Ottawa, Florida, the Islanders and the Rangers twice, starting last night — a very favorable schedule to close out the regular season.
Add in the fact that the Devils, once miles ahead, have been in a free fall, and the Flyers looked to have a golden chance to move into the top three, especially once Pittsburgh blitzed the Devils last night, meaning if the Flyers won, they'd be just four points behind New Jersey for the top spot in the Atlantic.
So what do the Flyers do? They come out and fall behind 1-0 to a terrible Toronto team. Sure, the Maple Leafs have nothing to lose, but the Flyers have been making this a habit of late: falling behind early and having to fight their way back, especially against inferior teams. It's getting pretty sickening, particularly with the playoffs right around the corner.
Yes, they did manage to tie the game up in the first on a nifty pass by Claude Giroux to Arron Asham, which Asham fired right away to catch Curtis Joseph off-guard, but after that, the Flyers were just embarrassing. Following a rash of neutral zone turnovers in the first, the Flyers took that up a notch, failing to connect on any passes and routinely turning the puck over both in their own defensive zone and in the neutral zone in the second period.
The only Flyers who looked like they gave a shit where Daniel Carcillo, Darroll Powe and Andreas Nodl, and even they seemed to care only a little bit. The defensemen were horrible, and not a single Flyer looked like he was trying. To be honest, I was putting more effort into flipping the channel between that game and the McDonald's All-American game than the Flyers were taking on Toronto. When they fell behind 3-1, it made my life a little easier, because I could focus on the basketball game.
Boy was I glad I did. The McDonald's All-American game is always one of my favorite events of the year, because I really like to see some of the future stars before they step foot on a college campus. There is no doubt, Derrick Favors is the most frightening player in the crop of 2009-10 college freshmen.
For his size, Favors had no peer athletically last night. He was the MVP of the game, leading the East to a 113-110 victory over the West, and the Georgia Tech-bound beast was just toying with people. In 18 minutes, he scored 19 points on 9-13 shooting, nabbed 8 boards and had a block. At 6'9", he runs like a gazelle, has soft hands, a great touch and out-of-this-world athleticism.
He'll be tearing up the ACC for sure next year.
While Favors proved he is the most athletic, talented big man in this class, he wasn't the guy who stood out the most, at least not to me. That honor went to the West's Keith Gallon, the 6'9", nearly 300-pounder headed to Oklahoma.
Without question, Gallon could stand to lose a little weight. He is nowhere near as trim as he'll need to be to become a dominant force for an entire college season, but just from watching him, getting in shape won't be a big issue. The guy hustles, and his skill for a big man is other-worldly.
Last night, Gallon led all scorers with 20 points, shooting an efficient 8-11 from the field, including 1-1 from three, made all three of his free throw attempts and nabbed 7 boards. More impressively, he showed tremendous footwork, the ability to run the floor and even a little handle. On one take to the basket, Gallon broke down a much smaller, quicker guard, slammed it home and was fouled.
He certainly isn't Blake Griffin, but Oklahoma is definitely getting another talented power forward to add to its ranks.
Of course, the Nova fans out there were probably most interested in seeing how Maalik Wayns and Dominic Cheek fared against the nation's tops preps. Well, let's just say no matter what happens in the Final Four, Villanova fans should be excited for the arrival of these two next year.
Wayns, who had the honor of being the East's starting point guard, didn't have a particularly impressive shooting game, going just 2-6 from the field for 5 points, but he showed all the attributes you look for in a point guard.
For starters, his quickness is a key attribute. He didn't have a problem getting where he wanted to on the floor to set up his teammates, and that's something that's key for any point guard, especially in Villanova's system. And his passing? Amazing. He dished out 7 assists, second only to Louisville-bound Peyton Siva, and turned it over just once, extremely impressive considering turnovers are commonplace in all-star games — even more so in high school all-star games. And a few of his assists made me say, "Wow!" On one, he drove to the hoop, seemingly went up for a layup attempt, drew two defenders, both of whom towered over him, who tried to block his shot, and wrapped around a pass to a wide open teammate for the slam.
Later, he threw a bullet cross-court pass for another layup. Villanova fans are going to love this kid.
And Cheek? Well, let's just say the kid from Jersey City can fill it up.
Judging from last night's performance, it's evident this kid is a lethal scorer. One minute, he was nailing a three from three feet behind the NBA line, the next minute he's throwing one down inside. In just 14 minutes, cheek scored 15 points on 6-8 shooting, nailing both his three-point attempts. Honestly, he was the most impressive scorer last night, truly looking like a shooting guard.
His confidence emanated through the TV. This is a guy who isn't afraid to shoot it, and playing under Jay Wright's green-light system for guards, Cheek should flourish. However, for a guy who looks like such a lethal scorer and shooter, Cheek only managed to hit 1 of 5 free throw attempts. He'll have to do better than that to meet Nova's high standard of foul shooting. I'm sure he will.
The three other players that really stood out to me were all on the East: Lance Stephenson, DeMarcus Cousins and Peyton Siva.
Stephenson, who's still undecided but supposedly leaning toward Kansas, is the most NBA ready guard in this class, at least physically. At 6'6", 220, he simply can overpower smaller players, but his quickness doesn't suffer due to his size. He's fast, and that's a scary thing to see, a 6'6" 220-pounder flying down the court at the same rate as speedy point guards.
Stephenson did a little of everything, scoring 12 points, nabbing 4 boards, dishing out 6 assists and swiping 3 steals. And he really stepped his game up in the final few minutes, helping to lead the East to victory. Whoever lands Stephenson will be supremely happy.
DeMarcus Cousins, a 6'11" beast, is also undecided, but trust me, he will make an impact immediately. Cousins scored 14, nabbed 8 boards and added a block, which is something he's known for. In a game that doesn't showcase defense, Cousins was a guy who did alter some shots and completely owned the boards. I was thoroughly impressed.
Just as I was with Siva, who showcased his athleticism with a ridiculous 360 layup. Siva was possibly the quickest and fastest player on the court last night, and he showed his unselfishness, shooting just 5 times in 19 minutes, while handing out a game-high 9 assists. Rick Pitino won't have to worry about his point guard play next season, an achilles heel for the Cardinals this year.
One more player I had my eye on was UNC-bound John Henson, and the skinny 6'10" forward didn't let me down.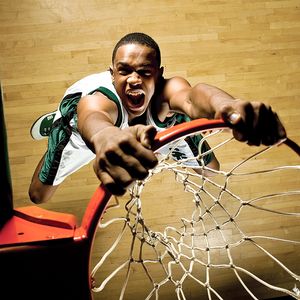 Henson looked an awful lot like North Carolina freshman Ed Davis, a tall, lanky power forward that has a silky-smooth game. Henson scored 14 points last night on 7-10 shooting and blocked two shots. Next year, he's going to give Carolina a formidable front court to go along with Davis and Tyler Zeller.
Henson definitely needs to add some weight to his slight frame, but look for him to contribute right away. UNC may be losing Tyler Hansbrough and Danny Green, and most likely Ty Lawson and Wayne Ellington as well, but at UNC, they don't rebuild, they reload. Henson is part of that reloading.
The game wasn't just a showcase either. It was exciting. Close throughout, it came down to the wire, with the East holding on for the victory. It was a nice distraction from the Flyers' pathetic effort.
Although, the Flyers did come back in the third, as they've done quite a bit lately, but it was too little too late. They lost 3-2, as Giroux scored on the power play with 3 minutes left to give me some hope, but in the end, Curtis Joseph made too many saves the Flyers played hard for about 25 minutes of the game. They gave up 38 shots, which is something else that's been an unnerving trend for this team. Routinely, they are getting outshot, giving up between 30 and 40 shots on a nightly basis. That's asking an awful lot of your goaltending, and turnovers are a big reason for that. The Flyers desperately need to tighten up defensively, make crisper passes, get some puck control and win some god damn faceoffs. Oh, and forechecking wouldn't kill you every now and then. Jesus.
It was a sorry excuse of effort for a team that's trying to maintain home ice advantage in the first round of the playoffs. You know it's a sad day when basketball players in an all-star play harder for 40 minutes than the Flyers did at all.