It's funny how a simple comment like the one in the headline, which was uttered at the Sixers game last night, can revert me back to a 13-year-old, laughing hysterically as if it is the funniest thing I've ever heard.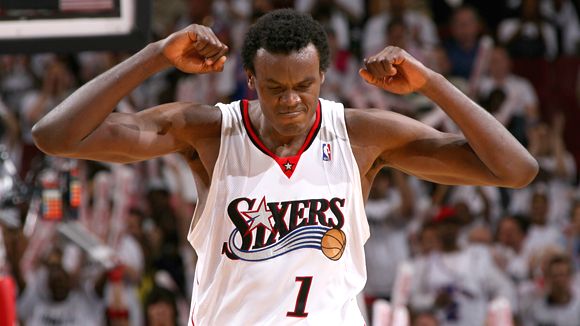 Quite a gas indeed. Anyway, onto the game. Now, I'm not sure what the attendance was last night, but considering the Sixers were playing the team that they very well could play in the first round of the playoffs, it's sad to see that very few fans seem to care. The building certainly wasn't full, but I will say that the crowd was into it, which was nice to see. Well, most of the crowd. The guy sitting in front of us did scold Joltin Joe for putting his foot on his friend's arm rest when his friend got up to go to the concourse. That was weird.
The thing is, for all the people in this city who are down on the NBA and the Sixers in particular, they missed a golden opportunity to witness an incredible individual performance by Josh Smith, who
rode Sammy his own way
:
Smith, the guy
I wanted over Brand
, put on an incredible offensive performance, scoring a game-high 33 points. He missed just two shots on the night, going 13-15 from the field, 3-3 from three and 4-4 from the line. Oh, and he chipped in 5 rebounds, 2 steals and 2 blocks for good measure.
There isn't a more athletically gifted player I've seen than Smith, and he's easily one of my favorite players in the NBA. The best part about his 33-point performance though, besides his facial of Sammy, was that the Sixers still won, 98-85. The worst part was Thaddeus Young having to be carried off the floor by Marreese Speights and Theo Ratliff in the first quarter.
We were sitting behind the opposite basket, so I missed what happened to Thad, but at first glance, it looked like he was in big trouble. I was relieved to find out his X-rays were negative, but I don't expect the Sixers' rising star to be back until the playoffs, which sucks bit time.
Even without Thad, who
I think has been the best Sixer of late
, the Sixers were able to top the 4th-seeded Hawks in impressive fashion. Four Sixers scored at least 15 points, led by Andre Iguodala's 19, along with Andre Miller (18), Speights (16) and Willie Green (15), proving once again just how balanced this team is in the scoring department.
And just as impressive, every player who took the court scored at least one bucket. Reggie Evans had a particularly strong game, scoring 8, Sammy and Thad each had 6, Lou Will and Theo each had 4, and Royal added a deuce. And per usual, the Sixers were led by the Andres. Of course Iguodala had a team-high 19, not to mention 8 assists, 2 steals and 3 rebounds, but he also played tremendous defense, limiting Joe Johnson to just 11 points on 3-9 shooting.
Of course, it was Miller who was running the show, evident by his 10 assists to compliment his 18 points. As Joltin Joe said last night, no matter how much announcers and analysts like to tell us that Kevin Love throws the most incredible outlet passes, there's no doubt that Andre Miller is the best in the business when it comes to outletting his teammates in transition. He threw a full-court outlet, immediately off a rebound, without setting his feet or even gathering his balance, right on the money. It was a thing of beauty. No disrespect to Love, but he can't hold a candle to Miller's outlet passing skills.
It was a good win to bring the Sixers back within a half game of Miami for that 5th spot, and a step closer to taking on Atlanta in the first round. Let's hope they can get there. More importantly, let's hope Thad can recover in time and suffer no ill effects from the dreaded sprained ankle.
After the game, I eagerly headed back home to catch the Penn State-Notre Dame NIT semifinal game. My anticipation grew even stronger when some moron named slingshot sent me this message while I was on the el: "Did u hear what jopa just said bout bball bein a black mans game?" I missed what he said, but I heard it was pretty funny and honestly not offensive. When I walked through my front door, there was about 2 minutes left in the first half and my alma mater was destroying Notre Dame.
They took a 31-18 lead into halftime and looked poised to play Thursday against Baylor. Jamelle Cornley, clearly determined to go out a winner, was completely beasting Luke Harangody, who absolutely did not deserve to be an All-American this year, all night. Jamelle scored 15 points, grabbed 8 boards and clearly frustrated the oafy Irishman. Harangody shot a horrendous 5-16 from the field and was shut down for the majority of the game.
He did, however, managed to get 17 and 10, going off down the stretch to bring the Irish within three. A once huge lead shrunk to a one-possession game late because the Nittany Lions were doing just about everything in their power to give the game away: missing free throws, turnovers, fouling ND, giving up threes.
But they righted the ship, hit some clutch free throws and won 67-59 to play in the NIT championship game Thursday. Penn State played very well. Talor Battle did his thing, scoring 17, and Andrew Jones III had the best game I've seen him play, scoring 16 points, nabbing 15 rebounds and shooting 5-6 from the field and 6-7 from the line.
Stanley Pringle added 10 to give Penn State four players in double figures, while aside from Harangody, the Irish had no one else in double digits. It was a gutty performance that shows this team has no quit in them. Now they get to play one more time.
Update
: About that
JoePa quote
:
During an interview, JoPa spouted about the good old days - when basketball was a Jew sport: "Everyone says it's a black mans game. When I played it was a Jewish mans game." Bill Raftery: "Yeah a city game right?"
Fantastic.