I don't like the Celtics. Not one bit. Never have. Never will. Blame it on Antoine Walker and his ridiculously awful shimmy.
I hate the Celtics so much that one time, in the Linc parking lot before a Phillies game, some guy came up to me wearing a Paul Pierce Kansas jersey to ask me if I knew where the closest liquor store was, and I said to him, "No, and if I did, I wouldn't tell some faggot in a Paul Pierce jersey." That led to a little ruckus, and ultimately, some trouble. In hindsight, that was a bit uncalled for, but I was in college at the time, extremely drunk and well, the fucking guy had on a Paul Pierce jersey. What was I supposed to do?
Anyway, last year was sort of weird for me because the Celtics brought on two of my favorite players, Kevin Garnett and Ray Allen. I knew the Sixers had no shot to win it, so it wouldn't be awful to watch KG and Ray-Ray get their rings. But it wasn't fun to see the Celtics win yet another title. It just wasn't. Boston's had enough, and I've certainly had enough of Boston.
Still, when my parents purchased tickets to the Celtics-Sixers game for me back on Christmas, I was excited, and I've been anticipating last night's game ever since. Well, that was until Thad went down, the Sixers hit the skids and dropped from 5th to 7th in the East.
I did perk up a little bit late last week when I heard KG was targeting the Sixers game for his return, but when that fell through, I was pretty much just going to the game to go through the motions. I did get a shot in the arm when I got home from work yesterday and heard Thad was going to play, but something told me this team was pretty determined to drop its sixth in a row.
To be fair, the Sixers did come out strong and built up a nice little lead last night. From midway through the first quarter on, the Sixers led by at least 6 points most of the way and seemed to have the game in hand. At one point, they were out running and gunning like the fun team that took over the Sixers' psyche at the end of last year, with a sweet behind-the-back pass from Lou to Thad for a dunk, Speights with a nice putback and Sammy leaking behind the defense for a sweet alley-oop from Iguodala.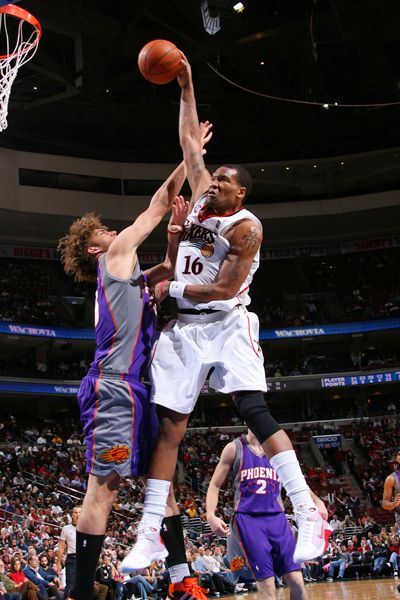 But even with that exciting stretch, the game didn't seem that exciting overall, and Paul Pierce was quietly killing the Sixers. And even though the Celtics were playing mostly backups, the Sixers couldn't pull away. You could just sense this was a game they were just waiting to give away.
Come the fourth quarter, that's exactly what they did. With Pierce on the bench, Boston made a run thanks to Glen Davis of all people. The Big Baby was too hefty for Thad to contain down low, and his ugly, fat jump shot started falling too. Davis' 15 points turned out to be huge.
But the game eventually came down to Andre Iguodala vs. Paul Pierce, and the Truth won. Iguodala had a very fine game, scoring a team-high 25 points, nabbing 5 boards, handing out 7 assists, but with the Sixers down two and the game on the line, Iguodala showed his lack of handle once again, failed to remotely break down Pierce, and took an extremely difficult fadeaway that came up short. Credit Pierce, who played great d on the play, and for, you know, scoring 31 points to lead a Garnett/Ray Allen-less Boston team to victory. Here's the
highlights
:
It was the second straight game I attended for a Philadelphia team that still had something to play for, and for the second straight time, the team they were playing, who both times had absolutely nothing to play for, wound up wanting it more and snatching victory from the hands of defeat late in the game. On Sunday, it was the Flyers giving up 3 leads and letting home ice advantage vanish. Last night, it was the Sixers giving up the lead they had the entire game late in the 4th, and surrendering any shot of gaining the sixth seed. Pathetic.
At least Thad looked healthy and fairly productive in his first game back. Too bad he'll only be playing another week or so.