I grew up a die-hard Penn State football fan. In high school, I applied to one school and one school only for college: Penn State. I spent four years at the University Park Campus, missing only one football game due to a funeral in my four years. I graduated from Penn State. I'm a football season-ticket holder. Essentially, I bleed blue and white.
And yet, I've never really gotten into Penn State basketball. Throughout my entire life, Penn State has been the laughing stock of college basketball. Save for a few years with the Crispins and Calvin Booth, they never won anything. At all. Being a Philadelphia boy, I was an avid Temple fan when it came to basketball, and thanks to the incredible dominance and must-watch factor of Michael Jordan, I began to follow North Carolina — who just so happened to have a Philadelphian as one of their best players, Rasheed Wallace. That's not to say I didn't root for Penn State from time to time, especially for the likes of Titus Ivory and Brandon Watkins, but I was more indifferent toward the program.
Honestly, they stunk, and my father, who attended Penn State for a year and graduated from Temple, had the same rooting interests as me (save for UNC). He was a die-hard Penn State football fan and a die-hard Temple basketball fan. But honestly, during my four years at Penn State, I was dying to be at a school with a good basketball program.
As you've probably gathered, I truly love basketball, and I always imagine what it must have been like to be at a school with a decent basketball team. When I was at Penn State, they weren't even decent. They were dreadful. Ben Luber, a player that would have been hard pressed to start on a Division II team, was the starting point guard. Jan Jagla, a 7-footer that made Shawn Bradley look like Shaq, was the center. And beyond Brandon Watkins, there wasn't a single athlete on the team when I arrived.
Of course, Geary Claxton provided a truly talented, athletic and exciting player, but the team was still awful. Jamelle Cornley showed up and offered toughness and skill, but still, the team was awful. I just couldn't get into a team that was so bad and coached by a guy who seemed to have clue what he was doing. The only game I even remember being excited about was when the Dee Brown/Deron Williams Illinois team, then ranked No. 1 in the nation, came to the Bryce Jordan Center and steamrolled Penn State.
I never could foresee Penn State basketball providing much excitement. And then, in January, at the behest of one of my roommates (who had just moved in), I began to follow a Penn State team that he assured me wasn't bad. And lo and behold, as I watched, I noticed how much Stanley Pringle had developed, how incredibly good and underrated Jamelle Cornley is, how exciting Talor Battle plays, and how a bunch of young guys were hustling their tails off to try and turn around the perception of Penn State basketball.
A couple months later, the Nittany Lions found themselves squarely on the NCAA tournament bubble. They had a legitimate argument, defeating Michigan State, a team that is now in the Final Four, in East Lansing. They hung with the top teams in the Big 10, a conference that often gets derided by many, myself included, but a conference that always seems to send numerous teams to the tournament that cause all kinds of problems.
When they were left out, I thought it was a bad break. But in reality, going to the NIT was the best thing that ever happened to this program. Heading into last night, Stanley Pringle, Jamelle Cornley and Danny Morrissey, three seniors who had endured nothing but failure, were given the opportunity to go out as winners, to go out as champions, with just one more victory. Had they gone to the NCAA tournament, they surely wouldn't have had that chance. More than likely, they would have been one and done.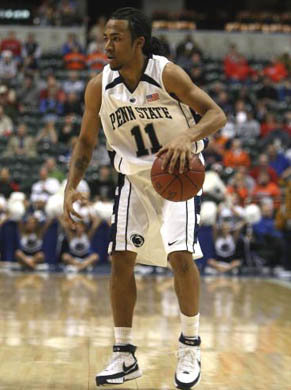 Well, the Nittany Lions took the opportunity in the NIT and ran with it. They made it all the way to the finals, even beating Notre Dame from the big, bad Big East. And last night, with a raucous crowd full of Penn State students and alumni in Madison Square Garden, Penn State did something they've never done in my lifetime: They won a basketball championship, defeating Baylor 69-63.
Sure, it's just the NIT, but the significance really cannot be overstated. First of all, it allowed a warrior like Jamelle Cornley go out on top, and if there ever was a Penn State basketball player that deserved it, it's Jamelle Cornley.
Clearly the heart and soul of this basketball team, Cornley has been a truly terrific player the past four years who has flown under the radar, mostly because Penn State has been nothing more than an afterthought. At his size, he won't get a shot in the NBA, but his game is NBA-ready. Had he been just a little taller, perhaps 6'9" or 6'10", he'd be mentioned among the nation's top power forwards. But, as they say, you can't teach height.
And while he may be undersized for an inside force, he's been a dominant one. Last night, there was no player more dominating. With a chance to finally feel what he never was able to before, Cornley literally put the Nittany Lions on his ailing shoulders and carried them to victory. As Talor Battle struggled with Baylor's zone, Cornley feasted on it. He scored a game-high 18 points on 8-15 shooting, nabbed 7 boards and calmed his teammates down, barking orders, commanding respect. He wouldn't let the Lions lose, even at the end, when it looked as though things may slip away. Jamelle Cornley wouldn't let that happen. He was going out a winner, or he was going to die trying.
And it was great to see Pringle and Morrissey follow their fellow senior's lead, each having a big hand in the victory. Even with a quiet game, Pringle hit big free throws down the stretch to help ice the game, finishing with 10 points. Morrissey, leaving the floor bloody and battered after diving for a loose ball, hit a string of three straight NBA threes that helped propel Penn State to its game-winning run. All nine of his points were vital.
The experience wasn't just a nice sendoff for the seniors either. This experience gave this team, a team full of young players, a taste of winning. Suddenly, a program that they came to with a reputation of losing has become a winning program. Now, after a season toughing it out in the Big 10 and coming away in the upper half, these young Nittany Lions, full of sophomores and freshmen, got to experience postseason basketball. They got to experience a tournament atmosphere. And with 27 wins, and an NIT championship, they now know what it feels like to be a winner. Now they can expect to be winners.
As for the game itself, Penn State showed tremendous grit. Talor Battle, the Nittany Lions' lead guard, struggled mightily against the zone. But he never pressed. He never forced the issue. He never got thrown off his game. He let the game come to him, and when for some reason Scott Drew switched from the very successful zone to man defense, Battle took over, exploding to the hoop, setting up teammates and regaining his confidence.
By the time Drew put his Baylor players back in the zone, it was too late. Battle had his swagger back, and Penn State had the NIT championship all wrapped up. Admittedly, I never really thought I'd get excited for the NIT. Never in a million years. And I never thought I'd get excited about Penn State basketball, at least not any time soon. But this team drew me in. They were exciting. Fun to watch. And as Arkansas Fred said to me via text message: "Who knew the nit would feel so good?"
The excitement was there, and now, this very well could help Penn State in its recruiting. In fact,
it already has
:
Talor Battle's half-brother, the #37 ranked player for the class of 2010, committed on the team bus after tonight's victory. He picked us over programs such as Maryland, Notre Dame and Georgia Tech.

I have this from MULTIPLE sources close to the Penn State men's basketball program.

What a wonderful evening. Our Nittany Nation student section takes over the Garden and wills this team to a championship, and now this. Truly the biggest night in the history of Penn State basketball.
Make sure to let my man,
K. Masenda
, know that his Baylor Bears were no match for my Penn State Nittany Lions.
Oh, and
here are the highlights
: