They say you never forget your first time. And with October right around the corner, the vivid memories of my first time witnessing a professional Philadelphia franchise win a championship is ripe in my head. Even with football underway, I find myself wandering back to that glorious month of October. It's something I want to relive again and again. In fact, that's exactly what I'm going to do, republishing my feelings during the wild ride to becoming 2008 World Fucking Champions. View part 1 here.
Today is part 2, originally published Oct. 2, 2008:
King Cole
It's official, Cole Hamels has entered the secret society of Major League Baseball aces. Despite some
questioning if he was there yet
(I said
yet
), Cole took the mound yesterday and was completely ridonculous.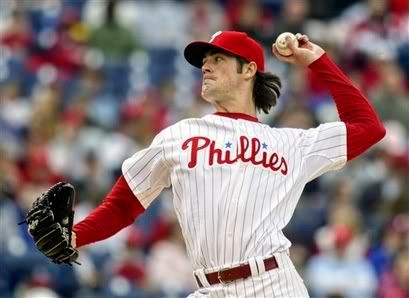 On a cold, dreary day in Philadelphia, Cole proved once and for that truly
It's Always Sunny in Philadelphia
when the Phillies win. And as Dan Levy pointed out, Cole looked an awful lot like the Phillies last true ace,
Curt Schilling
.
Stuck in my office doing work like a jerk, I was forced to huddle around co-workers' radios and keep my eye on MLB Gameday for the duration of the game. And I gotta tell you, I was blown away from Cole's performance. Now, I certainly wasn't expecting him to blow up like last year, and I even expected him to pitch pretty well and the Phils to win. But I really didn't expect this.
Hamels showed his penchant for coming up small in big games was either a misnomer or a thing of the past. I mean, the guy completely breezed through a hard-hitting, high-powered Milwaukee lineup, never even sniffing a tough inning unless you count having runners on first and second with one out in the 6th. The entire game, Cole was in complete control, and showed he's ready to take the next step.
In fact, Cole was sitting them down so easily I can't even fathom why he wasn't out there for the ninth. Maybe it was Cole saying he was done, which he's been known to do. Maybe Charlie just wanted to stick to the script and bring in the closer in a save situation. But when a guy is dominating like that, he should be out there to finish it. I mean, shit, the guy didn't even struggle once the entire game. Not once. Do you think CC would have been pulled? Or Schilling in his heyday? Or Randy Johnson, Roger Clemens, Josh Beckett? I think not.
Either way, the Phils got the win, despite Brad Lidge tempting fate yet again. But the Comeback Player of the Year remained perfect, picking up his 42nd save in as many tries as a Phil, and the Fightins notched their first playoff win since 1993. It was pretty awesome.
Tonight, things will be a little tougher on an offense that only managed 4 hits off a rookie, albeit a pretty good rook. With CC on the hill for the Brewers, Brett Myers is going to have to step up like Cole did, because one run might be all Milwaukee needs with the best pitcher in baseball behind them. So Brett, wake the fuck up and get back to the pitcher you were a month ago, not the jerkoff who gave up a million runs his last two starts.