They say you never forget your first time. And with October right around the corner, the vivid memories of my first time witnessing a professional Philadelphia franchise win a championship is ripe in my head. Even with football underway, I find myself wandering back to that glorious month of October. It's something I want to relive again and again. In fact, that's exactly what I'm going to do, republishing my feelings during the wild ride to becoming 2008 World Fucking Champions. View part 1 here and part 2 here.
Today is part 3, originally published Oct. 3, 2008 by Arkansas Fred:
Brett Myers Day
With a 2 hit, 7 inning performance, Brett Myers once again showed that he could be one of the best pitchers in baseball when he is on his game. After getting out of a one out bases loaded jam in the first inning, Brett settled in to give one of his finest performances of the year, and I'm not just talking about on the pitcher's mound.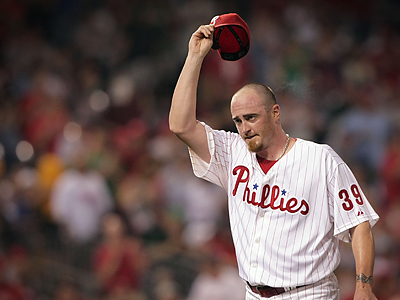 Giving up only two hits and stifling the Brewers for most of the afternoon is impressive enough, but Brett Myers somehow found the spirits of Lenny Dykstra and Pete Rose as well. With the game tied at one with 2 outs and Pedro Feliz on third base, Brett stepped up to the plate. We all were just happy that the lineup was turned over and Jimmy(I'll still hate you for life for calling me a frontrunner) would lead off the third inning. Apparently Brett had a completely different idea.
After taking ferocious hacks at the first two pitches, Brett gripped his bat tight and made life for CC a living hell. With every pitch there after, the decimal level in CBP rose higher and higher as the fans stood up on their feet. Memories of Burt Hooten came flooding back. Brett was laying off tough sliders and fouling off anything close. After working a full count, Myers took one more pitch to send the crowd into a frenzy. He worked a walk after falling behind 0-2 against the "Best" pitcher in baseball.
Visibly a little shaken and completely losing his command, Sabathia walked Rollins on four pitches, as chants of CC sucks and overrated were loud enough to be heard through the television set, and loaded the bases for Shane Victorino. What happened next was one of my greatest moments as a Philadelphia Phillies fan. CC hung a slider to Shane and it got hammered into the leftfield bleachers. Now, I have never been a huge fan of Shane Victorino [
Ed note: You are fucking idiot if you don't like Shane
]. I still hold a grudge from last year in the beginning of the year, when he still did not know how to steal bases. But grudge schmrudge. That's done with. Shane hit the first grand slam in Phillies postseason history. It was amazing.
The Phillies put up five runs on CC in one inning and it was all they needed. Sabathia did not make it through the fourth inning but did find time before he was lifted to go through a ten pitch at bat with Brett. Myers faced 19 pitches in his two at bats against CC. He later got a single to right for good measure. Madson and Romero closed out the eighth with no further damage and Lidge made short work of the Brewers in the ninth.
The Phillies are one game away from advancing to the NLCS. The have scored runs in only 2 innings during the past two games and still have gotten nothing at all from Utley, Howard, and Burrell. Things still could not look any better. The Cubs are even down two games to none against the Dodgers meaning if the Phillies and Dodgers win, the first two games of the NLCS will take place back in Philadelphia. Shane Victorino and Jayson Werth powered the offense with extra base hits galore and helped pave the way towards the victory. But Brett Myers was the hero. It was his day. The guy dominated the plate both on the mound and in the batter's box. If Brett and Cole continue to pitch their game, the way they know they can pitch, the Phillies won't be beat. It's as simple as that.