It's no secret that the Phillis suck complete and utter ass at home this season, which makes absolutely no sense for a team that went the entire 2008 postseason without a loss at home. But the numbers don't lie. The Phils are an abysmal 13-19 at Citizens Bank Park this season, the second worst home record in all of baseball, trailing only that AAA squad from the nation's capital (10-22).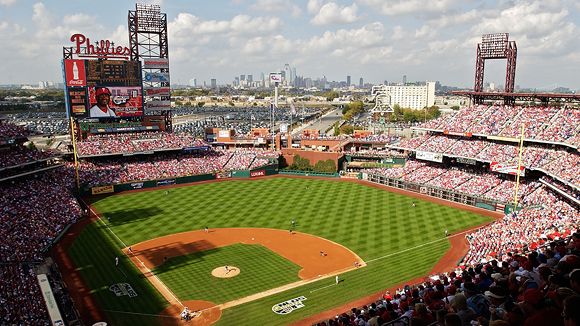 It's never a good thing to be compared to the Nationals. Never.
Now, there are many things that can be contributing to this putrid performance in the House That Glanville Built (
cough
shitty pitching
cough
), but we'll leave that analysis to the experts. Instead, I'd like to focus on what we, the fans, should do about it.
There have been murmurs that the fans have become a little too content with last season's run to becoming
World Fucking Champions
, thus the boos aren't raining down quite as hard or quite as often, even when deserved. Maybe that's the case. I'm ashamed to say I really haven't been to enough games yet this season to really know.
But what I do know is the Phillies kick major ass on the road this season. Look it up. Fine, I'll do it for you. The Phils are a ridonkulous 23-9 away from Philadelphia, far and away the best road record in baseball. That, and the fact that the rest of the division sucks, is why the Phillies are still in first place.
So that got the old brain thinking. Seeing as the Phils can barely claim they're better than the Nationals at home, and seeing as they look every bit like the
World Fucking Champions
they are on the road, what if the fans did something so insane that it just might work? Something almost sacreligious. What if the Philadelphia faithful turned Citizens Bank into a road atmosphere?
Think about it. The Phils come to their home stadium and see nothing but the opposing team's jerseys in the stands. Instead of donning your Chase Utley jersey, trade it in for a Brian Roberts shirt this weekend. Hell, you can even break out your Adam Eaton jersey while the Orioles are in town. What? Eaton got cut? Now he's in Colorado? Yeah, sounds about right.
But hey, you get the idea. Break out the Aubrey Huff jersey, the Nick Markakis T-shirt. Make Citizens Bank look like Camden Yards. Maybe it will trick the Phils, make them think they're on foreign soil, and actually get a win.
Yeah, I know, it will take some dedication on the fans' part. They'll have to buy some Orioles shit and, fuck, who the hell likes Baltimore anyway? That sucks. But at this point, the Phillies could use any psychological advantage they can get.
Of course, this is a stupid idea, and one I'd never even partake in myself. But it was a thought. See what happens when you suck so much at home, Phillies? You make me go crazy. Get your head out of asses. And hey, Ryan Howard, if you're done with talking about it and don't want to hear the questions anymore, here's a fucking novel idea: STOP STRIKING OUT AND WIN A FUCKING SERIES AT HOME!!!!!!!
Baseball can be so annoying sometimes.