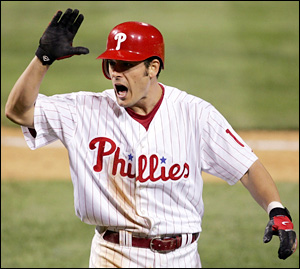 Remember this guy? Greg Dobbs, the guy who hit .301 last season. The guy who set the Phillies record for pinch-hits in a season. The guy who was the best pinch-hitter in baseball.
Remember him? Yeah, well, that guy is long gone friends, and last night was a perfect example of just how far Dobbs has fallen since this season. With the Phils down a run in the 9th, Dobbs stepped to the plate to pinch-hit with Stairs on first and two out. Dobbs chased the first pitch, which was out of the zone, then looked at a fastball on the outside corner. Down 0-2, he took a very close pitch for a ball, and then, he just watched as a 95 mph fastball whizzed right by him for strike three. Game over. Dobbs was caught looking at a pitch he would have crushed last season.
Now, that's not to say we should expect Dobbs to get a hit there, off one of the best closers in the game, Francisco Rodriguez, but the at-bat was just horrendous. He pulled a vintage Pat Burrell, staring at strike three right down the middle (well, middle-in). Certainly, the 6-5 loss doesn't rest on Dobbs' shoulders. When your team scores five runs off Johan, including four home runs, you should win. The pitchers didn't do their job. But still, that's the type of spot Dobbs is paid for. He won't always come through, but this year, he has very, very rarely come through, and I really don't know why.
Last year, Dobbs was fantastic. He was every bit as important as anyone else on that team in the run to becoming
World Fucking Champions
. Honestly, every time he came in the game, I thought he was going to get a hit.
This year? Well, saying Dobbs has been horrendous doesn't even do it justice. The failures of Jimmy Rollins and Brad Lidge have been well-documented, but in reality, those two guys have at least made positive contributions to the team. Jimmy still plays marvelous defense, and Lidge, as awful as he has been, does have 13 saves.
Dobbs, on the other hand, has been nothing but an albatross for this team.
The pinch-hit extraordinaire is currently batting .184 with just 9 hits, 6 runs, 2 home runs, 6 RBI, .268 on-base percentage, .347 slugging percentage and .615 OPS. His pinch-hitting numbers are even worse. After going 22-for-62 last season (.355), Dobbs has just 4 pinch-hits in 28 at-bats (.143).
Considering Dobbs is a horrible defensive player, his presence has not helped the Phillies whatsoever this year. So, what exactly is the problem?
I guess the most obvious answer is a lack of plate appearances to really get going. Last season, Dobbs finished with 240 plate appearances and 226 official at-bats in 128 games played. So far this season, Dobbs has just 56 plate appearances and 49 official at-bats in 44 games. He simply hasn't had as many opportunities to get swings in this season.
The reason lies in Pedro Feliz. Last season, Feliz battled through back pain, limiting him at the plate and allowing Dobbs to get much more playing time at third when Pedro needed a rest to heal his aching back, not to mention that Dobbs would often pinch-hit for Pedro late in games.
But after offseason surgery, Pedro is as healthy as he's ever been, and it's shown. Now, not only is Feliz continuing to amaze with the glove, but he's batting .305 and has been the Phillies best hitter with runners in scoring position. And he's no longer getting pinch-hit for late in games because he's absolutely killing the ball from the 7th inning on.
So yeah, it's to be expected that with less playing time, another 22-pinch-hit, .301 average season is out of the question. But .184 with virtually no production at all, this far into the season? That's too much of a drop-off. Dobbs needs to find a way to get back to the guy who pitchers feared when he came in the game, the guy who would battle and fight to extend a game.
Because the last thing the Phils need is another wasted bench spot, what with the likes of Chris Coste and Eric Bruntlett already proving worthless this season.