Earlier today, I
discussed my disappointment
about Dionte Christmas not getting drafted, even mentioning, "Hell, maybe the Sixers will call. I hear they could use shooters. And I'd certainly rather have Dionte than Willie Green."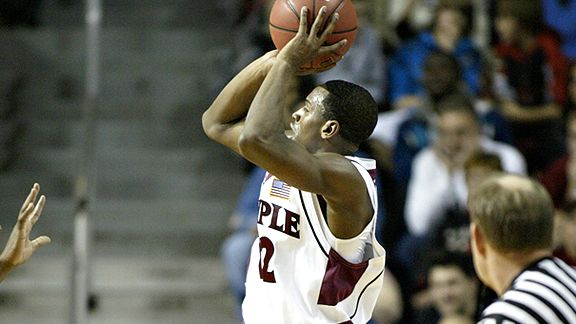 I wasn't overly serious about this prospect, but then I began to mull it over. Why wouldn't the Sixers give Dionte a call? I mean, check out
their roster
. Elton Brand, Jrue Holiday, Andre Iguodala, Willie Green, Jason Kapono, Jason Smith, Marreese Speights, Louis Williams, Thaddeus Young and Samuel Dalembert (barring any minor miracle of a trade scenario) are the certains to be on this team come opening night.
Royal Ivey opted out and will hit the open market, and with the acquisition of Holiday, Royal is more than expendable. Donyell Marshall has one discernible skill at this point in his career, but with the Sixers going younger and younger, you'd have to figure he's not in their plans. Ditto Theo Ratliff, as much as I love the guy. But Marreese Speights and Jason Smith need playing time to become the frontcourt of the future for Philadelphia, so seemingly, Theo and Donyell, who are in their twilights, are out. Kareem Rush was a disaster who couldn't even get on the floor, so yeah, he doesn't even count. And of course, Andre Miller is an unrestricted free agent who may or may not want to come back. I'm not holding my breath.
But when you look at this roster, there is exactly one shooter in the bunch, the newly acquired Jason Kapono. Beyond that, the Sixers still have no other outside shooting, and they lack a true, pure scorer from the bench. Yes, Lou Will can fill it up at times, but you have to figure he'll be doing a whole heck of a lot of point guard duties if Miller leaves, so the Sixers could use a little more scoring punch, ideally from a guy who can shoot it a little bit.
When you look at it, as of today, the Sixers have 10 guys heading into camp right now. One of them is Willie Green, much to my chagrin. Frankly, I think a player like Dionte Christmas would be a perfect fit to help round out that roster. Yes, the Sixers will need a point guard, potentially a veteran like Miller or making a trade, perhaps, for Rafer Alston — how pissed must Rafer be to be going to New Jersey, who already has a young, good point guard in Devin Harris? He's going to be miserable being a backup, getting little PT — but it would be nice, like I said to have a scorer/shooter off the bench. That's what Christmas is. And you have to believe the Philadelphia native and Temple star would love to stay home and play for the Sixers.
At the very least, the Sixers should call. I know another shot blocker to complement Dalembert would be nice, but so would bringing in a scorer of Dionte's pedigree, especially if it would mean parting ways with Willie Green.
I guess what I'm really trying to say is, I'd much rather see Dionte Christmas in a Sixers uniform than Willie Green. Call me crazy, but I just don't get this whole Willie Green thing. I don't know.
Plus, who doesn't like Christmas? No one, that's who.