You know what I miss most about my childhood? No, not the complete and utter lack of responsibility, although that was awesome. Not the fact that I spent 90 percent of my time trying to have fun instead of spending 90 percent of my time trying figure out women (specifically, how to get them to sleep with me). Not even the fact that everything was provided for me thanks to my parents.
No, the thing I miss most about my childhood is playing sports just about every single day of my life.
In the late spring/early summer, it was baseball season, meaning practices and games throughout the week. In the late summer/fall, it was soccer. And in the winter, it was basketball/indoor soccer season. I even spent a year playing football before I realized my short frame was more suited for the soccer field.
All year long, there was a practice or game to be at, and when there were no practices/games, it was time to play a pickup game of whatever — stepball, baseball, whiffle ball, roller hockey, basketball, football, soccer, didn't matter — until dinner and/or bedtime. It was great.
Now, I hardly make the time to play pickup basketball down the street. And the court is literally right down the street. It's true, I hate to
have
to do something more than anyone, but I think it's officially time I join some adult leagues. Playing sports is the shit. It's also a reason I really, really miss college. I used to play basketball all the damn time with Arkansas Fred in State College. Getting old sucks.
Now onto the links …
-The Braves
traded for Nate McLouth
last night, who was All-Star last year for the Pirates.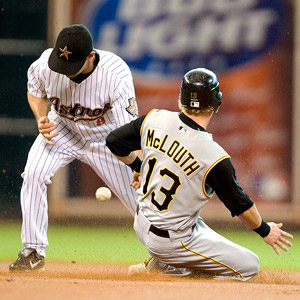 You know how I found out? I went to check my fantasy team this morning when I noticed McLouth didn't play last night. So I clicked on the little red note thing on Yahoo's fantasy site, and it said he was traded to Atlanta. Go figure. This is not great news for Phils fans, because McLouth is a very good player, and he's sure to become a thorn in Phillies pitchers' sides much like Brian McCann. The guy can hit.
-Apparently,
Sammy Sosa retired
. Because evidently he was not already retired. Who knew?
-Kevin Garnett is
making promises
:
Anything is possible. After all, I got Marbury another paycheck, and after that anything really is possible.
-Expect Chris Osgood
to play well
tonight.
-It certainly sounds like Jameer Nelson will be playing at some point in the NBA Finals, for better or worse. Don't expect him to be the same Jameer with all that time off and shoulder that's still recuperating, but then again,
it is Jameer
we're talking about:
Jameer Nelson: It sounds like he's going to play in the NBA Finals and while I don't think he will be able to come back and play at the level he was during the regular season; it certainly isn't going to hurt to have a player of his caliber as a weapon off the bench, especially when he can probably destroy Derek Fisher even with a shoulder that's not 100%. However, if anyone is tough enough to go out there and play like he never missed a beat I wouldn't be the one to be betting against Jameer Nelson.
Truth.
-FreeDarko
tackles the NBA draft
as only FreeDarko can:
Most Likely to Surprise Everyone By Being White: Nando de Colo.
-
Update
: Jameer
won't play tonight
.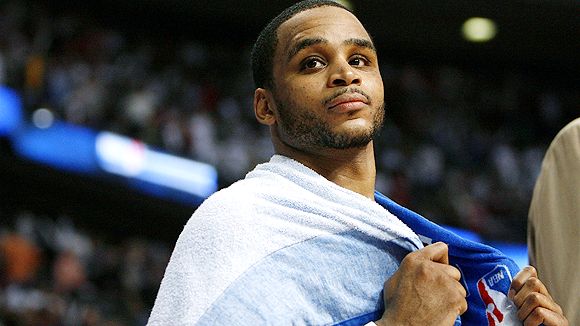 And it's unlikely he'll return for the finals at all.
-Um, thank goodness the Eagles drafted LeSean McCoy because
Brian Westbrook needs surgery
again.
Here's hoping to a full recovery so we can see the most explosive Eagles running back of my lifetime again.
-Penn State
nabs another western Pennsylvania recruit
, and Pitt still sucks:
And, just to pile on, Wanny's record as the Pitt head coach:

2005: 5-6, losses to Notre Dame, Ohio (Bobcats, not Buckeyes), Nebraska, Rutgers, Louisville, WVU.

2006: 6-6, losses to Michigan State, and five straight losses at the end of the season to Rutgers, USF, UConn, WVU, and Louisville.

2007: 5-7, losses to Michigan State, UConn, Virginia, Navy, Louisville, Rutgers, and USF.

2008: 9-4, losses to Bowling Green, Rutgers, Cincy, and the stinkbomb against Oregon State.

Want to be taken seriously, Panthers? Try beating Rutgers for a change. Baby steps. The guy's name is Schiano, not Lombardi.
-
Welcoming Alvin Williams
back to Toronto, via
Ball Don't Lie
.
Can't get me a decent-sized Alvin Williams photo during his time at Villanova, huh Google? Terrible.
-Bill Conlin
loves him some Bastardo
.
-Kyle Drabek followed Bastardo's promotion performance with a
an equally impressive debut
for the Reading Phils.
Tonight, on tap we have game 4 of the Stanley Cup finals beginning at 8, game 1 of the NBA finals at 9 and the Phils taking on the Dodgers in Los Angeles at 10:10.
-
Update
:
Sheed to join LeBron?
Yes, please.