I was so exhausted when I got home from work yesterday that I wasn't even sure I'd make it to watch the draft. In fact, my cousin called me at 7:10, to which I responded, "What are you calling me for? It's 7:10 in the morning." He politely replied, "What are you talking about? It's 7 at night." I was out of it.
However, that phone call brought me back to life just in time to nestle on my couch to watch the NBA draft. And thank goodness I chose the draft over a Phillies shitshow.
Of course, I've made
no
bones
about my desire for the Sixers to take Tywon Lawson at 17, but I had reservations about his availability at that spot.
When it came time for Indiana to pick at 13, I got a bad feeling this was where Ty was headed. But to the surprise of just about everyone, it was Ty's UNC teammate Tyler Hansbrough whose name was called, not Lawson's. I was puzzled but elated, because now I knew the Sixers had their man, my man locked in.
Phoenix wasn't taking a guard, and they didn't, opting for Earl Clark. Detroit, for some reason, thinks Rodney Stuckey is an actual, real, live point guard, so they weren't going small (chose Austin Daye). And there was no chance in hell the Bulls, with Derek Rose and Kirk Hinrich, were going to nab a point guard (took James Johnson).
Finally it was the Sixers' turn, and I was all sorts of pumped to hear Ty's name called. He's the speedy, efficient, smart floor general they need to take over for Andre Miller. Here comes David Stern, his words, with the 17th pick, the Philadelphia 76ers select …
Jrue Holiday? Really? I was stunned. I really, really wanted Lawson, thought he was the perfect fit. I really don't even know what to think about this. Lawson was a three-year player ready to come in and make an impact right away. Holiday is a 19-year-old kid who struggled at times last season in his one year at UCLA. Now, he's a kid with a world of ability, a tenacious defender and tremendous upside. But I really don't know what I'm getting out of him.
I can't say I hate the pick or anything. I'm just unsure about it. I'll give Stefanski the benefit of the doubt, because he's done a hell of a job finding Thaddeus Young and Marreese Speights in the last two drafts. But this leads me to believe they're really going to go all out to try and resign Andre Miller now (even though I don't think Andre wants to come back at all), because a 19-year-old kid probably isn't going to help out too much right from the get-go at point … unless his name is Derek Rose.
I'll guess we'll just have to wait and see. I can tell you that I'm not excited about the pick, but then again, I'm not overly upset. Indifferent I guess is the right word. I'll give him a chance, for sure. The guy went into UCLA with a ton of hype, so we know he has talent. Hope he can put it together quickly for the Sixers.
Some notables from last night. First off, what the hell is Minnesota doing? I understand they need to reload their backcourt, especially after shipping off Randy Foye and Mike Miller to Washington, but drafting three point guards, especially taking Ricky Rubio and Jonny Flynn back to back? What the fuck? What the hell are you going to do with Rubio, Flynn and Nick Calathes? That's some crazy shit right there.
I guess they'll run a lot of two point guard sets, and I guess Flynn and Calathes can play off the ball as well. Of course, the Timberwolves also drafted Episcopal's Wayne Ellington, making him the third Tar Heel selected in the first round.
I'll tell you what, with the young guards just from this draft, added to Kevin Love, Al Jefferson and Corey Brewer, the T-Wolves actually look like they have a promising future, assuming they can keep it all together. Still, honestly, how many point guards does a team need? (When they drafted Lawson, I was all sorts of confused. Of course, he was traded to Denver, which makes sense since Chauncey is old as fuck).
Chester's finest Tyreke Evans got that money, going No. 4 to Sacramento. He should get a lot of playing time out there. Brandon Jennings went 10th to the Bucks, proving his sliding draft stock was way overblown.
A little bit of a shocker to me was how early Villanova's Dante Cunningham was taken.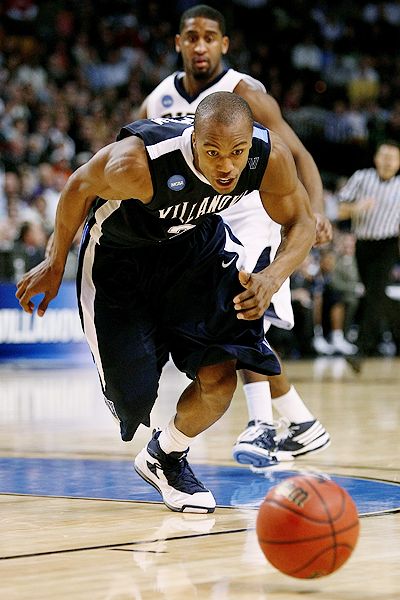 Don't get me wrong, I thought Dante would get drafted and definitely make an NBA roster. He sort of reminds me of a George Lynch-type player in the league. I think with his hustle, smarts and ability, he can have a long career as a bench player. But 33rd? I didn't see that coming. I'm pretty pumped for the guy. He gets to play on an up and coming Portland team loaded with young talent. Good deal for Dante.
My favorite Tar Heel from the national championship squad, Danny Green, is now officially teamed with LeBron and Shaq. It wouldn't be out of the question for this do-it-all player to make a run at a championship again next season.
I love Danny Green, and I honestly think he can be a dynamic sixth man down the line. He has insane range, is a tremendous defender, can block shots, rebound, do just about anything. I hope he earns some time on the second unit for Cleveland this year.
And then there is Ahmad Nivins. Nivins broke out as a senior at St. Joe's and the Mavericks took notice. Not a bad spot at all for a guy that two years ago no one would have guessed would be in the NBA. Now he's on a very solid team in the league with a chance to possibly get some good run as a backup.
I have to say, I'm pretty disappointed that Dionte Christmas didn't get drafted, as I'm extremely sure he is as well.
Yes, he's a streaky shooter, but the guy can flat-out score. The past two seasons, he carried a Temple team that honestly had very little overall talent to the NCAA tournament. He has decent size and seemed wiling to put in the work to get better.
He still has a shot at making a team, and I think he will catch on somewhere at some time, but I really thought he'd be a late-round pick in the second round. I know this much, he sure as shit is a better basketball player than Taylor Griffin, no question in my mind. Best of luck to you, Dionte.
Hell, maybe the Sixers will call. I hear they could use shooters. And I'd certainly rather have Dionte than Willie Green.