Charlie Manuel, by my definition, is the greatest Philadelphia manager/coach of my lifetime. Why? He's the only one with a ring. But man, the guy really makes me scratch my head sometimes, mainly with the way he uses his bench.
My main problem with his handling of the bench is the way he so often uses a pinch-hitter for a position player. This drives me nuts. He manages a National League team, meaning you're going to need pinch-hitters for your pitchers a number of times a game most games. Yet so often, Charlie wastes a bench move on a regular in tight games, as he did the last two nights.
For a refresher, two nights ago, Charlie
sent out Eric Brunlett to pinch-hit for Greg Dobbs
in the 7th inning because the Reds brought in a lefty. Eric Bruntlett isn't even hitting Allen Iverson's weight. Bruntlett, of course, struck out. Then last night, in a tie game in the 8th, he pinch-hit for Dobbs with John Mayberry because the Reds had a lefty on the mound. There were two on with two out. Of course, the Reds then brought in a righthander to face Mayberry, who struck out looking.
In both instances, Manuel pinch-hit for Dobbs, wasting a move in a tight game to deplete his bench in case the game went further, and neither time worked. Yes, there are times when you'd rather have a the righty-lefty matchup or the lefty-righty matchup or a certain player vs. a certain pitcher late in the game. I get that. But in these instances, it didn't make any sense. Eric Bruntlett can't hit anyone, and Mayberry is a rookie who hasn't played much at all against righties. Yet Manuel felt more comfortable with them than having the red-hot Greg Dobbs face a lefty.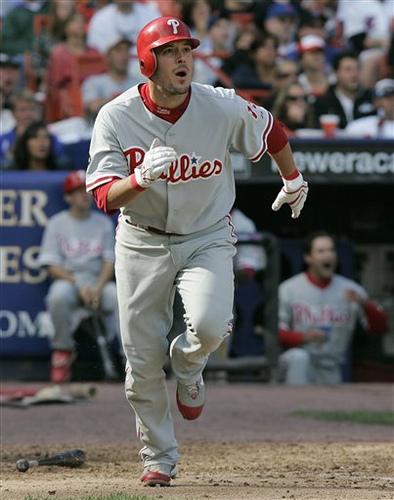 My question is why? Check out Dobbs'
career numbers against lefties
. Admittedly, they're not very impressive, but his career .255 average is certainly better than Bruntlett against anyone and trusting a rookie to do something he has not been asked to do. Wouldn't it make sense to just leave Dobbs in and take your chances, especially when he's been hitting the hell out of the ball of late?
I just don't understand it. But hey, the Phils are in first. They did win last night. I just get frustrated at how often Manuel pinch-hits for other hitters, leaving him with limited options late in games. And seriously, someone take out Eric Bruntlett already.