With basketball and hockey on hiatus for the summer and football still months away, there's nothing happening except the dog days of summer. So I'll be publishing my own personal lists of my five favorite players of the four major Philadelphia sports franchises.

View the first installment on the Phillies here, the second installment on the Sixers here and third installment on the Flyers here.
Let's face it, football is a completely different animal than baseball, hockey or basketball. For starters, there are 53 players the team, a thousand coaches and the players are more specialized than in any other sport. So, we're going to go in a little bit of a different direction with my favorite Eagles, picking my five favorite players on defense, five favorites on offense and maybe even go with my five favorite special teamers. Maybe. Today, we'll begin with the defense.
1. Eric Allen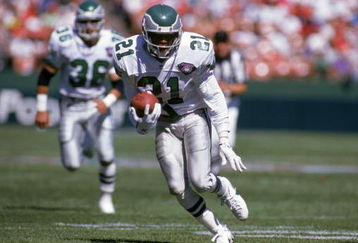 As you will see, I have a strong affinity for cornerbacks, and during his prime, there was no finer cornerback ever to wear an Eagles uniform than Eric Allen. In seven seasons in Philadelphia, Allen made five Pro Bowls, amassed 34 interceptions and scored five touchdowns. He was widely regarded as one of the best corners in game, right up there with Rod Woodson and Deion Sanders at the time.
In 1989, he was second in the NFL with 8 interceptions, being named 1st Team All-Pro. In 1993, he had perhaps his finest season ever, recording 64 tackles, picking off 6 passes and returning an astounding four of them for touchdowns to lead the NFL in defensive touchdowns, and his 201 interception return yards were tops in the league as well. Included in that was his insane 94-yard interception return against the Jets where he ran about 201 yards alone after picking off Boomer Esiason.
It was quite possibly the most memorable play from my childhood. Eric Allen was an absolute beast and flat-out one of the most exciting players in football. I loved that guy.
And his standout days weren't limited to his time in Philadelphia. He made the Pro Bowl in 1994 and 95 with the Saints and picked off 6 passes in 2000 as a Raider, when he also led the NFL with three interception returns for touchdowns. For his career, Allen totaled 54 interceptions, eight touchdowns off interception returns and one on a fumble return, 734 tackles and six Pro Bowls in 217 games over 14 seasons.
To top things off, when the final four teams remaining in the 2003 playoffs were the Eagles, Bucs, Raiders and Titans. Working for ESPN, Allen was asked if the Eagles and Raiders wound up in the Super Bowl, who would he root for? His answer was something to the effect of that while he loved his time as a Raider, he grew up, became a man in Philadelphia, so he'd be going with the Eagles. That's good people right there.
Sadly, the Eagles didn't make it there, instead closing out Veterans Stadium in embarrassing fashion by losing to the Bucs. And I was there. It sucked. But Eric Allen was the man, and he is my favorite Philadelphia Eagle ever.
2. Brian Dawkins
If you are a Philadelphia Eagles fan, you love Brian Dawkins. Plain and simple. That's just a fact. There isn't a single Eagles fan alive that honestly can say they don't like, scratch that, love Dawkins. He is the greatest safety in the history of the franchise, bar-none, and he is one of the best at his position ever. There aren't many safeties in the Pro Football Hall of Fame, but you bet your ass Brian Dawkins deserves his plaque in there. In his prime, he was Ronnie Lott with better coverage skills.
His numbers certainly say a lot: 183 games (182 of them started), 21 sacks, 34 interceptions, two interception returns for touchdowns, 32 forced fumbles, 16 fumble recoveries, one fumble recovery for a touchdown, 723 tackles, seven Pro Bowls, four 1st Team All-Pro status in 13 seasons, all in Eagles green. Sadly, we all know his 14th season won't be in Philadelphia, but he will be in town when the Broncos come to Philadelphia on Dec. 27 for the final home game at the Linc of the regular season.
As great as Brian Dawkins the player has been — and make no mistake about it, Brian Dawkins has been one of the greatest defensive players of all time — he was equally as valuable for his leadership, his understanding of the game and personalities. Donovan McNabb may have been proclaimed the leader publicly, but that locker room always belonged to Dawk. It was his defense. It was his team. For 13 seasons, Brian Dawkins was the heart and soul of the Philadelphia Eagles.
Sure, as he has gotten older, he has lost a step here and there. He can't cover the way he used to. But ever since the day he showed up in Philadelphia out of Clemson, Brian Dawkins has given everything he has every last play he was out on that field. He led by example, never taking a play off, never passing the blame on those less talented than him. Brian Dawkins wasn't just the best safety in the game. He was our safety, Philadelphia's safety. Seeing him in a Broncos uniform just won't look right. It never will.
He may not be ours in the coming years, but really, honestly, Brian Dawkins will always be a Philadelphia Eagle. His ferocious hits, big interceptions and immaculate sacks will never be forgotten in this city. Never. He may not have won a Super Bowl here, but he certainly won our hearts.
3. William Thomas
When Tra Thomas tried to go by his first name, William, and forget Tra after already being a veteran, I was not happy. This city already had William Thomas, the outside linebacker who called Philadelphia home from 1991-1999. This city was only big enough for one Willie T. Thankfully, Tra gave up his futile crusade, going back to Tra since that's what everyone knew him as. And I was relieved, because as much as I like Tra Thomas, he doesn't compare with Willie T. in my book.
Thomas was the best linebacker I can recall at covering tight ends, and he definitely had the greatest set of hands of any linebacker I've ever seen. In his nine years with Eagles, Thomas accumulated 18 interceptions, including an absurd 7 in 1995, when he finished third in the entire NFL in picks. He made two Pro Bowls (1995 and 96), wracked up 595 tackles, 33 sacks one interception return for a touchdown, two fumble recoveries for touchdowns and a safety as an Eagle.
When it was time for him to go at the turn of the decade/century/millenium, I was heartbroken. Willie T. was by far my favorite holdover from the Buddy Ryan era. And the guy showed he still had some game in his two years in Oakland, nabbing another 6 interceptions in 2000 (seriously, how many other linebackers have picked off 13 passes in two seasons?) and three more in 2001. He finished his career with 37 sacks, 27 picks, four touchdowns and 728 tackles in 11 seasons.
The only other Eagles linebacker I can remember even coming anywhere near the vicinity of Willie T. as far as coverage skills are concerned is Carlos Emmons, a guy who just missed the cut on this list for me. But Willie T. is the standard all cover linebackers are measured by for me, because the guy was simply the best.
4. Troy Vincent
Unlike the guys mentioned above, Troy Vincent, born in nearby Trenton, N.J., came to Philadelphia via free agency in 1996 already having established himself as a fine cornerback in four seasons as a Miami Dolphin. But it was during his eight years in Philadelphia that Vincent became a premier defensive back in the National Football League as both a tremendous player and an outstanding leader.
Troy played in 118 regular season games as an Eagle, starting all 118 of them. He racked up 28 interceptions, a touchdown, 425 tackles, 4.5 sacks and five straight Pro Bowl appearances from 1999-2003. He led the league with seven picks in 1999 and was named 1st Team All-Pro in 2002. Essentially, the guy was a lock-down corner who Jim Johnson could count on each and every snap.
As great an innovator and coordinator that Jim Johnson was/is with his aggressive, blitzing scheme, it was Troy Vincent and the next guy on this list that allowed Johnson to whip up those crazy schemes. He knew he could leave Troy and Bobby Taylor all alone on an island, and he knew no matter what, those two guys weren't going to get beat deep. I never once felt worried with a healthy Troy in man coverage. Not once.
He was an outstanding player that finished with 47 picks, three touchdowns and 738 tackles over 15 years, playing the bulk of that with the Birds. And he was an incredible tutor for the likes of Sheldon Brown and Lito Sheppard, drafted by the Eagles to replace Bobby and Troy. He never once complained about getting shoved out the door. He understood it. He was aging, and his replacements were ready. Class act. Great teammate. And great player.
Oh, and he did this:
*~* 1996 vs. Cowboys - J. Willis to T. Vincent 103 yd int *~*
That was one of the coolest endings to a game ever, even if James Willis had no business lateralling that ball to Troy. Sweet.
5. Bobby Taylor
The other half of Bobby and Troy, Taylor was the lesser known corner of the two among outsiders, but he was darn good in his own right. And the man was never better than when he faced big-time receivers. He was Michael Irvin's personal nemesis, always shutting down the loudmouth Dallas wideout. It was that Emmitt guy that gave the Eagles problems.
The knock on Bobby was that he was never really a great tackler, which is true. Bobby couldn't touch Troy Vincent or Eric Allen in tackling acumen, but he also wasn't really horrible at it – you know, like Deion. Even so, Taylor didn't shy from contact. He was an aggressive, bump and run corner who always played his best when going against physical receivers like Irvin and Terrell Owens.
Overshadowed by Troy, Bobby only made one Pro Bowl, that coming in 2002. But he was certainly just as much of a reason that those late '90s defenses under Jim Johnson were so successful. Along with Dawkins and Vincent, Taylor made up a formidable secondary that allowed Johnson to be so creative.
In his nine years in Philadelphia, Bobby recorded 317 tackles, 19 interceptions and two touchdowns. He also added two sacks and countless games shutting down the bigger receivers in the game. As good as Sheldon and Lito were together, and as exciting as it is to have Sheldon and Asante, Bobby and Troy were the best duo I've ever seen at corner.
There you have it, my five favorite Eagles defenders of all time. I know there aren't any linemen here, but honestly, none jumped out at me. I loved Hugh Douglas in his prime, and Andy Harmon was always a favorite. Of course there's Reggie and Jerome and Clyde, but during those early years, as you can tell, Eric Allen and William Thomas were my guys. Seth Joyner and Byron Evans were guys I also loved, along with the likes of Sheldon, Emmons, Trotter (I was furious when they let him go the first time), Tim Hauck, Michael Zordich and the list can go on. But in the end, there really wasn't any question. These are my five favorites, hands down.