With basketball and hockey on hiatus for the summer and football still a month away from real games that count, there's nothing happening except the dog days of summer. So I'll be publishing my own personal lists of my five favorite players of the four major Philadelphia sports franchises.

View the first installment on the Phillies here, the second installment on the Sixers here, the third installment on the Flyers here and the fourth installment on the Eagles defense here.
I'm Roy Halladay-ed out. The Phillies should get him. If they don't I'm not going to be happy. I hope Rubes reads
this
today and just pulls the damn trigger. That's all I have left to say about that.
Now let's shift focus to my favorite Eagles on the offensive side of the football in my lifetime.
1. Donovan McNabb
I know half of Philadelphia just threw up in their mouths at placing Donovan McNabb in my top spot. He's everyone's favorite whipping boy, some criticism extremely deserved, some completely absurd. But I'm as big a McNabb as fan as there is. He is, hands down, the most prolific quarterback in Eagles history, and most certainly the best modern-day QB ever to wear an Eagles uniform. Arguing this just sounds uninformed and frankly, ignorant.
Check the numbers: He's the franchise leader in completions (2,534), passing yards (29,320) and passing touchdowns (194). He's posted a career record of 82-45-1 in the regular season, gone to to playoffs seven times in 10 seasons, gone to five Pro Bowls, five NFC Championship games and a Super Bowl. Add in his 3,109 rushing yards and 26 rushing touchdowns, and you have yourself a great player.
Yes, he didn't win the big one. Yes, he's had subpar performances in many championship games. And yes, he threw up in the Super Bowl. He also led the Eagles to all those opportunities, oftentimes without superior talent at the receiver position. He's battled through injuries, controversies and disappointment, all the while establishing himself as the face of the Eagles.
Yes, he can drive me crazy when he buries a pass at someone's feet or fails to take the open field in front of him with his legs, but he also helped bring a lifeless franchise back from the dead, and he's still here some 10 years later. Each and every season with McNabb at the helm, the Eagles are among the favorites in the NFC. As much as those final losses hurt, it sure as hell beats the Ty Detmer/Rodney Peete/Bubby Brister eras of no hope. A major reason is Number 5.
2. Brian Westbrook
Simply put, Brian Westbrook is the most explosion weapon I've ever seen in an Eagles uniform. Beginning as a punt returner who saw spot duty when he was drafted, Westbrook displayed his dynamic game-changing ability from the start, scaring opposing punt coverage teams to death.
His talent could not be ignored, forcing his way onto the field despite concerns about his size and durability. While injuries have nagged him over his career, you'd be hard-pressed to find a more complete back (LT excluded) in his prime during the years Brian Westbrook has been in Philadelphia. His speed and explosiveness made him a threat to take it to the house on any play. He could break it to the outside, but as he has shown, his strong frame made him just as effective between the tackles. Catching the ball out of the backfield was perhaps his biggest strength, creating all kinds of matchup problems (no linebacker alive can cover him) and despite his stature, he turned into a devastating blocker.
In 2006 and 07, he was as good as back as there was in the league. In 06, he rushed for 1,217 yards, seven touchdowns and averaged 5.1 yards per carry, all while catching 77 passes for for 699 yards and four TDs. He followed that up with a remarkable 2007, rushing for 1,333 yards, seven TDs, averaging 4.8 ypc and nabbing 90 receptions for 771 yards and five TDs, leading all the land with 2,104 yards from scrimmage.
And even last year, playing through injury, he put up 936 yards rushing, 9 TDs, and added 54 catches and five more receiving touchdowns. And of course, he made huge plays in the playoffs, especially against the Vikings. It's damn near impossible to not love Brian Westbrook if you're an Eagles fan.
3. Duce Staley
When the Eagles let Duce Staley go, I was admittedly bummed out. Turns out the Birds were right, as Staley had nothing left in the tank, but regardless, I was not pleased. During his seven seasons in Philadelphia, Duce was nothing short of a workhorse, putting up some phenomenal seasons, specifically in 1998, 99 and 2002, when he rushed for over 1,000 yards and carried the ball at least 258 times (325 in 99) each of those seasons.
When a small contingent of moronic Eagles fans booed the selection of Donovan McNabb in 1999 because they wanted Ricky Williams, I applauded the move of picking a potential franchise QB because the Eagles already had a damn good running back in Staley. Sure, Duce wasn't a speed burner with game-changing speed the way Westbrook has been in his career, but he was a dependable, tough workhorse who also could block and catch the ball out of the backfield well. Not to mention that his effort could never be questioned, giving it his all every down.
In fact, in the 2004 NFC Championship game, while the rest of his teammates looked flat and, frankly, disinterested against the Carolina Panthers, Duce played his tail off. Honestly, to me, he looked like the only Eagle, on either side of the ball, who looked like he gave a shit in that game.
And of course, who can forget his incredible performance in the "Pickle Juice Game" in 2000, when he rushed for 201 yards against the stinking Cowboys in Cowboy Stadium?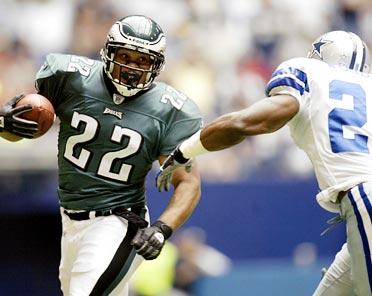 Huge Duce fan.
4. Irving Fryar
Irving Fryar played 17 seasons in the NFL. Only three of them were with the Eagles, but two of those three were two of his finest seasons of his career. In 1996, he caught 88 balls for 1,195 yards and 11 touchdowns, earning a Pro Bowl bid in his first season with the team.
Fryar followed that up with another Pro Bowl year in 1997, catching 86 passes for 1,316 yards and six TDs. He tapered off in 98, as age finally caught up with him, but a guy who had been considered a bust and troublesome character for the Patriots turned into a very fine player and upstanding citizen as an Eagle. He also made one of the most incredible catches I've ever seen, leaping up the air, full extension and plucking the ball out of mid-air with one hand, reaching back behind him, and coming down with it as he slammed on the Vet's horrific turf and getting hit. It was amazing.
5. Terrell Owens
I know, Terrell Owens was only an Eagle for one and half seasons, effectively dividing a locker room and causing headaches and distractions beyond belief in his second season. He's an asshole. An attention-whore. A certified lunatic who doesn't give a damn about anyone but himself. He also was a part of the most fun professional football season in my lifetime, and easily the most dominant wide receiver the Eagles have ever had in one season.
The arrival of T.O. in 2004 brought an excitement and fun to the Eagles that had been lacking. No longer was Donovan forced to choose between Todd Pinkston and James Thrash. No, he had his man, finally, and McNabb and Owens instantly became the most lethal QB-WR combo in the league: 77 receptions, 1,200 yards, 14 touchdowns. The only thing that could slow them down was Roy Williams and his dirty fucking tackling.
Owens was electric in that one season, even returning from that injury in the Super Bowl, only to be the best player on the field. Big, fast, talented. He made the offense better than it had ever been under Andy Reid. And as painful as the 05 campaign was, I'd do it all over again if I had the chance, no questions asked.
With Owens in the fold, it wasn't if the Eagles were going to win, it was by how much. They cruised through the season. It was just so damn fun. And Owens was everything we'd hoped he'd be and then some.
The man was a beast. He's tired and played out now, but in 2004, shit, that man could do no wrong in this city. And it was easily my favorite season ever for an Eagles wide receiver.
I expect a ton of people to question my decisions here. No Randall Cunningham, you ask? No, no Randall. He never won a playoff game, and I typically find that the same people who lambast McNabb are ardent Cunningham fans. That annoys the shit out of me to no end, because McNabb is a million times better at playing quarterback than Randall ever was. Not that I blame Randall. I was a fan of his, for sure. Fred Barnett and Calvin Williams almost made the list, because that duo was badass. But that's the list. Take it for what you will.
DeSean may be coming in the future. If he remembers to cross the goal line before dropping the ball.