I was just sent an e-mail from a co-worker that the
Phillies Twitter page
has announced that
Jayson Werth has been added to the NL All-Star roster
to replace the injured Carlos Beltran.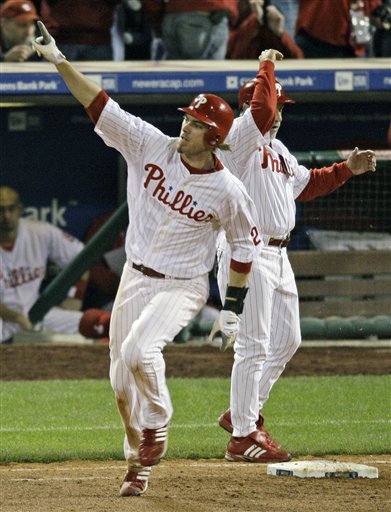 I am a huge Jayson Werth fan. He is having an outstanding season and in my humble opinion, he deserves an All-Star nod much, much more than Shane Victorino or Ryan Howard, both of whom are on the NL squad. Werth has had a tremendously productive first half, scoring 59 runs, crushing 20 homers and driving in 54 RBIs, with 12 steals to boot. Those numbers, combined with his excellent defense in right field, are All-Star worthy. Like I said, I think he actually deserves the nod more than Victorino or Howard.
Having said that, I think Charlie Manuel has done the rest of the league, and fans of other teams, a disservice. With four Phillies already on the team — Chase Utley and Raul Ibanez deservedly voted as starters, and Ryan Howard, while very legitimately a borderline candidate, was added by Manuel in part, no doubt, because the game is being held in Howard's hometown of St. Louis (plus Howard has his usual power numbers: 21 home runs, 63 RBIs), and Shane winning the last man in vote — the most judicious thing Charlie could have done was to select Pablo Sandoval, the San Francisco Giants rookie third baseman who is batting .328 with 13 homers and 50 RBIs on a horrible offensive team, and a guy who finished second in the last man voting for the All-Star roster.
That would have made the most sense, and been the most sensible thing for Manuel to do to satisfy the baseball masses. Or he could have picked Mark Reynolds from Arizona, who, quite frankly, deserved to be named to the team. He has 24 home runs and 62 RBIs.
But as Charlie has shown before, he does things his way, public perception be damned. That's why his players love him. So he's brining his guys with him to the All-Star game. He may never have the chance to be in this position again, so he's rewarding the guys who helped him get in that position. Maybe that's not necessarily fair, but it's at least a little bit understandable. To the victor go the spoils. And in all honestly, really, check out Werth's stats. The guy is having an outstanding year.
For the record, that's all three Phillies outfielders in the All-Star game, along with the right side of the infield. Plenty of incentive for Phillies fans to watch. Congrats, Jayson.
Update
: Chris Coste is
now a Houston Astro
.