You saw it. I saw it. We all saw it. Finally, Charlie Manuel had enough. About damn time.
Many of us had been calling for this day for months, but true to form Charlie stuck with his guy. Hard to fault him. After all, without Brad Lidge, there are no
World Fucking Champions
. But, well, things finally came to a head for the best manager the Phillies have ever had. It took a lot: a single, a ground out, a hit batter, a wild pitch and another walk to load the bases with a 5-3 lead in the ninth. That's when Charlie finally made the move he was determined to not make this season, removing Brad Lidge from a save situation.
With no wiggle room, Ryan Madson finally looked like the closer everyone expects him to become, striking out Ryan Zimmerman and getting Adam Dunn to ground out to end the game — retiring Washington's two most dangerous hitters. Madson looked filthy, painting the corners with 97 mph fastballs and making his changeup disappear from sight.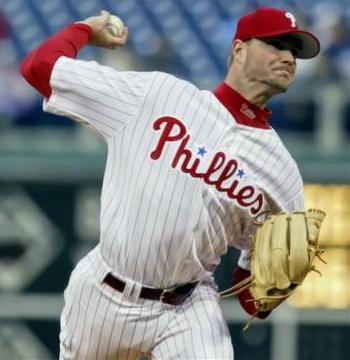 And with that, along with the nearly flawless performance of Brett Myers since coming back earlier in the week, it may have made Lidge disappear from sight as well — at least when the game is on the line in the final inning.
Now, I know
Charlie still says Lidge is his guy
, but he also showed last night he won't let his blind loyalty continue to interfere with the team's chance to win. Not now. Not with a month left and a World Series to defend. And he admitted as much. Finally. Wins are just too damn important right now to give away. Sorry, Brad, but your time is up.
As well as Madson did last night, literally saving the game,
he's no closer
. Never has been. Never will, at least this year. The guy has been a dominant force in the 8th inning. Let's leave him there.
That leaves one man and one man alone to take over the post formerly reserved for Brad Lidge. Yes, ladies and gentlemen, it's time for Brett Myers to return to his "rock star" status.
Of course you all know the history of Myers. In 2007, after struggling starting early in the year, Myers took over the closer role when Tom Gordon went kaput. In the bullpen, Brett thrived, saving 21 games in 24 opportunities, and got the final out on the final day that sent the Phils to the playoffs thanks to a helping hand from the Mets. NL Champs, courtesy of Brett Myers as closer.
As the team's closer, Myers went 5-5 in 48 games, posting a 2.87 ERA. In 53 and a third innings, he surrendered just 46 hits and 17 runs, while striking out 64 and walking just 18. He wasn't Brad Lidge circa 2008, but he was a reliable closer with plenty of pitches to choose from.
Now that Lidge has run his course, it's time for Brett to regain the role he relished so much. He's earned it. First, by accepting the move to the pen in 07. Then by selflessly moving back to the rotation, even though he really wanted to remain the closer, in 2008 to make room for Lidge, and going out and helping the Phils win the World Series. And since he's come back from his hip injury, Myers has pitched 3.1 innings in three games, surrendering just one hit and no runs. Small sample size, sure, but given his history, it's time to give him a shot.
Brett Myers, come on down. You're the next contestant for 2009 Phillies closer.