Today saw the
triumphant return
of The Charles in all his lack of capitalization glory, who's been too busy with things such as work and school and work and living. Sorry excuses for his absence if you ask me. Either way, good to have him back. I'm tired of carrying this thing all by lonesome, though I highly doubt this will be a regular occurrence. Looks like you're stuck with me, suckers.
Anyway, I've been so freakin tired the past two weeks. I'm not really sure why. But yesterday, it finally caught up to me. The man who usually never slumbers before midnight barely made it through the end of game 1 yesterday. During those final four innings, I was nodding off here and there throughout. By the time the second game rolled around, I was down for the count. So I'm working on about 10 and half hours of sleep here, and I'm still dead tired. I think something might be wrong with me, and I don't just mean mentally. How do I become a professional mattress tester?
That has to be a real job, right? I mean, how else do they know if a mattress is comfortable to sleep on unless, you know, someone sleeps on it? If there are any mattress companies out there reading this right now, just know, I'm offering my services as a professional mattress tester. You know where to find me.
Now let's link …
-I missed it yesterday, but my roommate told me about
this ESPN story
on Jayson Werth. Good read:
Werth can't recall the precise sequence and declines to identify the player who engaged him in conversation. But he was standing at second base when an unnamed Tampa Bay Ray sidled up and asked a question that told him all he needed to know about Philadelphia's impact on opposing psyches.

"One of their infielders came up to me and said, 'Do you like it here?'" Werth recalls. "He was so distraught in the middle of the game about the people in this town, and I knew then that we had them.
"They were so rattled, because they didn't feel like they could even walk down the street. They were uncomfortable just being in Philadelphia. Look at Evan Longoria -- he didn't get a hit the whole World Series. [Longoria actually went 1-for-20.] I'm not saying it's because of what the fans did. But I'm not saying it wasn't, either."

…

"It's like Pat Burrell told me: 'If we can win here, it'll be better than anywhere,'" Werth says.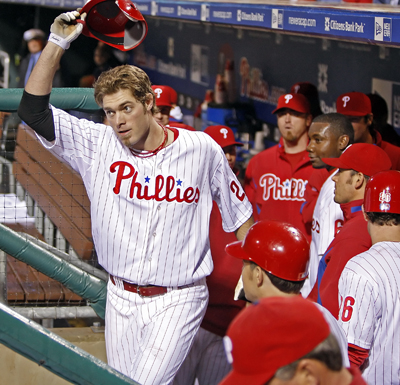 What a great find by Pat Gillick. Where would the Phillies be right now without Jayson Werth. Whether it was stealing second and third off Billy Wagner two years ago, five-tooling his way into an everyday player last year en route to a World Series title, or
stealing home
and becoming an all-star, the guy has simply been amazing. It's hard not to love what Jayson Werth brings to the table.
-I think the Phillies
played the Dolphins
or something yesterday.
-Because
The700Level posted it
:
-One vote
for the wildcat
and one vote
against
.
-Former Penn State receiver Jordan Norwood
has been added to the Eagles practice squad
.
Excellent college player. Entirely too small for the NFL.
-JVR is
making his case
to earn a spot on the Flyers' opening day roster. He scored two goals last night against the Red Wings.
-Sean Lee and Navorro Bowman
are hurting
, and there's no guarantee they'll be ready to play Saturday against Iowa in the Big Ten opener. However, I'd be stunned if both aren't out there. Night game, game day in town, revenge on the mind. Something tells me they'll be ready to go.
-Remembering
Charles Barkley
.
-Another local product on
SLAM's Fresh 10 — 2012
in Amile Jefferson, the 6'7" forward from Friends Central:
9 Amile Jefferson 6-7 PF/SF Friends Central (PA) Slender forward has surprising toughness to go with skills and athleticism.
Haven't seen the kid play, but I sure plan on it now.
-
Dwight Howard vs. Dwight Schrute
, via
Ball Don't Lie
:
-In typical Duke fashion, watch Grant Hill
unsuccessfully try to take a charge
against Andre Iguodala:
-All the Phillies
injury updates
you can handle.
-Joe Paterno
was made for TV
:
-Updated news on Bowman/Lee: Apparently,
Bowman will play
, but it seems Lee won't.
-
Filthy
:
-
Puck Daddy's Flyers preview
:
Introducing ... (Potential Breakout Player): Forward Claude Giroux(notes) scored 27 points in 42 games last season, which is tip of the iceberg stuff for the 21-year-old forward. He's going to get serious time with some seriously good offensive players this season -- it's been mostly Briere in the preseason -- and Giroux sounds like he's past his rookie jitters.
Also keep an eye on James Van Riemsdyk(notes), a forward with some stunning raw talent who could finally make an impact this season. Plus, he's from Jersey. Around Exit 114 on the Parkway.

…

All that said: They're on a short list for the Stanley Cup this season.
-The world needs more
Messi
:
-Sean Salisbury would like
A.J.'s job
, thank you very much. Seriously, go read that.
-
Updated definitions
of the bases.
-Cole Hamels, despite his pedestrian overall numbers,
is all sorts of good
again:
However, his mediocre results earlier in the season belied his stellar components, and as a result he's finishing strong, with a 2.22 ERA and 46 strikeouts against just 11 walks in his last seven starts.
-The headline says it all:
Temple, Wacho Center to host NCAAs in 2013
. That would be first- and second-round games on March 22 and 24, 2013. Yes, we're less than four years away from 2013.
-
Hilarious picture
of Dr. J and Larry Bird.
The Phillies' magic number is 5. Let's just get this over with and start the playoffs already.
Oh, and tonight the Man v. Food
Philadelphia episode
premiers, where the host takes on a mammoth Tony Luke's cheesesteak.