With the final month of the season rolling around the Phils having off on Monday, all talk seemed to focus on the potential postseason match-up between the Phillies and Giants with San Francisco coming to Philadelphia as the calendar flipped to September. For weeks, maybe even months now, the Giants have been hailed as the team no one wants to see in the playoffs, especially with the nearly unhittable tandem of Tim Lincecum and Matt Cain in a short five-game series.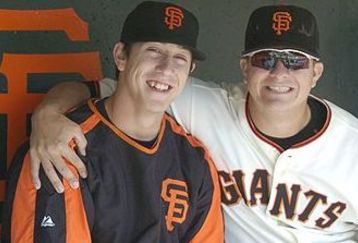 My roommates and I discussed the merits of that fear, and I agree that Cain and Lincecum are a frightening pair to face, but I argued that I'd rather see the Giants than the Cardinals. The reasoning is pretty simple in my mind. The Cards have an almost equally as potent 1-2 punch with Chris Carpenter and Adam Wainwright, plus they cary a much more dangerous hitting team. They have Albert Pujols after all, not to mention Matt Holliday and the rest.
My thought is the Phillies have the edge against San Fran because Cliff Lee and Lincecum are basically a wash, and while Cain is having a much better season than Cole Hamels, after that, I like Joe Blanton and J.A. Happ more than Jonathan Sanchez and Brad Penny/Randy Johnson/whoever else San Fran throws out there. Plus, the Phillies are way more potent offensively. I mean, it's not even close really. But the Cards compare more favorably offensively, especially now.
However, upon watching Cole's performance last night, I came to one simple conclusion: If Hamels pitches like he did last night, like he did last postseason, I'm not scared of anyone in the NL. Not the Giants, not the Cardinals, not even the Dodgers or Rockies.
This is the Cole Hamels we've all been waiting for. After going 8 superb innings of no-run baseball his last out against Pittsburgh, Hamels finally followed up with an encore. And what an encore it was. Last night, against a hapless Giants lineup, Cole was simply dominant in his complete game shutout performance: 9 strikeouts, just 1 walk and 2 hits surrendered. He was simply toying with the Giants out there, hitting his spots with deadly accuracy, throwing all three pitches for strikes, and most importantly, owning the game and the pace with his tempo.
And that changeup, man, it couldn't even be touched last night. It was a thing of beauty. That's the Cole we've all come to expect, and if these last two starts (17 straight scoreless innings) are any indication, it's the
World Fucking Champions
everyone should be scared to death of.
Now, some of you may be telling me to settle myself down. After all, Cole's last two starts, as great as they were, came against the Triple A Pirates and a Giants team that has trouble scoring runs. It's not exactly like facing Pujols or the Yankees here. But Cole looked just so dominant last night that it has to get you excited, especially considering he performed nearly flawlessly in a complete pitchers' duel.
Jonathan Sanchez was plain dealing last night, giving the Phillies fits: 6 innings, 8 strikeouts, 3 hits, 1 run and 3 walks. The Phils were nearly as anemic against him as the Giants were against Cole. Thank goodness for the red-hot Ryan Howard, who drove in the only run of the game with an RBI double to plate Shane Victorino in the 4th, because beyond that, Sanchez was matching Hamels pitch for pitch.
He was throwing so well that I was stunned he didn't come out for the 7th, though it hardly mattered. Brandon Medders came in and tossed two shutout innings in relief, putting the pressure squarely on Cole's shoulders. And Hamels thrived with the game on the line.
After a leadoff single by Rich Aurillia to start the final inning, I quietly thought to myself that perhaps this was where Cole would unravel. But then he picked off the pinch runner (anyone else think he was safe?). No one on, one out. Hamels followed that up by walking dangerous pinch hitter Pablo Sandoval, his first walk of the game, and that was all she wrote. He struck out Bengie Molina on three pitches and got Edgar Renteria to pop out in foul territory to first to end the game. It was a gem, and it was just what Hamels and the Phillies needed.
With the depth of the starting rotation — Lee, Hamels, Blanton, Happ — and the most explosive offense in the NL, there isn't a team in the senior circuit that strikes fear if Cole is going like this. In fact, the only team I fear is the Phillies themselves, with their penchant for leaving runners in scoring position and the ever-shaky closer spot. But with Lee and Hamels throwing the way they're capable of, a closer hardly matters.
Oh, and how about that stolen base for Cole? That was pretty awesome.