Weekends are supposed to be the time when you sit back, relax and catch up on sleep. Not so much for me the past three days.
Friday, Arkansas Fred and I decided to hold off on heading out to Penn State until the morning, instead taking in the Phillies game as Cole Hamels faced off against former Phillie Nelson Figueroa. It was cold and drizzling the entire night, making for less than desirable conditions, but the game went well — a 4-2 win behind another strong outing by Cole.
All the sudden, the struggling Cole looks to have regained his form and confidence. The 2008 NLCS and World Series MVP is looking every bit like a guy determined to duplicate those feats … if the bullpen doesn't screw it up. Hamels surrendered just one run in 6 and two-thirds, striking out 6 and picking up his ninth win. It's good to have him back.
It was also nice to see the Phils use a little small ball in the 7th. After a leadoff single to Jayson Werth and a wild pitch that put him on second, Pedro Feliz hit a soft grounder that Werth advanced to third on, and Curbball drove him in with a deep sac fly to center. Well done.
My only qualms with the game itself is the way Charlie Manuel handled his bullpen. Let's face the facts, the closer role has been the achilles heel of this team, with Brad Lidge sucking horribly and Ryan Madson doing even worse. On Friday night, after Chan Ho Park pitched a third of an inning to relieve Hamels, Manuel trotted out Brett Myers for eighth.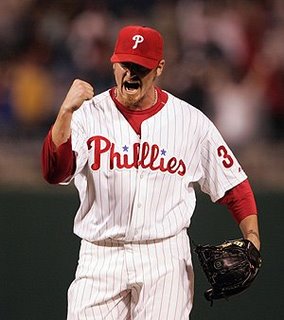 Myers proceeded to get a one-two-three eighth by throwing a grand total of six pitches. Six. In his prior outings since coming off the DL, he's been really, really good. And he just retired the side in order in six pitches. The smart move would have been to send him out for the ninth in the save situation, seeing as he has been dealing and the Phils would be wise to find out if the former closer can still get the job done.
Instead, Charlie sent out Ryan Madson again, and the guy looked shaky again. He did get the job done, recording the save, but not before giving up two hits and a run. I've said it before and I'll say it again: Ryan Madson is no closer. Perhaps one day he will be, but right now, the guy just doesn't have the mental makeup to get the job done. That's a fact. How else can you explain his dominance in the setup role and utter collapse as the closer?
But hey, the Phils won, they're still in first and Cole certainly looks to be back. Those are all good things.
What's not so good is being so ridiculously devoted to your stupid college football team that you decide to wake up at 6 a.m. and drive out to State College to watch Penn State take on a completely overmatched Syracuse team. On virtually no sleep. Not fun.
But that's what Arkansas Fred and I did. On the ride, we certainly saw some excitement. With rain smattering throughout the drive, the accidents were plentiful, and I saw one pretty awesome one in my rearview mirror.
Out 76 past King of Prussia, I'm driving along when I come across a navy blue van driving slow in the left lane. I hate when people drive slow in the left lane. Instead of tailgating and waiting for the van to get out of my way, I just passed on the right and went about my business, thinking nothing of it.
About a mile later, I just so happen to glance in my rearview mirror when I see this same van, now in the right lane, colliding with a white car in the left lane about 200 yards or so behind me. Now, I only saw the tail end of the two cars meeting, so I really have no idea who was at fault, but it almost looked as if both cars were trying to switch lanes while right next to each other, trying to literally switch spots, if you will.
Both cars then veered away from one another, and the van hit the right guard rail and flipped over. In my excitement at seeing something so crazy, I was yelling at Arkansas Fred asking, "You see that?!?!" — pointing at my mirror. Fred had no idea what I was talking about, thinking I was pointing up out the windshield at a plane or something. I told him what happened, he looked behind us, and there wasn't a car in sight — because the accident happened directly behind us, stopping traffic dead in its tracks. Crazy. And to think, if I hadn't passed on the right, we may have been either stuck behind the accident or involved. Chalk one up for the good guys.
Sadly, that was the most exciting thing about the entire trip, game included. We did see another accident in its aftermath on 322, as two trucks hit each other. This one was a little more bizarre, because one truck was making a left out of a parking lot across 322 and the other truck was in the middle lane reserved for left turns. That means two trucks making left-hand turns somehow collided. It really didn't make any sense.
We saw one more car flipped in a ditch before finally making it to the game in one piece. Really, there's not much to say about that game. Syracuse is horrible. Penn State played pretty horrible but still won 28-7. The defensive line is all sorts of good. And Greg Paulus cannot throw a football to save his life.
The best part of the game was when the freshman section started a "Paulus Sucks" chant. That was fun. Other than that, Evan Royster played well, Daryll Clark was not making good throws or reads, and Nathan Stupar, after a tremendous first game, played just awful on Saturday. But hey, the Nittany Lions won and moved up the polls as well. The few highlights can be seen
here
:
The ride back wasn't nearly as eventful, other than me almost falling asleep. Luckily I didn't, a wreck was avoided, and I made it home to watch Notre Dame choke at the end and ditto Ohio State. Both games were pretty awesome though.
Oh, and I also got home in time to watch Madson and the rest of the bullpen blow it. On the ride home, we were flipping back and forth between the Notre Dame-Michigan game and the Phils-Mets on the radio. With a 9-5 lead, I thought the game would be over. But the Phillies bullpen did everything they could to let the Mets back in it: 3 runs in a third of an inning for Myers to make it 9-8 and then another meltdown for Madson in the ninth.
I walked in my house in the bottom of the 8th to see Ryan Howard strike out with the bases loaded. Hey Ryan, it's September, this is when you're supposed to be carrying the offense. And a couple runs would have really helped there, because Ryan Madson decided to come in and blow his sixth save of the season, surrendering a two-run bomb to David Wright that ended up losing the game 10-9.
That was Madson's sixth blown save in his 13th opportunity, just four shy of Lidge's league-leading 10 blown saves … in 39 chances. Once again, I'd like to point out that even as horrendous and atrocious as Lidge has been as a closer, he's still a million times better at closing games than Ryan Madson. I'm not advocating keeping Lidge as closer. Not at all. But I'd rather have him in there than Madson any day of the week. My choice is still Myers though, and it's something Charlie is going to have to figure out sooner or later here.
Yesterday was a glorious endeavor. The Phils won the first game of the double header 5-4 with Brad Lidge actually getting a save, albeit another shaky one that saw him give up two runs and three hits. But the focus in our house was on the Eagles, not the Phillies.
Things did not start so well for the Eagles, as the Panthers took the opening drive 70 yards in 13 plays to take a 7-0 lead. There were about a million missed tackles by the Eagles and one pretty awful play by rookie Macho Harris, and it looked like a long season could be ahead.
Then the tides turned thanks to the horrendous quarterbacking of Jake Delhomme.
As I predicted
, the Eagles won because Jake Delhomme sucks at playing quarterback. He gift-wrapped four interceptions for the Eagles, and the guy has now thrown 9 interceptions in his last two games.
His first INT, set up a field goal. His next set up a touchdown pass from McNabb to Celek. His third set up yet another TD, while the fourth finally didn't result in points. But it was Delhomme that just killed the Panthers. Following his first interception, Delhomme then got sacked by Trent Cole on a third down play the very next possession, fumbling the ball right to Victor Abiamiri, who returned it for a touchdown. Just like that, the Eagles led.
One possession later, the Eagles forced the Panthers to punt, and DeSean Jackson took it 85 yards to the house with a little helping hand (block in the back) from Chris Clemons.
In a matter of minutes, the Eagles went from being down 7-0 on a drive that seemed to expose the defense to being up 17-7 and rolling.
The turnover fest made it an easy day for the Eagles, who blew out Carolina 38-10. The running game was effective and Winston Justice actually looked pretty good. Ditto Jason Peters, save for two false start penalties. That was nice to see. Brent Celek had a nice game, and the defense came up with big play after big play, forcing 7 turnovers and scoring a TD of their own.
Of course, things couldn't just be that simple. With seven minutes left in the third quarter, Donovan ran for a three-yard touchdown and took a fairly late hit that ended up breaking his ribs. Just what they needed, an injury to their starting quarterback in a blowout game. Now the status of McNabb is up in the air, and what should have been a game that led to hope has a bit of a dark cloud hanging over it. Of course it does.
As far as the game itself is concerned, I don't think we really know much more about the Eagles now than we did before the game. Yes, a 38-10 victory over a playoff team from last season is always a good thing, but the game was sort of an aberration. Teams don't turn the ball over 7 times on a regular basis.
What we can take away is that the offensive line looked pretty good, and so did the defensive line. The defense did have a lot of trouble with missed tackles, and that certainly can be something that can damage this team down the line. But beyond that, what else did we learn? Not a whole lot, other than Jake Delhomme still really and truly sucks at quarterback.
As far as the nightcap goes, well, what else can you say about Pedro? Simply put, the guy is killing it on the mound right now, putting forth another vintage Pedro outing: 8 innings, 6 hits, no runs, 7 strikeouts.
He outdueled Phillie killer Tim Redding to get a 1-0 win, combining with Ryan Madson for the shutout. Somebody wants to start in the playoffs. And the way he's going, the chances are pretty good he'll do just that. Chalk another one up for Mr. Amaro here.
It was a fun opening weekend of the NFL. Penn State is 2-0. The Eagles are 1-0. And the Phillies took 3 of 4 from the Mets to extend their lead to 6.5 games in the NL East. Not too shabby. As long as you weren't getting into car wrecks.