Coming off an outing on Wednesday where I started to believe this team might wake up, I went to Citizens Bank last night and witnessed another flop by the Phillies.
Now, there were many reasons for the loss: poor situational hitting yet again, the Phils lack of ability to hit Tim freaking Redding, Ryan Madson and some shoddy fielding. In fact, those four things were actually the main causes of the loss. But there was something else that absolutely killed the Phils chance to win, and to be quite honest, it's something that has severely hindered this team all season. Eric Bruntlett.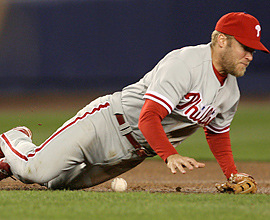 Let's face the facts people, Eric Bruntlett is not a Major League Baseball player. He's just not. As of today, Bruntlett is batting a lofty .214, a full 20 points lower than what Abraham Nunez batted last year. And he was considered a weak link. Add on top of that that Nunez was about 800 times better in the field and things don't look so good for Mr. Shitty Beard. I know, I know. People like to tell me Bruntlett is good in the field. Heck, why else would he come in as a defensive replacement at third or left all year? Simple, Charlie is an idiot.
In his first game starting, Bruntlett made two crippling errors against the Mets. Since then, he's been a mediocre fielder at best, and last night, he made a terrible error, failing to catch a sharp grounder that was hit right at him. He now, as a spot player, has seven errors on the year, and he has zero range to account for those errors.
Even worse, however, was his back-breaking at bat in the ninth inning last night. Down by a run, Shane Victorino—the only guy who really seems to give a damn in recent weeks by the way—led things off with a single. Bruntlett was up there to move Victorino along. And you know what he does? He squares to bunt and pulls back, taking a called strike. Then, he squared to bunt again, pulled back and took another called strike. Now the bunt is off.
Luckily, Shane decided to take things into his own hands and steal second. He was safe, and Bruntlett had a great opportunity to either move Victorino to third with a ball hit to the right side or play hero by tying the game with a hit. So what does Bruntlett do? He looks at a called third strike. That's three strikes looking to go down without even putting up a fight, against the worst team in baseball, for a team trying to catch the Mets in the division. In August. It was pathetic.
Sure, Carlos "Curbball" Ruiz could have picked Bruntlett up, but he already used up all his offense for the night with a solo home run in the seventh to give the Phils the lead. Then Chris Coste continued his struggles at the plate, grounding out weakly to end the game.
Don't get me wrong, Bruntlett wasn't the reason the Phils lost last night. But he sure as shit didn't help. Not one bit. And he has hurt the team way, way more than he has helped this year. The thing is, he should have never even been in that situation last night. With the game on the line, you don't want it in the hands of Carlos Ruiz, Eric Bruntlett, Chris Coste and So Taguchi (who was the only extra man not used in the game).
Once again, Charlie Manuel's glaring weaknesses as a manager came into play. For all his success in the win-loss column and the team making the playoffs under his reign, Charlie Manuel is still simply not a good game manager. He repeatedly uses his bench players far too liberally, depleting the bench early in the game. He keeps taking out potent bats in close games when the Phils are leading for defensive purposes, only to see a team tie the game or take the lead, leaving it up to players that couldn't hit pitchers in the Little League World Series let alone Major League pitching.
Last night was just another example of that. And the players that are supposed to get the job done haven't been helping Manuel out at all either. Since his comments calling out the fans last Tuesday, the reigning MVP is 4-for-37 (.108) with 2 runs and 0 RBIs in 9 games, including an 0-for-4 performance last night. Next time you open your mouth, Jimmy, maybe you should make sure to not completely suck. Ryan Howard had another incredibly horrible game, going 0-for-4 with three fucking strikeouts. His failure to make contact is just ridiculous at this point.
And in a huge spot in the eighth, with Jayson Werth working a leadoff walk and Utley ripping a single, the Phils had two on with nobody out down just a run. Howard proceeds to strikeout for the third time on the night, followed by an inning-ending and rally-killing double play by Pat Burrell. Two on. No one out. Down a run in August, trying to catch the Mets. Against the worst team in the league. The Phillies couldn't even advance a single one of those two runners, let alone get one or both of them home. It was a microcosm for the entire season.
It's time to face the facts. This team stinks. Luckily, this entire division stinks, so they have a chance to make the playoffs still, albeit one that is slipping away. But even if they do manage to outlast the Mets and the fading Marlins, what then? I don't see any real circumstance that this team, or the Mets, or the Marlins can compete with the Brewers or Cubs, and even though the Diamondbacks and Dodgers have terrible records, both teams have great pitching and are teams that have been hitting pretty well of late.
It's been a long season already, and watching a team that was supposed to win "100 games," according to a player that has shown up to play for about 20 so far this season, put forth another lackluster effort, it makes you wonder if they know or even care that time is running out. I know my patience is running out.