Just when I think I'm out, they pull me right back in. The Phillies, fresh off a floundering 4-game sweep at the hands of the Dodgers last week, have now won three straight series—the latest taking place this past weekend and concluding tonight.
With Manny Ramirez and the Dodgers rolling into town Friday night, I thought to myself that this series could very well be the end of the Fightins. Instead, what we were all treated to was an awakening of the bats, to the tune of 8 runs on 10 hits to beat Greg Maddux for the second time in a week. Ryan Howard homered. Chase homered. And Coste had a game-high 4 RBIs, breaking the game open with a crushing 3-run bomb off Maddux. It was a very nice surprise.
To make Friday night even better, the Eagles looked absolutely unstoppable against the Patriots defensive starters, as McNabb tore the old, slow New England defense apart to the tune of 13-17 for 180 yards and a touchdown. And as we all know, it should have been two touchdowns if Hank Baskett had not pulled an L.J. Smith and dropped the ball.
Speaking of L.J., he finally had a strong outing, catching 3 balls for 44 yards and making Mike Vrabel look like the overrated, overmatched linebacker he really is. Tony Hunt did an admirable job at fullback for his first time out, although he certainly has some work to do on his blocking. But he looked better than any of the other Eagles fullbacks, and he actually can do something with the ball when he gets it. His excellent hands and inside running ability should give him that starting fullback spot, as long as he can show improvements with his lead blocking.
But the star of the show was again the man who has been the star of the preseason for the Birds. DeSean Jackson has simply been a beast at wide receiver and is starting to make me believe Joe Banner and Andy Reid aren't lying about being confident at wide receiver. By the looks of it, as long as Jackson can pick up the offense (which he seems to be doing just fine) he will be better this year than Kevin Curtis was last year. That's a bold statement, but I truly believe that. He again led the Eagles in receiving, nabbing four catches for 67 yards. Oh yeah, and he also did
this
.
On his punt return, DeSean showed his incredible return skills that he's been known for, and add in
this kick return
by Quintin Demps, and the nightmares of Reno Mahe's fair catches quickly fade away. I'm not even sure we'll know what to do as fans actually having not one, but two return men that can take it to the house at any moment. I am sincerely excited for this.
It was a pretty awesome Friday.
Then on Saturday, the Phils kept the hot bats going and actually scored 9 runs for Cole Hamels. It was amazing. Almost like they forgot Cole was pitching. Burrell did the heavy lifting with three hits, three runs and five RBIs including his 30th home run of the year, and Chase did his thing with two hits and three runs. That's right, Cole is 2-0 since his
chat with the team
.
Then yesterday, it simply came down to one man and one man only: Pete Happy. Well, that's not entirely true. Joe Blanton continued his up and down trend, this time on the positive side, pitching a very good game. Chad Durbin pulled a Houdini act and pitched out of a bases loaded, no out jam, surrendering no runs, to keep the Phils within one. And Shane Victorino notched two hits and two runs.
But it was Pedro Feliz who played hero. With the Phils down a run in the bottom of the 9th, Feliz stepped up with Shane on second, Kendrick pinch-running at first for Andy Tracy who worked a walk and two outs. Then Pete Happy singled to right on an 2-0 pitch to tie the game.
But that wasn't all Pedro had in store. With my eyes falling heavy as the clock approached 12:30 a.m., Pedro strolled up with two men on again in the 11th. The man seemed to have had enough of the game and wasted no time, launching a three-run bomb to left center to end the game and bring the Phils to within a half game of the stinking Mets, whose bullpen imploded yet again yesterday. Man does this division suck. But Pete Happy made me forget how bad the Phils have been before this little streak here. I'd vote for him.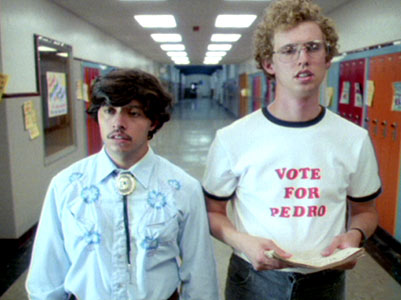 But the good news didn't end there. The Birds received some much needed help from the football gods, as Osi Umenyiora tore the lateral meniscus in his left knee and will be gone for the season. Somewhere Winston Justice is breathing a sigh of relief.
In some not so great news, Jimmy Rollins still sucks. He went a whopping 1-for-13 over the weekend, scoring two runs on Saturday, and driving in 0 runs in the three games. He went 0-for-5 last night. That brings his total to 5-for-50 with 4 runs and 0 RBIs since informing me I am a front-runner, and his season batting average is down to .255. Way to go Jimmy.
Still, Jimmy Rollins' sucktitude notwithstanding, it was a great weekend in Philadelphia. And it's up to white hot Brett Myers to complete the 4-game sweep of the Dodgers to avenge the 4-game sweep embarrassment out in LA. Oh yeah, and the Mets come to town tomorrow with first place there for the taking.