For the record, I was of the mind, back when Larry Bowa was the manager of the Phillies and they absolutely could not beat the Marlins or win in the second half of the year, that Bowa should have been axed much sooner than he actually was. He couldn't get along with this best player (although I blame Scott Rolen's overly sensitive demeanor—see pussy), his players seemed to tire of him and they simply fell off after the All-Star break every year.
However, there was one player that absolutely loved Larry Bowa and one player that Bowa absolutely loved—Jimmy Rollins. Now, maybe it was because like Bowa, J-Roll plays shortstop and had/has quite an impressive glove. That's certainly understandable. No matter what the reason, Jimmy clearly respected Bowa and completely busted his ass for the guy, even when the Phillies didn't quite have the talent they do today.
Now, I bring this all up in light of the recent attitude problems regarding Rollins. I think it's safe to say that Rollins, over the last few years, has been the team's vocal leader. Aaron Rowand may have been the glue in the clubhouse, but Jimmy was the guy who spoke up and his teammates followed. And he was a perfect guy for this—a guy who, yes, swung at too many pitches and popped up too often, but a guy who always, always busted it and played 160 games a year.
Under Charlie Manuel, he blossomed into an MVP last season, and the players' manager created a relaxed, friendly attitude in the clubhouse—a far cry from the tension-filled days of Larry Bowa. But this season, it seems as though all of the Phillies, from Jimmy Rollins to Chase Utley to Ryan Howard and so on, have taken Charlie's lax, player-friendly attitude for granted. Simply put, they've become complacent.
The chorus throughout the year has been, "We're not worried." "It will come around." "We'll be all right." "It's not time to panic." "We'll work it out." Never do you hear, "We've got to play better." "We need to start hitting earlier." Or anything of that nature. There's no urgency with this team whatsoever. And yes, the Phils were, up until yesterday, in first place for almost the entire season. But even then, after the first two months, they were not playing the kind of inspired baseball that winning teams, championship teams display.
The Phillies need a kick in the pants, and I just don't think Charlie Manuel is the guy to provide it. He's tried. He's sat Jimmy not once, but twice. He's sent Brett Myers to the minors. He's benched Shane Victorino for a brief period, made Jayson Werth earn his time back after getting hurt, shuffled the lineup. But nothing seems to really jump-start this squad. It's as if they know, even when Charlie makes a "disciplinary" move, at the end of the day, he's the happy-go-lucky players' manager that will be on their side.
That kind of attitude doesn't work when you have guys like Brett Myers and Adam Eaton on the team. Guys who say they felt good when they just got rocked or struggled to throw strikes. A team like that needs a guy who will call them out. A guy who will hold his players accountable. A guy who will stir the pot, whether the players like it or not. A guy like Larry Bowa.
Charlie has done a heck of a job, and the man has tried his damnedest to drop the hammer, but it's just not in his makeup. He's not a Joe Girardi. He's not a Jim Leyland or a Lou Piniella. All choices that I/most Phillies fans favored over the hiring of Manuel. He's not a Larry Bowa. Certainly, Bowa does not have the track record of the Girardis, Leylands or Piniellas, but he, too, had some success as the Phils' skipper. And with guys like Rollins, Howard and Utley as the leaders, his attitude could work. They aren't sensitive guys who can't take criticism like Rolen or even Bobby Abreu. They can take it, and Bowa wouldn't be afraid to dish it out.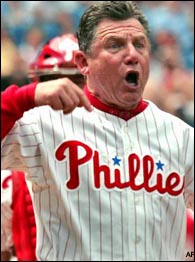 Maybe this is simply an overreaction given the recent struggles of the Phils. After all, the Phils did reach the playoffs last season under the watch of Manuel. They never accomplished that feat with Bowa at the helm. But Bowa also never ran Utley, Howard, Victorino, Cole Hamels and Brad Lidge out to the diamond either.
The Phils' recent struggles haven't exactly been a short-lived experience. They've been constant since the beginning of June. The only reason they hung onto first for so long was because the rest of the division was struggling just as much. But the Mets finally caught up, and they seem to be taking off. The Phillies simply continue to regress. They need a kick in the pants. I just don't think Charlie Manuel is the man capable of winding up hard enough to place his foot squarely in his players' collective ass. Maybe a guy like Larry Bowa is.