The year was 2002. I was a high school senior, about to graduate and head off to college. The talk of baseball, as I remember it, was of these two phenom pitchers in the minor leagues—Mark Prior of the Chicago Cubs and Brett Myers of the Philadelphia Phillies. Myers was the Phils' first-round draft choice (12th overall) in 1999, and Prior the second overall pick in the 2001 draft for the Cubs.
Both were touted as big, strong, firery righties that were ready to take Major League Baseball by storm. Prior finally got his chance on May 22 and didn't disappoint, going six innings, striking out 10, surrendering just two runs and four hits all while picking up the win against the Pirates. Chicago's golden arm had arrived, and the Cubs were poised to dominate the league with Prior and the electric Kerry Wood at the front of their rotation.
While all this was going on, Myers was tearing up in the minors, and became a favorite of mine before he even came to the bigs thanks to an incident involving
Drew Henson
, the Yankees' highly touted third base prospect at the time. Henson, who I despise due to being a Michigan Wolverine, then a Yankee prospect and later a backup quarterback for the freakin Cowboys, and Myers didn't get along. Apparently,
Myers told Henson he was going hit him
. Then he hit him. Then Henson charged the mound, and Brett beat the living shit out of him. I love it. Finally, the Phillies had a pitcher that was confident, cocky and supposedly a stud. They hadn't had one of those since Curt Schilling was around.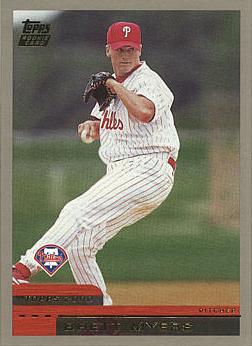 As luck would have it, Myers finally got called up after I was officially a high school graduate, and debuted against none other than Mark Prior. Here they were, the two best rookie arms in baseball, taking the mound against each other on July 24 at Wrigley Field. I hadn't been as excited for a Phils game since the 1993 season.
And what unfolded before my eyes was nothing short of one of the
classic pitching duels
between two young thoroughbreds ever to take place. Prior was magnificent, just as he had been since his call up, stifling the Phillies lineup through seven innings, surrendering just four hits, two runs while striking out eight.
On any other day, Prior would have picked up an easy win, but not on this day. No, because the Phils' new ace in waiting, in his debut no less, was even better. Brett went eight innings, relenting just one run and two hits while sitting down five Cubbies to notch a win in his first Major League contest, just as Prior did.
I was convinced the Phillies had their man, and he and Prior would be competing for Cy Youngs for years to come.
We all know that didn't happen, and looking at the situations now, it's eery to see just how far these two superstars of the future have fallen. In his rookie campaign, Prior went 6-6 with a 3.32 ERA and 147 strikeouts in just 116+ innings. He followed that up with an 18-6 record in 2003 with 245 strikeouts and a 2.43 ERA. Any other season, he probably would have won the Cy Young were it not for Eric Gagne in the midst of his record-setting save streak.
Then the wheels came off for Prior. In 2004, the injury bug hit for the first time, as he was only able to make 21 starts. 2005 offered a little more hope, as he did get 27 starts, but lingering injuries limited him still. Then in 2006 he made just nine starts before being lost for the year. He then missed all of 2007, and after signing with San Diego this year, he has yet to pitch and will not due to injury.
The young savior for the Cubs is now nothing more than a sad tale of how devastating injuries can be. They robbed us of one of the greats, or so it seems.
Meanwhile, Myers simply never quite lived up to that promise of his first start. After that brilliant performance, Myers finished his rookie campaign with a 4-5 record, striking out just 34 batters in 72 innings and finishing with a 4.25 ERA. He followed that with a career-best 14 wins in 2003, losing nine while striking out 143 in 193 innings and finishing with a 4.43 ERA. It was a solid year, but not quite what Prior had done with the Cubs.
2004 was a letdown to say the least. Brett became a .500 pitcher, going 11-11 with a 5.52 ERA and just 116 strikeouts in 176 innings. 2005 was far better, and without question his best season to date. He finished 13-8 with a career-best 3.72 ERA, 215 and a third innings pitched (a career high and only time he pitched more than 200 innings), and 208 strikeouts—the only time he has struck out 200 or more batters.
It looked as though Brett was finally coming into his own, especially with a very solid 2006 where he went 12-7 with a 3.91 ERA and 189 strikeouts in 198 innings. Brett looked like, if not an ace, a very good No. 2. And then last year happened. Myers started out completely awful, struggling to get anyone out. Then, he moved to the pen when the Phils needed a closer, and he shined. It was hard to imagine a guy who was touted as the next coming being a closer, but the man did a hell of a job.
In fact, he may have done too good of a job for his own good, because he grew to really enjoy the role. He became a "Rock Star." But that's not what the Phillies had in mind. This was a band-aid move for the 2007 season, which culminated in the first trip to the playoffs since 1993. But when the Phils got a chance to get Brad Lidge, a man with terrifyingly electric "closer" stuff, they did.
Myers moved back to the rotation and simply couldn't readjust back. He's been more than awful this year, getting demoted to the minors. And last night, Brett came back and looked nothing short of lost in the first few innings. He couldn't throw his fastball for a strike. He couldn't throw his curveball for a strike. He couldn't throw his splitter for a strike. Hell, Brett couldn't even have, as they say, hit the broad side of a barn. It was difficult to watch. He seems to have lost all confidence in himself. He looks like a sad, confused little kid.
He looks like a pathetic, somewhat sympathetic figure just like Prior. Here they are, six years to the day after that epic pitching battle, and the two former phenoms are nothing more than mere pedestrians. It's a sad, sad sight indeed. One not even the most sadistic of people would delight in if they watched that duel some six years ago.