The Phillies come up with their first postseason victory since game 5 of the 1993 World Series. Cole Hamels told everyone who was quietly thinking, "Well he is a good pitcher, but
would you call him an ace
?" to shut the fuck up. Brad Lidge put himself in a jam and got out of it for the save. Either way, they won and it's a big win. BUTTTTTTTT, just for the sake of it.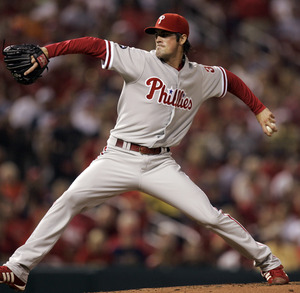 Why take Cole out when he was so dominant? What is the point of that? Save Lidge and let him rest some more and let Cole finish his gem. He was untouchable. The kid came to play this postseason.
Number 2. FUCK YOU JIMMY! Why swing first pitch with 2 on and no outs. I still hate you and never will like you again. Frankly, it does not matter cause it all worked out in the end, but come on man. Make the guy work. Gallardo was on a tight pitch count and you had two men on. Personally, I would have bunted him over, but that's just me. Werth struck out anyway, so it would have backfired but still. Also, I hope Werth finds his groove soon. If he ever got hot, they would be unstoppable.
The bats all together did not look good again. They had 4 hits against a man who has one start since May. I'm not worried yet, but I'm getting close. These guys need to step it up. Tomorrow they have CC. It's the perfect time to let the rest of the league know that they aren't fucking around this year.