I figured with the regular season wrapping up and what hopefully will be a successful postseason run only 6 hours away, I'd chime in with a few position-by-position letter grades for the season based on my personal opinion and that alone, with maybe a few stats. I couldn't be happier with the end result but still have the feeling this team should have won 5 or 6 more games. I guess every team has that feeling though. So whatever. Lets get started here:
We'll start with the Starting Pitchers:
Cole: B+
-Still our ace and still nasty, but...His record should be 18-6 and it's not. Is that all his fault? No...but he has yet to show a penchant for coming up huge in big games. His line against the Mets was 0-2 with a 6.00 ERA. Really, really interested to see what he does today.
Brett: D
-Second half? A+++. First half? SO FUCKING AWFUL NO LETTER GRADE COULD DESCRIBE IT. I wanted to murder him when he said that, after being sent down, he was not mentally prepared to be a starter at the beginning of the year. When did we trade for Lidge, December? Jesus. I could go on, but his second half performance was dominant, and was big to get us into the playoffs. But his insulting approach to the first half of the year gets him a D. Let's hope he can erase the last 2 games out of his mind and pitch well Thursday.
Jamie Moyer: A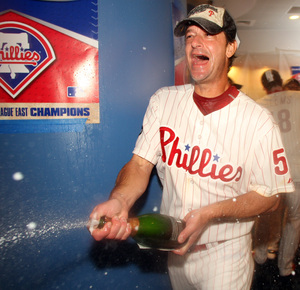 -This guy is amazing. You can't be more thrilled with what he has done for our team, with both his performance on the mound and his influence on the staff around him. Rarely a shot of him in the dugout on an off day doesn't involve him with a baseball in his hand showing somebody something about how to get guys out. Then he goes and pisses hitters off because their BP pitchers throw harder yet they can't hit him. I love you, Jamie Moyer.
Kyle Kendrick: I
-Don't have the heart for a letter grade for this guy. He pitched decent at times but at other times he looks like he sure wishes his diaper held. Without any basis for this observation, he reminds me of Brandon Duckworth. Let's hope Kyle can get it together enough to be our #5 starter, but it's hard to believe he pitched a playoff game last year.
Adam Eaton: 9,000,000 Fs
-Dear Adam: Seeing you with a bottle of champagne in the clubhouse Saturday made me want to strangle whoever handed it to you. Please take your money and go live in a bunker somewhere. I never want to see you in a Phillies uniform again.
Fat Joe: B-
-As frustrating as watching him work was, Joe Blanton still did a decent job for us. Considering the circumstances I think he came in and pitched pretty well, including a couple nice outings down the stretch. Maybe if he can get some quality instruction in the offseason to not just throw really hard and hope it ends up in the right place...don't see him as anything but a back of the rotation guy though.
JA Happ: A
-It may be smoke and mirrors, but this guy came in every time he was asked to and did his job. Great asset to bring up for spot starts and the like.
Relievers:
Brad Lidge: A+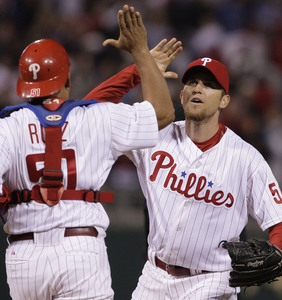 -God bless the man. Wasn't completely psyched about the trade given his history, but he more than surpassed expectations. Always felt really good with him coming into the game although he sure made it interesting down the stretch. His final save of the year was the one that made me want to vomit most. 41 for 41, with a crazy K per 9 ratio. Watching people flail at his slider is something I could do all day. Here's to him exorcising his playoff demons...you know we're going to see replays of that this postseason.
Tom Gordon: D
-Please Tom, go away. I know you were around for a little while longer, but all I remember is that debacle the first week of the season. Would have been nice to have you like 8 years ago.
JC Romero: B
-Great job by JC this year. Wasn't sure he was going to keep it up from last year but sure did. And the guy is freaking passionate. I love that about him. His fist pumps after getting a big out are awesome. He was much more than just a lefthanded specialist this year.
Chad Durbin: B
-Excellent for most of the year. Ate a ton of innings and got some huge outs. Also sucked in September. Still had the 2nd best bullpen ERA outside of Lidge (not counting Scott Eyre).
Ryan Madson: C+
-Gets big outs, also gives up huge runs. Story of a bullpen pitcher, I guess, but I just do not like him as our 8th inning setup guy. He is good enough to pitch in occasional key situations, but Madson-Lidge is not how I envision the 8/9 going.
Condrey/Seanez: B
-You guys are aight in my book. Actually I just really like Clay Condrey. How about that double he hit in one of the later games of the year...can't remember who they were playing but that was awesome.
Big ups to the Walronds, Swindells, and others who took the hill at some point for whatever reason.
Hopefully this is still readable...on to the position players:
Ryan Howard/1B: A
-Ryan, it is damn fun to watch you get a hold of one to deep center, man. You carried us through September once again, and had a pretty smokin July too. You really pissed me off in some of those other months, and we got on you a little bit, but you came through. I am a firm believer that you will find a way to cut down on those K's and are capable of putting together one of the best offensive seasons we've ever seen. Please work on your fielding just a slight bit. Keep smilin and mashin man, smilin and mashin.
Chase Utley/2B: B+
-Probably should be an A-...This guy was so incredible over the first two months, we didn't know what to do with ourselves. MVP in May, already talkin 3 straight. Then dropped off a bit, but still had a great season, what like .289 with 33 and 104. My only qualms would be Chase just didn't seem to be himself for large parts of the season. Him popping up and putting his head down right away is a lasting repeat memory. Chase is still the man though.
Jimmy Rollins/SS: B-
-Jimmy, Jimmy, Jimmy. You've been better, and you know it. Hopefully you learned a little about playing in this town and the ups and downs and how to weather them. We're cheering you again, Jimmy, and you made some plays down the stretch. We can't win without you. Please simply play hard the rest of your career here, and trust me we'll thank you for it. Oh, and shut up.
Pedro Feliz/3B: B
-Great job by Pete Happy for most of the year. I know he was hurt a bit but he always made the play in the field. His everyday hitting wasn't great but I dare say his situational hitting was excellent. He always seemed to get a big hit. He had that great game winning HR to the section I was sitting in vs the Dodgers in extras which I'll never forget.
Carlos Ruiz/C: C+
-Carlos "Double Play" Ruiz grounded into quite a few of them this year. Also had some nice hits in the last two months I feel, and for all his ludicrous snap throws I don't remember him throwing any away. Serviceable catcher. Loved watching him celebrate in the clubhouse on Saturday. Still...Lou Marson, you should be able to play over this guy.
Pat Burrell/LF: B
-Had quite a renaissance the first few months of the season. Then batted .188 in August and .205 in September. Still gets on base a lot via those walks. It's hard to look at Pat the Bat's season because I wonder more about his future...it will be very interesting to see what happens here. I respect the fact that this guy loves playing in Philadelphia though, so if they can bring him back at a reasonable number I'm all for it.
Shane Victorino/CF: B+
-Shane did a great job stepping in for Rowand defensively. He misjudges a few too many balls, however he has the wheels to get to them. I like him in CF for now. His bat at times was a little lacking but came up with some timely hits. His speed in the 6/7 spot serves us much better than in the 2 spot as he was for the early half of this year. Shane's a nice piece to this team.
Jayson Werth/RF: B+
-This was supposed to be GJ/JW as a little of a platoon was the plan, but Geoff Jenkins sucked/got hurt and Werth took the job. He plays very well defensively, has above average speed on the paths and can hit for power. Werth had a career year this year and let's hope he spends the offseason working on hitting righthanded pitching and honing his skills so he can come back next year and be our everyday rightfielder. I ain't mad at J Werth.
Bench:
Greg Dobbs: A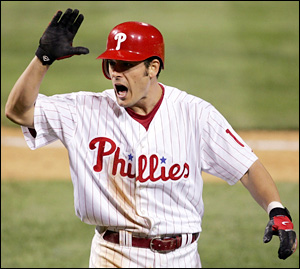 -Greg Dobbs, the best pinch hitter in Phillies history. A lot of big, late-inning hits came from this guy, and he always played well on his starts too. Not sure if he's an everyday player or not, but he added a lot to this team and I love having him on it.
Geoff Jenkins: C
-Things didn't really work out for you this year, GEEoff, but I don't think it was for lack of effort.
Christ Coste: C
-Started the year off well, got some decent PT, and then came back to earth. You're a great guy, Chris, and I hope you are enjoying your time in the majors. I don't know how much longer you have left, but you're OK in my book.
Bruntlett: C
-I said, "You suck, Bruntlett!" a lot this year. But he's a bench utility guy and is supposed to suck, or he'd be playing full time somewhere. So, Bruntlett, you do in fact suck, but that may mean you're just doing your job. So I guess keep up the good work.
So Taguchi: F
-The only time this guy got a cheer was when he went back to St. Louis. [
Ed Note: And that one hit against the Mets
]
Well thats all, folks. I hope you enjoyed reading and I'm sure you disagree with some/all of my grades. Please feel free to leave your comments below. Big up to the Reverend for the space and time to air my thoughts.
This team has unfinished business. These were regular season grades but I hope to give them all A+ as they celebrate a World Championship. Anything less than at LEAST a solid LCS showing is a disappointment.
-uncle jelly
PS: No matter what happens in the playoffs, I would like to thank the Mets for sucking extreme balls once again...although I hate most of the players, it's those douchebag fans whose pain I truly savor. I watched a game with a Mets fan a week ago and he was talking about how he wasn't making plans 3 weeks from then because the Mets were going to be in the NLCS, and how bad the Phillies sucked, and how Rollins wasn't even in the same CLASS as Reyes, etc...and to know that he watched them choke it all away again on Sunday is sweeter than most. So here's to you, Mets, for doing it again.