If you know anything about me, you know I absolutely love University of North Carolina basketball. I fell in love with the Tar Heels as a young boy who marveled at Michael Jordan and found out he went to UNC. Immediately, I started to follow the Tar Heels, gained an unhealthy hatred toward Duke and became the biggest George Lynch fan alive.
Yeah, that was George Lynch that forced Webber to call that infamous "timeout," bitches.
I love Rasheed Wallace. And Jerry Stackhouse. And Vince Carter. And Antawn Jamison, Shammond Williams, Ed Cota, Dante Calabria, Reyshawn Terry, Julius Peppers, Danny Green, well you get the idea.
Well, the Tar Heels, who will be everyone's pick as the preseason No. 1 in college basketball this year, have already
lost defensive stalwart Marcus Ginyard
for 8 weeks, meaning he'll miss the start of the year (thanks
TBL
).
Luckily, Ginyard should be available for most of the season, but this is not an insignificant loss. Ginyard is the team's best defender and a very good glue guy. Thankfully, Danny Green isn't too shabby on defense himself.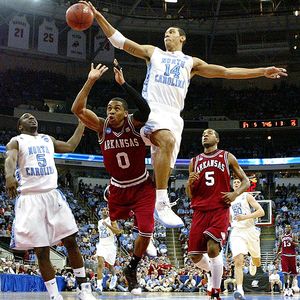 Just because
Well, it's been a rough week for UNC ballers. Earlier in the week
Antawn Jamison hurt his knee
, and we just found out his Washington teammate
Brendan Haywood needs wrist surgery
and will be out for quite a while.
Rough week for UNC. But the Heels are still going to win the title this year. Book it.