Sad news in Phillies land today. Charlie Manuel's mother, June,
died this morning
. Obviously a tough loss for a tough man, and our condolences go out to him.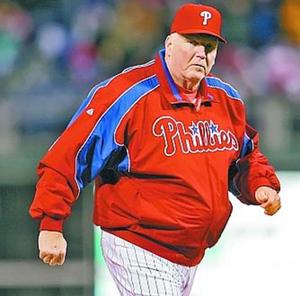 Manuel, perhaps in a tribute to his mother, will manage on today. Let's get a win for June.
In Eagles news, Brian Westbrook and Reggie Brown
will not play
Sunday. Victor Abiamiri will, and Kevin Curtis is traveling with the team.
In light of the Eagles return to mediocrity the last few years, accompanied by the Phillies exciting run, hardly anyone cares about this Eagles news. So instead of getting frustrated over the Birds this weekend, go out and cheer on the Phils.
Time for the Phillies to honor their manager and his fallen mother with a victory tonight.
LET'S GO PHILS!