I watched the Philadelphia Phillies clinch the National League Pennant for the third time in my lifetime (actually only second because I was three months old in '83). So I should have been overwhelmed and excited? Right? Well to my own surprise, I wasn't. Don't get me wrong, I was happy the Phillies won, but I was not overly excited. I expected the Phillies to win that game. Why wouldn't they? There was not a doubt in my mind that they would beat the Dodgers with Cole Hamels on the mound.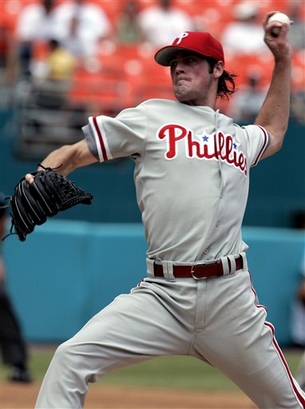 Let's face it, the Dodgers were overrated. They had Manny and yeah that was it, just Manny. There was no point of even pitching to him, since Martin and Ethier were gagging at the plate for 5 straight games. I guess my point is that I expected the Phillies to take care of the Dodgers. They were a much better team from the start and there was not a question about that. So I'm saving my excitement for something that talent-wise should happen in a few weeks, but is beyond anything I could ever dream about.
Also, I would love to find out when Ryan Madson started hitting 97 mph with his fastball. I am absolutely stunned. What the hell happened to him? Not that I am complaining, but I just cannot fathom it. Ryan Madson comes in from the bullpen and I have 100 percent confidence in the man. Everything about him, I believe in. He even looks kind of intimidating.
His fastball blows by hitters, even the great Manny had trouble catching up to it last night. His changeup is either the best or second best changeup on the staff depending on how Tim McCarver is feeling on that night. He has been lights out. It has boggled my mind. I never thought I would see that day. I even feel more confident with Madson in sometimes than Lidge. That might sound strange but it's true.
A few more random thoughts: I am happy for Charlie Manuel right now. I love that guy. I could listen to Charlie be interviewed all day and not get tired of it. That guy sounds sincere and loves the game. Pat Burrell deserves this more then any other player on that team. That guy comes out and does the best he can day in and day out. He never complained about the fans, always stayed with it and you can see it in his face how much this means to him. You got to love "The Bait." I still
hate Jimmy Rollins
. I
hate you Jimmy
. I really do. I cannot stand to hear you talk. (
Ed note: If he helps us win a World Series, you have to not hate him anymore. That's a rule.
) Just imagine if Ryan gets hot. Here is hoping that Jayson Werth wakes up. Also, I hope everyone missed Anthony Gargano on Fox News after the win. He needs to stick to mid day afternoon talk. Don't try so hard Ant. Just be yourself.